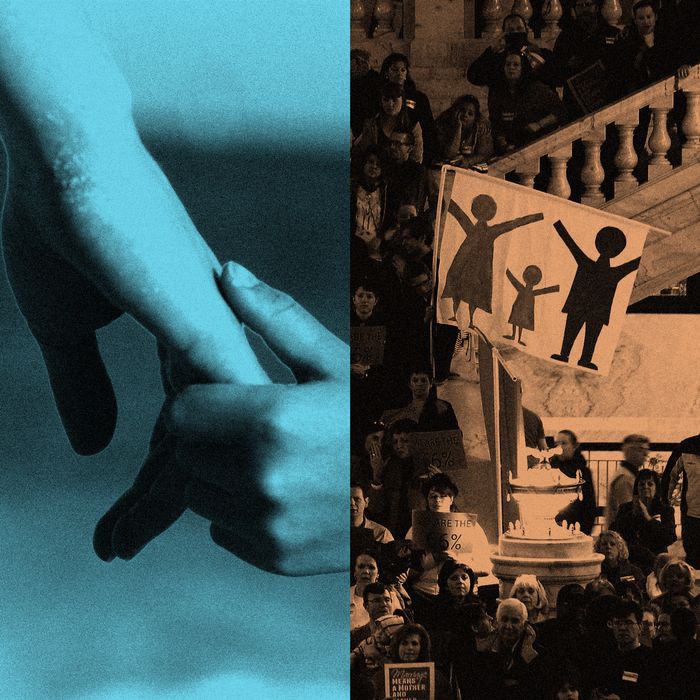 Photo-Illustration: The Cut; Photos: Getty
I first noticed the yard signs while driving my son to T-ball. There were more sprinkled throughout my Hudson Valley neighborhood, and I finally got a good look while idling in an intersection. Christ is King was printed on royal-blue signs outside the grocery store and highway exit ramps, urging passersby to vote for a man running for my local public-school board. I did some digging online and watched him tell the audience at a "meet the candidates" board meeting, "I seek to prevent CRT and the LGBTQXYZABCDEFG agenda from coming into the curriculum, and I seek to end the sexualization of children." I felt a visceral reaction of anger and disbelief. How was this happening in my New York district?
My emails to the school board and superintendent were met with the cyber equivalent of a shrug. Days later I posted a photo of the signs to a local Facebook mom group with the caption, "Doesn't this set a dangerous precedent?" Within minutes, there were dozens of comments. "You must want tampons in the boys' bathroom." "You need Jesus." "You want to force gender ideology on our kids."
This wasn't my first time on the receiving end of nasty comments, but reading these replies knocked the wind out of me. I hadn't mentioned being queer in my post, but my Facebook profile picture is my first kiss with my wife Sam at our wedding nearly nine years ago. Aside from the financial and legal hoops she and I have had to jump through to secure our family's rights, I've never felt any real fear in being a same-sex couple. We've lived in cities like New York for most of our relationship, so geography played a role in our security, but it feels like we're in a cultural backslide. According to the Human Rights Campaign, more than 300 anti-LGBTQ bills are already pending across state legislatures in 2022. Many of these bills discriminate against transgender children and seek to prevent them from playing sports or receiving health care. Others, modeled off of Florida's "Don't Say Gay" law, would prohibit classroom discussion about sexual orientation or gender identity.
My children are only 5 and 2, so I didn't really know how to talk to them about this. My oldest was 2 months old when I strapped him to my chest for the Women's March in 2017, and both of my boys have attended Pride parades and Black Lives Matter protests, but the accompanying conversations have been simple, at best. From the early stages of family planning, Sam and I knew that we would face big conversations. Our boys have heard the word "donor" since they were born. They know that we officially adopted them last summer — via second-parent adoption — but they don't know what these things really mean. Still, it has always been our goal to introduce vocabulary to our kids that will help them interpret their experience. If the language is there, then the comprehension will come as they grow and mature and our conversations evolve.
Turns out that talking to my kids about the birds and the bees is much more appealing than confessing to them that our family has a target on our backs, even in our own hometown. I wish my kids would never have to know that there are people who don't think that our family should exist, but they'll hear this stuff eventually. I want these conversations to start at home, from a place of love, so I turned to parents with older kids to see how they're doing it.
I'm not the only one having trouble. Maureen Neary and her wife Laura are raising two kids in Beacon, New York. Maureen describes their oldest, who's 11, as a news junkie who listens to NPR every morning. Maureen says she knows about the anti-gay stuff, but they try to keep conversations light in their house. Her youngest, 7, has been nonbinary "pretty much his whole life," says Maureen. They haven't introduced the topic of anti-trans legislation. "We don't talk to him about this stuff at all, because it's already hard enough to fight for him to be himself at school. I don't want him to know that people are targeting him," she says.
Mary from Massachusetts, who raised kids with her ex-wife, says that television helped her talk about tough topics. "We watched edgy shows that provoked conversation," she says. When Mary and her teen kids watched shows like The Fosters, the conflict revealed in each episode opened the door for dialogue about the family's own lives. "There's so much good queer programming for kids now, and they deal with these cheesy topics and suddenly you have a tool to talk about this stuff."
I thought about the books Sam and I carefully curated for our nursery when I was pregnant with our first. We read books about dinosaurs and books about trains, but there were also books about kids with two moms lining the shelves, books with two dads, and diverse families from many different backgrounds. Our goal was to have the language of diversity lodged in his brain before he learned to speak.
On the first weekend of June, we gathered the boys into bed for a special family story time. Sam and I took turns reading from 'Twas the Night Before Pride, which tells the story of a family getting ready to attend a Pride parade.
Days later, after we attended a family Pride march, I scrolled through Instagram and clicked on Pride hashtags to see how other families were celebrating across the country. That's how I found John, who lives in Maine with his husband William and their 12-year-old daughter Riley. She looked so confident holding up her homemade "I Love My Two Dads" sign, so I messaged John. I wanted to know if he talked to his daughter about discriminatory legislation.
"Riley was adopted by two dads, and has been going to Pride rallies and parades since she was very young," he says. In the last few years, their conversations have evolved. "We really do talk about it all, from J.K. Rowling's views, to Disney donating to Florida representatives who supported the 'Don't Say Gay' bill. Both of these subjects were a hot topic for many, many days," says John. "Riley actually banned Harry Potter in our house for a full week."
John also said that Riley reported some of her friends were worried for their safety when attending Pride events this year, so the family made their own safety plan. He believes that we need to talk to kids about what's going on, and that sheltering them causes confusion or makes them feel like they can't ask questions. "It's not about making the world a 'dark place,' it's about empowering kids with the knowledge and tools to go out and make a difference."
Florida's "Don't Say Gay" bill also came up in family conversation with Jenn and Cara, a same-sex couple raising three kids on Long Island. JP is their oldest at 14, and he has an 11-year-old brother and 7-year-old sister. "Our eldest usually starts these conversations, but the other two listen and contribute," Jenn says. "With regard to the new Florida law, JP asked what it means. The kids all seem to understand the implications for kids who are coming out or have gay family members." Most recently, JP asked his moms about the reversal of Roe v. Wade. "JP made the connection right away. He understands that taking away a woman's right to choose has the potential for negative repercussions for gay marriage and other civil liberties that we may currently take for granted," Cara says.
Talking to other parents helped me consider my communication goals for my own family, but I still wanted some insight from a mental-health professional. Dr. Jamiee Arnoff, of BFF Therapy — a self-described "culturally competent" counseling office in Beacon — recommends letting kids steer the conversation to promote a level of openness and security. She also says parents can start these conversations young, around 4 or 5, with an emphasis that people can have their own opinions, but that everyone should be treated equally and with respect. As they get older, topics like discriminatory legislation can be introduced. "By placing it on the table, you are emphasizing that no topic is off-limits, and these are the values of the household," she says.
These upcoming conversations with my kids aren't a hypothetical; they're urgent. Conservative groups with Republican ties have been trying to take over school boards across the country, including mine. After my Facebook post, a local mom introduced me to a group that was financially and vocally supporting some of our local candidates.
I soon learned that there were candidates who were affiliated with the local chapter of Moms for Liberty, a conservative group from Florida whose objectives include condemning the queer community and posting anti-trans and homophobic content on its social-media channels, where members regularly refer to queer people and queer allies as "groomers." Anti-LGBTQ and anti-trans legislation is alarming, but groups like these are attacking our families on a much smaller scale, right in our own neighborhoods.
We quickly mobilized, creating our own group and connecting with other concerned parents. As supporters began donating money, we decided to make our own yard signs. Soon Teachers Shouldn't Be Preachers signs were sprinkled around town, urging our community to vote in the upcoming school-board election, which went in our favor. But even as I pulled the car over to stick signs in the grass, I still didn't tell my kids what it was really about.
For now, many of us raising kids outside of the confines of traditional, heteronormative family life are trying to keep things positive, in spite of the challenges we face. Maureen from Beacon describes it as an active decision. "The instinct is to be scared and withdraw, but we want to teach our kids to fight that, to celebrate, open ourselves up, and put love first." My sons may not be ready for the whole truth quite yet, but I am laying the groundwork now for the tougher conversations to come. When I talk to my 5-year-old, it's already clear that he understands the importance of supporting our surrounding community. His basic comprehension of these values gives me hope for the next generation. If we can learn how to talk to them, maybe the kids will be all right.