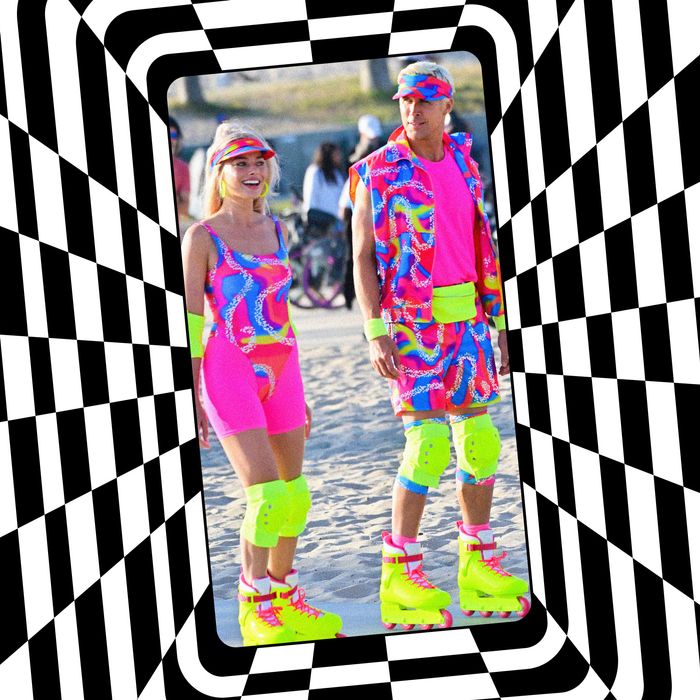 Photo-Illustration: by The Cut; Photo: Getty Images
In this world, nothing is certain except death, taxes, and the steady trickle of behind-the-scenes photos from Greta Gerwig's forthcoming Barbie movie. Over the past few months, we've been teased with promo pictures of Margot Robbie as the titular Barbie and Ryan Gosling as himbo pioneer Ken, each image a sparkly pink hit of nostalgia and dopamine. This week, we got a look at Robbie and Gosling on set, rollerblading in outfits akin to Hot Skatin' Barbie and walking around Venice Beach as yeehaw Barbie and Ken. Despite all the sneak peeks, much of the movie remains a mystery. Thus, as someone whose entire childhood personality was this Barbie Magic Hairstyler computer game, it is my responsibility to speculate.
Let us begin with the cast list, which reads like a fever dream. In addition to Gosling and Robbie, the confirmed cast so far includes Kate McKinnon, Alexandra Shipp, America Ferrera, Simu Liu, Hari Nef, Will Ferrell, Issa Rae, Michael Cera, Kingsley Ben-Adir, Rhea Perlman, Emerald Fennell, Ncuti Gatwa, Jamie Demetriou, Emma Mackey, and Scott Evans. Take a moment to process, reread, digest, contemplate. Rae and Nef are rumored to be playing different versions of Barbie. Likewise, Liu and Gatwa are rumored to be portraying different versions of Ken. Will Ferrell is supposedly playing the CEO of a toy company and, based on his business suit and matte-black rollerblades, a villain. But what of the rest of the cast, whose roles have yet to be confirmed?
Will Emma Mackey, who looks like she could be Robbie's sister, be playing Barbie's sister, Skipper? Will Scott Evans fulfill his duty to play fuckboy Ken? Will Michael Cera be playing anyone other than himself and, if so, why? Rhea Perlman's character is obvious to me — she will be playing a fancy, limited-edition Barbie who remains in her packaging, only to be looked at, never touched. Finally, I would love to see Kate McKinnon's interpretation of Bedtime Barbie, the haunted doll who "went to sleep" when you put warm water on her face.
Like the characters, few details are confirmed about the movie's plot aside from the fact that it will be about a doll who is forced to leave the picture-perfect Barbieland due to her own "imperfections." Fish-out-of-water antics ensue. Thanks to behind-the-scenes photos, we also know they filmed a scene where Barbie punches a guy who slaps her butt. God is a woman and her name is Barbie! However, if Gerwig and her co-writer/partner Noah Baumbach are open to any suggestions, I have a few ideas-slash-demands:
Barbie visits the Uncanny Valley, home to bizarro Barbie knockoffs like the Mary-Kate and Ashley Olsen dolls.

Barbie encounters a horde of Bratz dolls who give her a horny makeover and warn her about lip fillers.

Influencer Barbie makes an appearance to talk about how Mercury is in retrograde.

Fellow Robbie doppelgängers Jaime Pressly and Samara Weaving play additional versions of Barbie. Or they simply replace Robbie in a few scenes, but no one says anything.

There's a shot-for-shot recreation of Barbie's 1994 birthday party at Epcot in Disneyworld.
There are cameos from Trixie Mattel, Bianca (Ryan Gosling's sex-doll co-star from Lars and the Real Girl), and all the Barbies you made fuck as a kid.

There's a post-credits appearance from the Teresa doll I had growing up, whose hair I cut to look like the mom of a boy I liked. (No further questions.)
Then, there's Barbieland! Where is it? Does it have its own government? Are accessories accepted as currency? Does it exist in a universe where a Polly Pocket movie is currently in development? Has Barbie seen the Tyra Banks doll-turned-human movie Life-Size? Has Ken seen Pete Davidson's haunted Paper Magazine cover? Is Pete Davidson … also in this movie? Unfortunately, those questions won't be answered anytime soon since the movie doesn't come out until July 21, 2023. In the meantime, I will be watching this clip of Ryan Gosling screaming in his Ken voice on repeat.