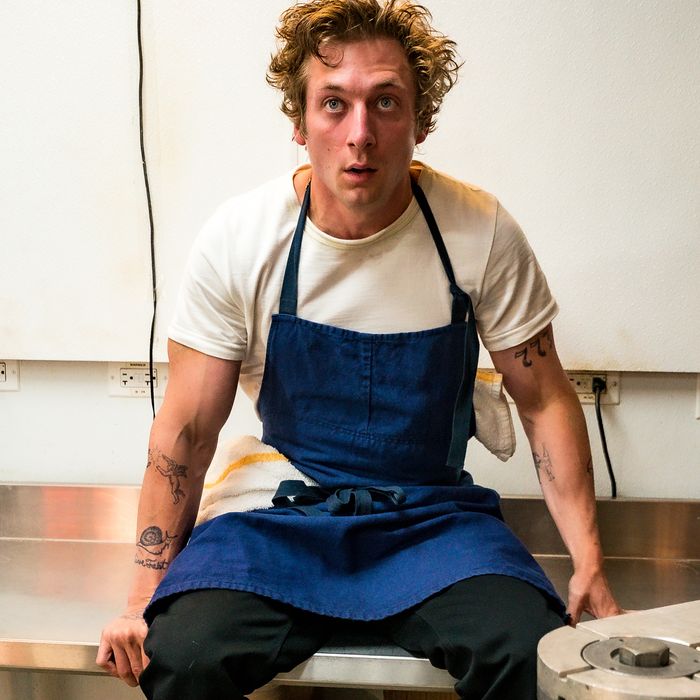 Photo: Matt Dinerstein/FX Networks
In June, FX released The Bear, a show about a hot, broken chef (Jeremy Allen White) whose sex appeal eclipses the many red flags his personality reveals over the course of eight episodes. We meet the chef, whose name is Carmy, shortly after he leaves his toxic Michelin-starred restaurant to try to save the Chicago sandwich shop his late brother left to him after dying by suicide. Carmy is a walking bundle of knife tattoos and emotional damage: traumatized by the domineering egomaniacs of the fine-dining industry, reeling from his brother's death, and buckling under the pressure of trying to revive his barely functional business. He's also, as many have articulated, unspeakably hot.
You can argue that chefs, especially ones whose biceps flex just so while they're, ahem, marinating a large slab of meat, are just an attractive crew. Or that there's something aggravatingly romantic about trying to make a small business work in this economy. But really, Carmy's constantly tousled hair and nonexistent emotional availability seem to be the real draw. On paper, he falls squarely into a specific category of slutty scumbag whose appeal is, despite our collective better judgment, irresistible. There is one major exception, though: Unlike most of the TV characters responsible for our horniest thoughts, Carmy never has sex.
White himself has pointed out that, while Carmy may look like the reason there's a one-at-a-time rule at the Union Pool bathroom, this man absolutely does not fuck. Nor does he flirt, ogle, swipe, or generally indicate any desire to get laid. The Bear is largely devoid of romance in any sense of the word, and the only moments of real pleasure come from food: making it, eating it, selling it, having enough money to make more of it. The show's most poignant and vulnerable scenes happen between family or friends, not romantic partners. No one embodies this sexlessness more than Carmy, and yet it's hard not to think about having sex with him while watching this show.
It's also hard not to think about Carmy having sex with Syd (Ayo Edebiri), the ambitious sous-chef he hires to help him get his brother's disaster of a kitchen into order. Syd is Carmy's most obvious romantic foil, and their sexual tension is so blindingly intense I cannot even come up with a good knife joke to describe it. Not that either of them notices — every ounce of their sexual energy is sublimated into their work, which makes their dynamic infinitely more erotic. Still, the only time their bodies even make contact is when they're hustling past each other in a high-stress kitchen, shouting "Corner!" at the top of their lungs.
The Bear isn't capitalizing on the fact that the absence of sex is sexy — at least not in the same way that a Victorian-era romance novel or Bridgerton does, operating on the premise that sex is in some way illicit. Carmy is a 30-something man in 21st-century Chicago. He can have sex if he wants (the only caveat being that he doesn't have much free time). But he just … doesn't. And that's probably a good thing. Carmy walks a tenuous line between troubled underdog and genuinely objectionable fuckboy, and a dysfunctional romantic relationship would tip the equation too far into asshole territory. I do not want to see how Carmy treats someone he has sex with, particularly if that someone is Syd, who worships his work and sits lower in the professional hierarchy.
On the flip side, Carmy's total disinterest in sex comes from a place of severe emotional brokenness that, unfortunately, a lot of us find kind of sexy. In a heartbreaking monologue during the season finale that functions as a road map to his own trauma, Carmy paints a pretty miserable portrait of his life thus far, sharing — along with his childhood stutter and his brother boxing him out — the fact that he's never had a girlfriend. The fact that this is a symptom of some much deeper wounds only intensifies his appeal. If Normal People taught us that we like seeing sad people have sex, The Bear taught us that maybe there's something attractive about watching people who are so glum they avoid sex at all costs.
In another series, Carmy's journey to emotional openness would probably show him learning to be vulnerable for whomever he was having casual, closed-off sex with and eventually falling in love. The Bear takes a different route. As stunted as he is, Carmy is occasionally interested in doing the work, and his tender side shines whenever he makes a concession to the disconnected, unemotional front he developed during his time in fine dining, occasionally letting his sister (Abby Elliott) cajole him into some family time or opening up about his brother's death in an addiction-recovery group. 
Now that The Bear has been renewed for another season, we may see Carmy try to work through more of his shit before dipping his toe into romance — a pretty valiant and sexy endeavor, if you think about it. Until then, maybe someone can make me a horny cut of Carmy chopping onions? Just a thought.