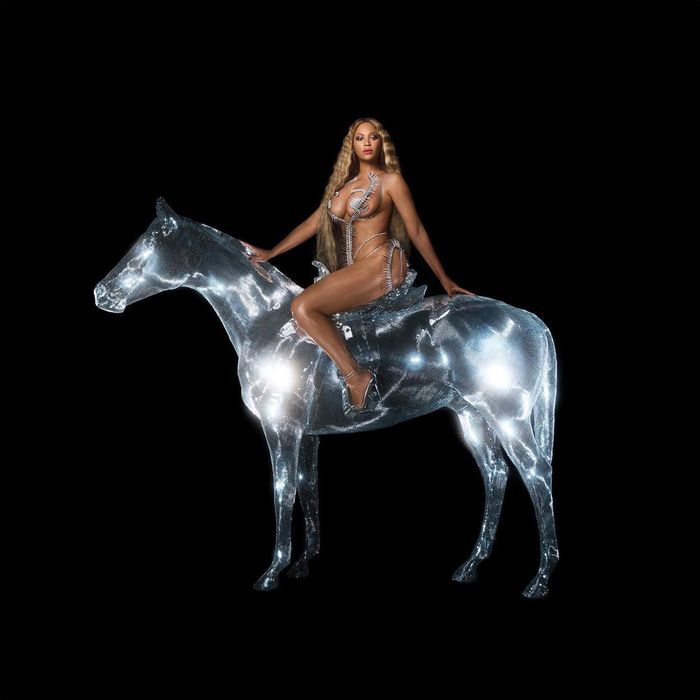 Photo: Carlijn Jacobs/ Parkwood Entertainment/Columbia Records
The countdown to Beyoncé is finally over. Act I: Renaissance, Beyoncé's seventh studio album and first solo project in six years, came out at midnight. Personally, I would like to take the day off to fully immerse myself in this cosmic event.
The conventional album rollout was a shift for Beyoncé, who usually releases her music through surprise drops, presumably to avoid leaks. And for good reason, it seems: Per Variety, the full act i RENAISSANCE album was leaked 36 hours before its scheduled release, prompting backlash from the Beyhive, many of whom encouraged fans to report accounts sharing the leaked music on social media. Beyoncé addressed the leak on Friday, thanking fans who waited for the album's official release before listening to it. "The album leaked, and you all actually waited," she wrote on Instagram, adding, "I can't thank y'all enough for your love and protection. I appreciate you for trying to call out anyone that was trying to sneak into the club early … I Love You Deep."
Beyoncé first announced the album last month, selling mystery "renaissance" boxes on her website and delighting Beyhive members everywhere. Not long after that, she released the first single off the album, "Break My Soul," a collaboration with New Orleans bounce artist Big Freedia and an ode to house music and releasing your jobs. (Per BuzzFeed, several people actually quit their jobs after hearing it. Such is the power of a Beyoncé track.) Since then, Beyoncé slowly trickled out album hype on social media, from posting images of the album's cover art to sharing the official track list in an Instagram Story last week. Now that the album is out, it seems there's still another rollout to come: According to a press release, Beyoncé — a master of the visual album format — has decided to "lead without visuals, giving fans the opportunity to be limitless in their expansive listening journey." Okay, fine, I'll do a music video countdown.
When Lemonade came out in 2016, it explored heavy themes of infidelity, perseverance, Black sisterhood, and the pain of forgiveness amid betrayal. In comparison, Renaissance is more focused on joy, and it comes at a time where we all could use some: "Creating this album allowed me a place to dream and to find escape during a scary time for the world," Beyoncé wrote on Instagram last month. "I hope you find joy in this music. I hope it inspires you to release the wiggle … to feel as unique, strong, and sexy as you are." BRB, listening to the entire album on repeat.