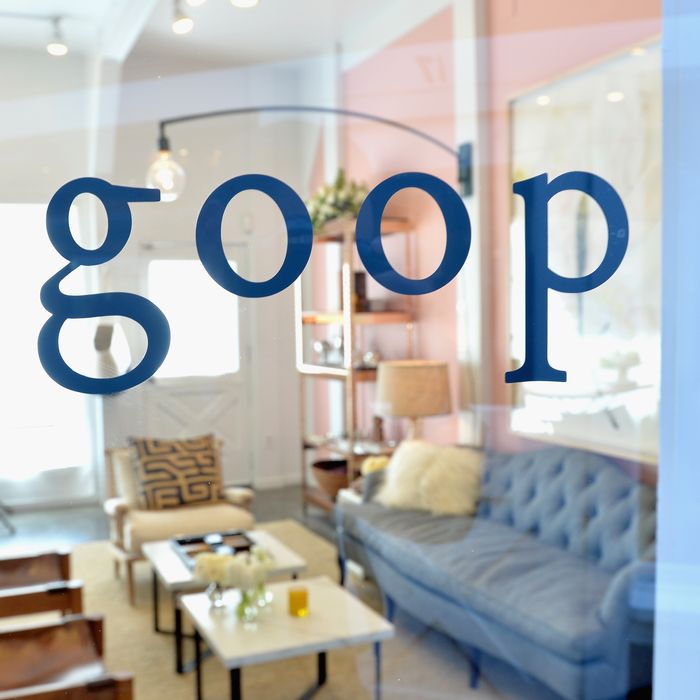 A general view of a May 2014 Goop pop-up shop in Los Angeles, California, which is not where the blaze occurred.
Photo: Michael Buckner/2014 Getty Images
Two men allegedly caught fire in the Hamptons Goop store last month in a blaze of murky origins. On Friday, Jezebel reported that candles ignited the June 25 blaze at the company's Sag Harbor location, citing the East Hampton police blotter (itself an arresting read). A source close to the story refutes that claim, though, attributing the blaze to an accident associated with a s'mores station and emphasizing that candles were not involved at all. Here's what the police blotter says about the situation:
Police responded to a strange scene at Goop on Saturday evening, where two men had caught fire. They reported that rubbing alcohol had been added to candles, causing a large explosion and flames. Police were able to apply ice packs, but one man, who had a large burn on his back and ears, had to be taken by helicopter to Stony Brook University Hospital. The other, who had sustained facial burns, was transported by ambulance to Southampton Hospital.
Naturally, questions linger. Why would a person put rubbing alcohol on a candle when rubbing alcohol is highly flammable even when exposed to heat, let alone an open flame? Are these men going to be okay? We certainly hope so. The frequency of purportedly Goop-related explosions is becoming alarming. First, in January 2021, London resident Jody Thompson reported that her $75 "This Smells Like My Vagina" votive "exploded and emitted huge flames, with bits flying everywhere" after she lit it. In May of that same year, Texan customer Colby Watson sued the company after his vagina candle allegedly "became engulfed in high flames" after burning for a few hours. Goop batted down both claims, saying that it hadn't sold Thompson her candle and that Watson had made a "frivolous … attempt to secure an outsized payout from a press-heavy product."
The Cut contacted Goop for comment ahead of publication. A spokesperson for the Sag Harbor Fire Department said that, because the incident remains under investigation, they cannot provide any other details. So for now, please stay safe out there, everyone.
This article has been updated to reflect conflicting reports about the fire's source.