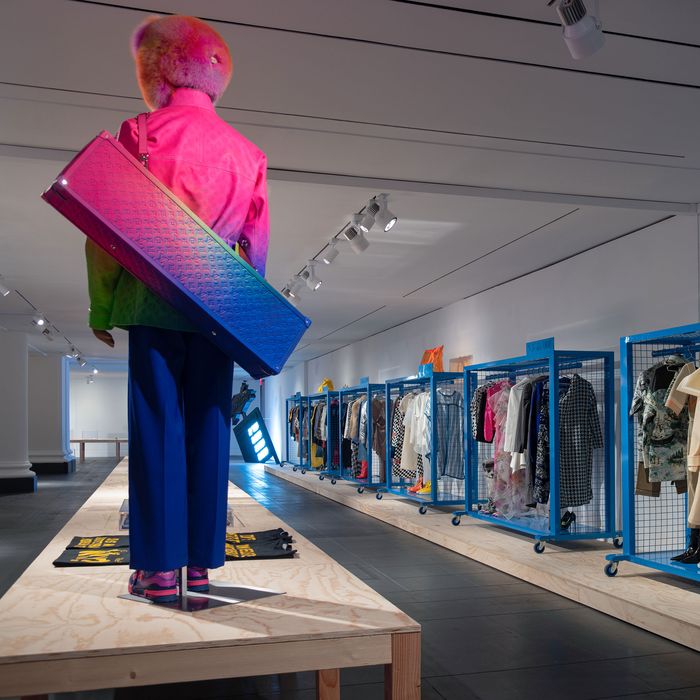 Photo: Courtesy of the Brooklyn Museum
Opening today, the Brooklyn Museum's latest exhibition, "Virgil Abloh: 'Figures of Speech,'" is a culmination of sketches, designs — including selections from Off-White, Louis Vuitton Men's, and one-off creations — and installations from the past two decades of the designer's life. Virgil Abloh, a first-generation Ghanaian American who created his own streetwear label, Off-White, and, in 2018, became the first Black designer to rise to the role of artistic director of menswear for Louis Vuitton, died last November at 41 years old. Originally conceptualized by the Museum of Contemporary Art in Chicago, this iteration of the exhibition was expanded upon by writer and curator Antwaun Sargent.
On Wednesday, we got an early preview of the exhibition, which leads you chronologically through Abloh's ascent, from the graphics-obsessed teenager growing up in the suburbs of Chicago (he famously said, "Everything I do is for the 17-year-old version of myself") to the trailblazing high-fashion designer that he became. As you turn corners, you're met with life-size sculptures, notable garments from his oeuvre, and Abloh's past runway shows projected onto the towering walls of the building. In the middle of it all sits SOCIAL SCULPTURE, a cabin-like structure that was Abloh's last architectural project. But don't call this a retrospective. Think of it as a "major survey of an artist's work," according to Sargent.
We caught up with Sargent inside of Abloh's SOCIAL SCULPTURE at the preview on Wednesday.
You first met Abloh in 2019 on a call with the Brooklyn Museum's director, Anne Pasternak, who had plans to create this exhibition. And for two years up until his death, you worked with Abloh on this exhibition. What was your working relationship like with Abloh in bringing this all together?
There was just such fluidity in his practice and the way that he lived his life — even in institutions like this, he was always trying to redesign. I was not a WhatsApp person before I met Virgil two and a half years ago; he communicated that way all the time. You can draw on WhatsApp, so he drew notes on things, or he'll sketch things out. With this exhibition, to the last moment, he was like, "Let's keep trying to shift it." His team came in and was like, "What if we do this? What if we do this?" And that's a different way of working in a museum. Museum shows are generally set six months before — you go in, you have a plan, you do not deviate from that plan.
How would you describe the mission statement of "Figures of Speech"?
He was always playing and thinking about new ways of addressing the world. For him, he thought in a nonhierarchical way, and so he was not interested in this idea of low culture or high culture. He was more interested in an idea of How can everyone be in conversation? And how can we use objects to have people be in conversation?
So it's an exhibition that looks at his process from the studio to the world, really. And it does it across all the mediums that he had been known to work in — architecture, art, design music, and obviously fashion. What I wanted to do with the exhibition was show his fluidity. I wanted to show that this was someone who literally thought beyond boundaries and applied the different learnings that he took from architecture and design and art and fashion and put them into all the things that he was doing.
This is the first posthumous exhibition of Abloh's work. What were the most important elements for you to highlight?
This is a major survey, it's not a retrospective — and I want to make sure folks know that. He was around, approving a plan and seeing it through. It's super sad that he's not here, but I do feel super confident that this is the show he would have put on.
In cycling through his works, what was something you learned about Abloh that you hadn't known before? 
He was a very hard person to know simply through the design. The thing that was so surprising to me was his openness. There was never a moment where he was like "I'm not available" or "I can't hop on Zoom." He was truly involved in every aspect. I was shocked. He's the head designer at Louis Vuitton; he's running his own brand; he also has two young children and a wife. He's also constantly on a plane. It was remarkable to see an artist work at that level.
What should people take away from "Figures of Speech"?
An artist's journey. You see an artist from literal childhood emerging as one of the most consequential artists of his generation. And you see that in the objects. From the booklets that show his sketches and ideas all the way to his final collections at Louis Vuitton and Off-White, you see an artist's life unfold. And I think that anyone can connect with that, whether they know Virgil Abloh or not.
This interview has been edited and condensed for clarity.