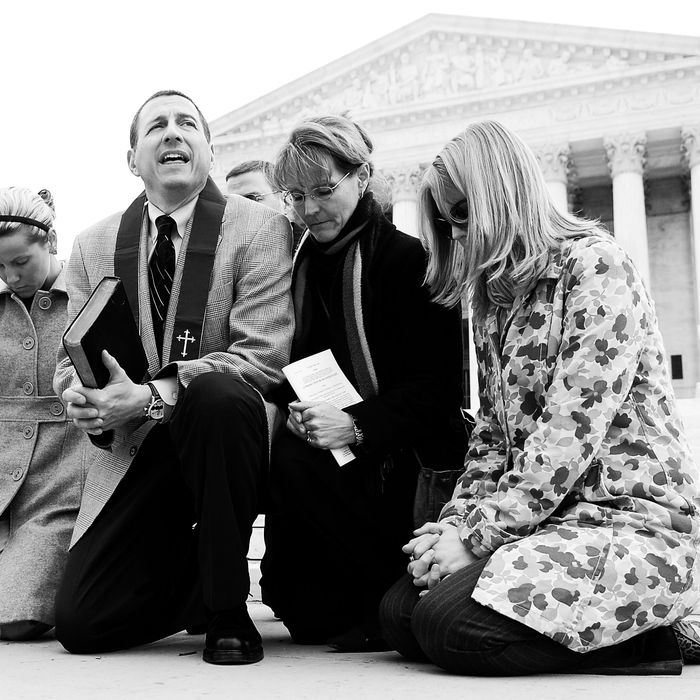 Rob Schenck (center) leads a prayer with anti-abortion advocates in front of the Supreme Court on April 18, 2007. Peggy Nienaber is pictured to his right.
Photo: Jonathan Ernst/Getty Images
What happens when the Supreme Court engages in a conflict of interest? I am asking this sincerely because, as best as I can tell, the answer is absolutely nothing — and this troubles me. If, for example, certain justices were meeting privately in their chambers or even in general with members of a religiously motivated lobbying group that was actively involved in its cases, would that not qualify as somewhat inappropriate? If the Court's conservatives were praying with the same anti-abortion activists whose amicus briefs they'd cited in an opinion overturning federal abortion protections, wouldn't that constitute a fairly clear breach of ethics?
I am thinking yes, but then the Court did not return Rolling Stone's request for comment on a recent conflict-of-interest report, nor has it returned the Cut's. Therefore, it is presently unclear what the official policy would be on justices praying with Faith & Liberty, an evangelical ministry that sits under the umbrella of the Liberty Counsel, a right-wing legal organization the Southern Poverty Law Center considers a hate group. According to Rolling Stone, Faith & Liberty vice-president Peggy Nienaber claimed on a hot mic that she prays with members of the Court. "You actually pray with the Supreme Court justices?" a livestreamer called Connie IRL reportedly asked Nienaber outside the Court on June 27, days after the justices handed down their decision in Dobbs v. Jackson Women's Health Organization. "I do," Nienaber replied, according to Rolling Stone. "They will pray with us, those that like us to pray with them." Asked where the prayer occurs — at their homes, in her office — Nienaber stated, "We actually go in there." Apparently meaning inside the Supreme Court.
The Dobbs decision represents a real win for anti-abortion activists and presumably for the Liberty Counsel in particular: It filed an amicus brief in support of Mississippi's position. In a statement to the Cut, Liberty Counsel founder and chairman Mat Staver said that "the Rolling Stone article is false" and "sensational." Formerly known as Faith and Action, the Faith & Liberty ministry has operated across the street from the Supreme Court's chambers since the 1990s, Rolling Stone reports. It became part of the Liberty Counsel under its current name in 2018. Since that time, Staver said, "There has been no prayer with the Justices." His statement continued:
This prayer ministry prays for the Justices, not with them. And the prayer ministry is not just for the Justices and the Court but includes all three branches of government, the nation, and also includes international prayer. The instances referred to in the article go back many years prior to when Liberty Counsel assumed the Faith & Liberty prayer ministry.
But Rolling Stone spoke with Faith and Action's founder, Rob Schenck, who confirmed that he ministered to Samuel Alito (who drafted the majority opinion in Dobbs), Clarence Thomas, and Antonin Scalia in their chambers from the late '90s until the mid-2010s. Schenck went on to renounce his anti-abortion activism and evangelical political work but described the justices as key targets for conversion. "The intention all along was to embolden the conservative justices by loaning them a kind of spiritual moral support — to give them an assurance that not only was there a large number of people behind them," he said, "but in fact, there was divine support for very strong and unapologetic opinions from them." While ministers would purportedly try to avoid getting specific about topics pertaining to cases under the Court's consideration, Rolling Stone reports that prayers to end abortion did occur even as Faith and Action signed an amicus brief in (for example) Gonzalez v. Planned Parenthood, which upheld the Partial-Birth Abortion Ban Act of 2003.
Nienaber, meanwhile, has been involved since about 2005. And though she insisted to Rolling Stone that she does "not socialize with the justices," her social-media footprint suggests otherwise. She has reportedly called Thomas a "friend" and described him "passing by our ministry center to attend church and always taking time to say hello." She received an invitation to Brett Kavanaugh's swearing-in. She has been photographed with both men as well as with Senator Lindsey Graham and former vice-president Mike Pence. The Liberty Counsel did not account for that apparent discrepancy in its statement, but both Staver and Nienaber have pointed to COVID restrictions in arguing against Rolling Stone's allegations. "Since early 2020, access to the Supreme Court has been restricted due to COVID," Nienaber told the magazine. "It has been many years since I prayed with a Justice."
"It should be obvious that since early 2020, the Supreme Court has been on lockdown due to COVID," Staver said in his statement to the Cut. "There is no way anyone could have entered the Court to pray with the Justices or the staff over the past 2½ years."
But Nienaber's claims that she has never socialized with justices contrast with her own posts on social media and with her admission that she has in fact prayed with these men. Staver did not account for Nienaber's hot-mic comments, but arguably the most troubling thing about all of this "isn't whether they're praying," as Adam Winkler, a Supreme Court expert at the University of California Los Angeles, put it to Rolling Stone, "but that several justices seem committed to reading their religion into the Constitution."
It isn't a violation for the justices to keep whatever faith they choose, to practice it privately, to pray; it is (or should be) a violation for those beliefs to color their interpretation of the law. If their current cases were to come up in these prayers, Winkler said, that may present an ethical conflict. Unfortunately, it is apparently up to the justices to decide on their own partiality. And as this term's batch of decisions — on prayer in schools, on gun rights, and certainly on abortion — indicates, the Court's conservatives have no problem ruling in support of their own personal interests. You can read Rolling Stone's full story here.
Correction: A previous version of this article stated that Rob Schenck was the founder of Faith & Liberty. He founded Faith and Action, the ministry that became Faith & Liberty after the Liberty Counsel purchased and renamed it.