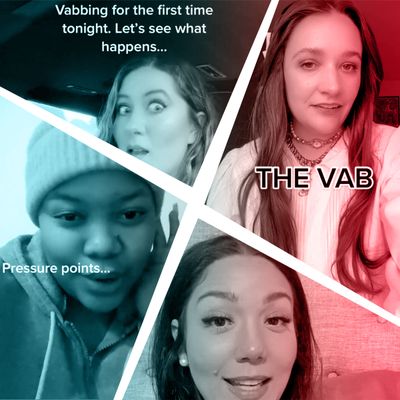 To say there's a lot of dating advice on TikTok would be an understatement. It's where citizens of the internet serve up supposed hacks intended to help you wade through an increasingly muddied dating pool and find whatever it is you want — not that any of those hacks are proven or guaranteed to work. Nonetheless, TikToks about everything from color theory to micro-expressions are passed around DMs and group chats of singles like old wives' tales. The latest: vabbing — a jarring portmanteau of "vagina" and "dabbing."
A practice that Madame Goop is probably jealous she didn't come up with first, vabbing promotes the use of vaginal fluids as perfume. Apparently, pheromones in the body's secretions are alleged to attract throngs of potential partners, especially when worn externally.
So, is Eau de vagin a true love potion, or is it just as good as snake oil? Let's dive in.
Wait, first — what exactly are you saying?
Taking a dip in your honey pot, and dabbing your homemade perfume onto the pressure points (wrists, neck, behind the ears). Et voilà — your very own bespoke scent!
Where did this start?
Vabbing first made waves on a November 2018 episode of the Secret Keepers Club podcast, hosted by comedians Carly Aquilino and Emma Willmann. A previous episode's tale about a friend who used his (heavy sigh) ball sweat as cologne inspired an intrigued listener to produce her own farm-to-table perfume after she "double-tapped the puss." The experiment produced overwhelmingly positive results, and the listener turned all of her friends onto the practice, which they dubbed "vabbing."
Shan Boodram, who self-describes as an "intimacy expert" and hosts the podcast Lovers and Friends with Shan Boodram, cemented herself as the face of vabbing in August 2019 when Refinery29 published a polarizing excerpt of her book, The Game of Desire. Two days later, she took to YouTube to discuss the intricacies of vabbing. Boodram, who has been vabbing for over 15 years, was surprised by the "tiny little media circus" that her habit received. "It was so crazy to me when people got so flipped out about it," she says. "To me, it's felt like old news." Her video — which to date has over 200,000 views — piqued the interest of many potential vabbers, with viewers commenting: "I'm definitely gonna do this from now on," and "I might give this a go! It makes sense that it would work seeing as it's to do with your natural scent and your pheromones. And It's definitely a lot cheaper than perfume!" Boodram gave vabbing its late-night debut during a February 2020 appearance on A Little Late With Lilly Singh. "You what now?" Singh asked, trying to contain her shock. She talked vabbing again on an August 2021 episode of the Bachelor Nation podcast Talking It Out With Mike & Bryan, asking host Bryan "Dr. Abs" Absolo (a.k.a. Mr. Rachel Lindsay), a chiropractor, for his medical opinion on the practice.
On June 13, 2022, TikTok influencer, analyst and writer Mandy Lee (@oldloserinbrooklyn) broke from her usual fashion content to extol the virtues of vabbing. "Apologies with tears, but it does work," she wrote in the comments. Lee's TikTok, which has since raked in over 1 million views and counting, brought the polarizing perfume to new audiences. Users ranged from appalled to obsessed, while veteran vabbers flocked to the comments to swear by it for dates, clubbing, and even job interviews.
So, is it safe?
All in all, wearing vaginal fluids as perfume seems pretty harmless. However, Dr. Jen Gunter, an OBGYN and author of The Vagina Bible, cautions against vabbing if you have hepatitis B, as it can live on surfaces for long periods of time. "Almost everything else that is sexually transmitted is only sexually transmitted because these organisms live in very specific eco-niches in your body," she says. If you're something of a hands-on researcher yourself, proceed with hygiene. If the past few years have taught us anything, it's wash your hands before you do literally anything.
Does it work?
No. Humans have a nearly useless vomeronasal organ, which is what helps animals process pheromones. A positive reaction to a smell is actually an evolutionary response. "People mistake conditioning with the concept of pheromones," Dr. Gunter says. "It only takes a few exposures to something that we think is pleasant to like that smell."
"There is no conclusive advice on the impact of vabbing," Boodram admits, even cautioning those on the fence against trying it. "It's not necessary and the fun is when it's something that you do because you believe it will make you feel more confident," she says. Vabbing's potency appears to come not from the juice itself, but from the mindset. "Whatever makes you feel like you can bust that shit open and feel hella confident and use your vagina as perfume," Boodram said on Talking It Out. But Dr. Gunter worries that misrepresenting vabbing as a scientifically founded practice has more insidious consequences: "If people truly believe that there are pheromones, they've been misled," she says. "I think it shows us how very easily medical disinformation can become perceived as fact."
What can I do instead?
If you're taking a more traditional approach to a signature scent, there's a host of olfactory influencers to help you. The writer Rachel Syme shares her encyclopedic knowledge of fragrances in her delightful Twitter series "Perfume Genie." There's even an entire niche of TikTok users like @fumnimonet, @perfumerism, @nicole_perfumes, and @professorperfume dedicated solely to perfume. Most importantly, avoid scams that advertise perfume and cologne with "pheromone technology." It's not a thing!