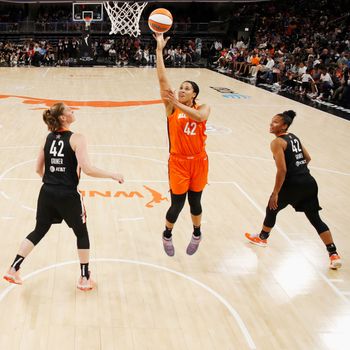 Photo: Jeff Haynes/NBAE via Getty Images
Last week, Brittney Griner — the WNBA star who has been detained in Russia since February — pleaded guilty to drug possession in a Moscow court, which carries a sentence of up to ten years in a penal colony. The next steps of her case remain unclear, with experts suggesting her guilty plea may have been part of a strategic play for an eventual prisoner swap. On Sunday, her teammates showed their support: During the second half of the WNBA's All-Star Game in Chicago, the league paid tribute to Griner by wearing matching versions of her No. 42 jersey with her name written on the back.
"We just wanted to make sure at some point that we are able to — on national television, obviously in front of a sold-out crowd — put Brittney's name in the forefront," Seattle Storm guard Sue Bird told ESPN on Sunday. "Hopefully at some point she sees a picture or something, letting her know that she is always on our minds and in our hearts." A'ja Wilson, an all-star team captain, echoed Bird's sentiments about raising awareness over Griner's case, telling the New York Times that the league is "not going to stop until everyone understands how serious this really is." In addition to both competing teams wearing the jersey, the league also named Griner an honorary starter for the game, with several players hugging Griner's wife, Cherelle Griner, who sat courtside and reportedly expressed gratitude that the league had not forgotten her wife during an ESPN broadcast.
While many WNBA stars compete internationally, incentivized by more lucrative pay (it should be noted that the average WNBA player is paid roughly 44 times less than the average NBA player), Griner's detention has drawn attention to the potential dangers of doing so. For its part, the WNBA has vocalized support for Griner since her initial arrest and released a statement of support following her guilty plea, stressing that it "stands with Griner" and spotlighting the punitive nature of Russia's legal system and its impact on all U.S. detainees. "With a 99 percent conviction rate, Russia's process is its own," the statement read. "The Administration needs to know that this powerful collective is behind them and supports whatever needs to be done to get BG, Paul Whelan, and other detained U.S. nationals home right away."