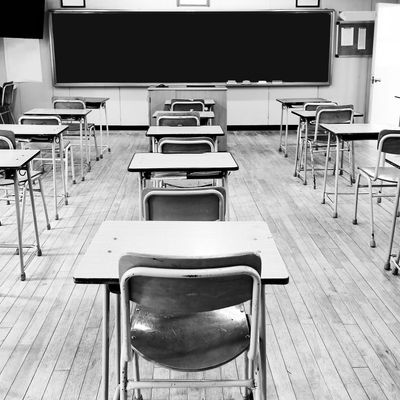 Photo: Dongseon_Kim/Getty Images/iStockphoto
In dystopian back-to-school news, a Missouri school district has decided to reinstate its dormant corporal-punishment policy, allowing educators to discipline students with a paddle for the first time in over two decades, the Washington Post reports.
The school board for Missouri's Cassville school district apparently put the policy allowing "use of physical force as a method for correcting student behavior" in place back in June. According to Cassville superintendent Merlyn Johnson, the disciplinary measure will involve "swatting the buttocks with a paddle" and is intended to assuage parents' concerns that the district schools don't offer enough intermediate disciplinary steps before suspension. I'm aware that this all sounds like fodder for an Onion article, but it unfortunately appears to be true: "The complaints that we have heard from some of our parents is that they don't want their students suspended. They want another option. And so, this was just another option that we could use before we get to that point," Johnson told The Hill on Wednesday, citing an anonymous parent survey that went out last year. Claiming that parents clamored him with "requests" for corporal punishment in the past, Johnson added that administrators will only use paddles as a "last resort" and that punishment will only be administered by principals in the presence of a witness. Teachers and principals must also submit reports clarifying their reasoning behind using the punishment. Parents were notified of the policy during open house this week; per The Guardian, those who want their children included can sign an opt-in form provided by the school office.
The Supreme Court ruled corporal punishment constitutional in 1977, and it remains legal across 19 states, including Missouri (it's also legal in most private schools, barring New Jersey and Iowa), with over 160,000 students subject to corporal punishment a year. However, the Court's stance conflicts with the U.N.'s view, which considers the practice a human-rights violation. While the practice has been on the decline in recent years, a 2021 American Family Survey indicates that roughly 47 percent of Americans still agree spanking is necessary, despite the fact that the American Academy of Pediatrics and the American Psychological Association suggest that it can have detrimental effects on a student's academic, physical, and emotional well-being, and can lead to increased aggression, antisocial behavior, and mental-health problems. It's also worth noting that in most other contexts, the use of force against a child is considered assault.
Not all Cassville parents support paddling coming back: Miranda Waltrip, who has three children in the school district, told news outlet OzarksFirst on Wednesday that she finds the measure inappropriate and ineffective, advocating for counseling services instead: "At the end of the day, they are having to hold the child down and spank them or use whatever means that they can to make the child submissive when that is not the issue, it is the fact that they need to be heard because children act out for varied reasons," she said.