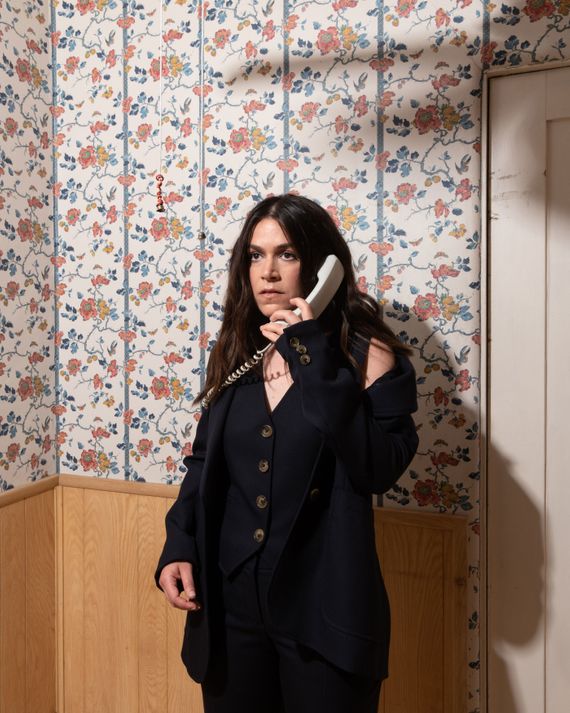 This article was featured in One Great Story, New York's reading recommendation newsletter. Sign up here to get it nightly.
Abbi Jacobson is contagiously smiley. At various points throughout our meeting, at a wobbly table in front of El Prado, a Los Angeles wine bar where neither of us orders wine, I find myself grinning conspiratorially, as if I, too, am on the same group-text thread she mentions, or part of her friendship with Broad City co-creator Ilana Glazer. I'm not, obviously; I'm just a fan with reporter credentials, but Jacobson's palpable happiness makes our work interview feel more like a friend catch-up over pinkish cider (mine) and "your lightest, crispest" beer (hers). The sound I make when she tells me she's recently engaged to her partner of nearly two years — For All Mankind actor Jodi Balfour — is regrettably unchill, typically reserved for people who love and accept me.
This is a big year for Jacobson, now 38: In just a few days, A League of Their Own, a TV remake of the classic 1992 film about a WWII-era professional women's baseball team, in which Jacobson stars, writes, and produces, will premiere on Amazon Prime. Its release rounds out five years' worth of seemingly Sisyphean labor: writing and rewriting, shooting and reshooting, waiting to see if the pilot would be picked up, and then, when it was, waiting some more. "I'm at the point where I'm like, 'Is it going to air?'" Jacobson laughs. "You kind of start to feel like, 'Did I make this up?'"
The series' co-creator, director-producer Will Graham, approached Jacobson to develop the show back in 2017, the year Broad City's fourth season aired on Comedy Central. At the time, co-stars Jacobson and Glazer had yet to decide the show's next season would be its last, but League felt too good to pass up. Jacobson accepted the job and began writing and researching the vehicle that marks her first big outing sans Glazer. In the years between Broad City's 2019 finale and League's premiere, Jacobson has appeared in a handful of other people's TV shows (Curb Your Enthusiasm, Bob's Burgers) and movies (6 Balloons) and done voice-over work in the Academy Award–nominated The Mitchells vs. the Machines and Netflix's Disenchantment — but League is the first thing she's really owned. (She considered directing, too, but decided, she says, "I don't have to do all the roles, just because I can.")
Particularly when she's as intimately involved with a project as she is with League, Jacobson is — for better and, often, for worse — the kind of person who can't help but read the reviews. "Ilana would always be like, 'Why are you doing this?'" she says. "I can't help it. I would search for the bad one, and that one would mean more than the good ones." Since Broad City, Jacobson has "very happily" quit Twitter and expects that to help mitigate her somewhat self-destructive tendencies around critique. Still, the streaming-network renewal process remains something of a mystery to her (as it does to many of us), and she's hoping people start to see ads for the show. Earlier that day, Jacobson's co-star, Roberta Colindrez (who plays Lupe García), spotted the first League billboard and texted it around to the cast. "I could live in a void of, 'It doesn't matter'" how the show does, Jacobson says. "I'm just not that person."
"I feel a lot of pressure for a lot of reasons," she continues. "A League of Their Own is people's favorite movie, so there's pressure surrounding making something that's based off of such a beloved piece of IP." Then there's the duty she feels toward the Broad City fans, who will find much of what they love about that version of Abbi here, too, but still — change is hard for us all.
Of the decade she spent working on Broad City, first as a web series and then on TV, Jacobson says, "It feels akin to your first love." Jacobson and Glazer are still close; Jacobson tells me Glazer texted her within the last hour, commenting on a photo Jacobson posted to Instagram: "Abbi, stunning." "She sounds like her mom," Jacobson laughs. The end of Broad City was not the end of them, and Jacobson expects they'll find their way back together for projects in the future. "It would be really hard to imagine not doing something together again at some point, but I think it's important for both of us to see what else is out there creatively," she says.
As a fan with impossibly high expectations myself, I'm happy to report the show is excellent. I expected to laugh, and did; I did not expect to cry, and did — a lot. Jacobson and Graham's reboot is not, as so many reboots tend to be, an itchy, ill-fitting eye patch slapped over a beloved story's blind spots. The queer and Black stories here aren't supplemental to the story; they are the story. Where the 1992 movie famously features a Black woman spectator's powerful throw to signal toward segregation — sure, she should have been allowed on the team, but she wasn't — the show asks what she does next. The result is a richer, fuller world than the movie made room for, interweaving the story of the Rockford Peaches (led by Jacobson's Carson Shaw) with that of Max Chapman (Chanté Adams), an ambitious young pitcher determined to join the men-only Negro Leagues, an association of Black baseball teams organized in 1920. (Major League Baseball officially excluded Black players until 1947, a policy known as the "color line.")
"A lot of our pitch stemmed from research and discovering Mamie Johnson, Toni Stone, and Connie Morgan, who were women who played in the Negro Leagues," Jacobson explains. "I often think people are going to see this poster and be like, They're making a woke version. And it's like, 'No, we pitched what it was actually like.'"
After meeting on the field, where Chapman echoes the film's big throw before being told she can't join the Peaches, Shaw and Chapman develop a utilitarian partnership, meeting at night to play catch. Jacobson and Graham knew such a relationship would have been rare in 1943, and aimed to present it believably, linking them through (slight spoiler) shared experiences of queerness. "We felt like that friendship had to be linked by these things that they can't talk about with anyone else," Jacobson says. One of the show's most revelatory scenes, in its heart-shattering sixth episode, finds them in the Peaches' locker room discussing the femme-butch dynamic and their respective struggles to find where they fit, and how they want to present, along that spectrum. I don't know if I've ever seen anything like it, even on The L Word; how rare it still is, in mainstream culture, for queer women's sexuality to be portrayed with curiosity beyond the prurient.
Unsurprisingly, many of the show's conversations surrounding sexuality were informed by Jacobson's own experiences navigating queerness after coming out in her 30s. "Carson figuring out her sexuality pretty late was very much my experience," she says. "To recognize that fluidity, I think, is really important right now. It was always there, but for whatever reason, you haven't been exposed, or you haven't really looked very deep inside." This isn't a show with one queer character, or even one queer couple, standing in for a fuller community: The gang is truly all here. And because there are so many distinct embodiments of queerness represented, it feels thrillingly probable that young queer people will watch A League of Their Own and see someone who looks like them, or someone they want to be more like, or just someone they're drawn to for reasons they don't yet understand. Had this version of the story been around when I was a little gay kid who loved baseball, I think I would have figured myself out sooner; Jacobson, despite growing up in a Philadelphia suburb in what she describes as a "liberal, Jewish, Democratic family," feels similarly.
"There were two, maybe three gay people in my high school," she says. "It was very rare. It was just not in my orbit. And then it was like, Will and Grace …?" Of course, just because there weren't many out students in her school (or mine) doesn't mean they weren't there, just as our unfamiliarity with 1940s queerness doesn't mean it didn't exist. And though many of the characters on League are comfortable with the fact that they're gay, they're far from finished evolving. "Everyone is really in the middle of figuring themselves out, which is what I'm really interested in, in what I watch," Jacobson says. "I'm always like, Oh, they're in the middle of it too? Great. I feel comfortable."
When asked how it feels to be on the cusp of releasing her first big solo project, Jacobson modestly (and accurately) reminds me A League of Their Own is also the product of a duo. "I did not do this show by myself. Will [Graham] asked me to do it," she says. "I think I'm still yearning to see, what does my voice feel like on its own?" If she can find a free moment, her next project may provide an answer: She hopes to write and direct a film based on "Go Like This," a short story by Lorrie Moore, whom she started reading in the darkest days of spring 2020.
"There were several months there before I met Jodi that were really, really bad," says Jacobson. "'The world's ending. I'm fully by myself.'" She read a lot, but also felt "really depressed" during that period.
Fortunately for us all, things got better: slowly, sometimes almost imperceptibly, but on the whole — inarguably better. The League pilot got picked up. Jacobson met the woman she's going to marry. The years blurred together until somehow, the other side arrived. The show really is coming out, I promise (and it's great). When it does, Jacobson is taking a vacation; she has a lot to celebrate.
"I'm going to not be responding to emails," she says excitedly. "I've never done that. I'm still like, Will it happen? We'll see."