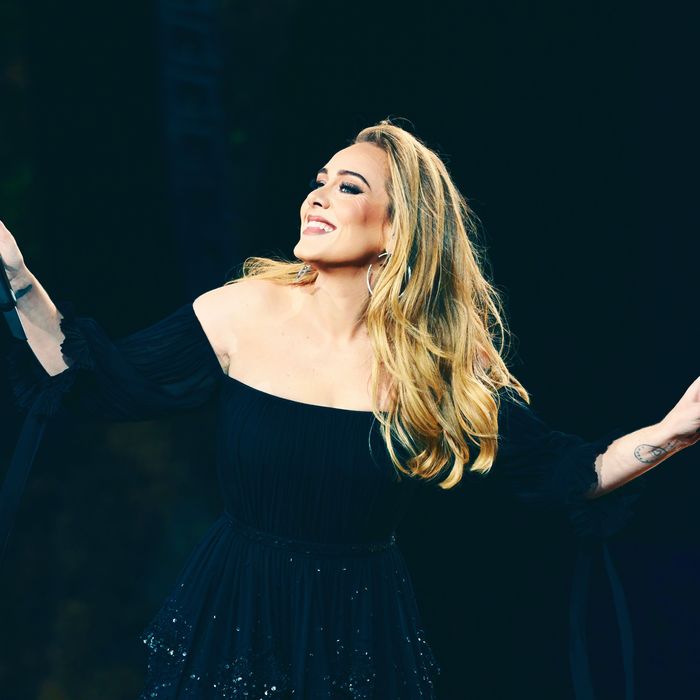 Photo: Gareth Cattermole/Getty Images for Adele
Just in time for her Las Vegas residency, we have received several updates on Adele and her basketball guy. Hurrah! A little refresher: Adele got divorced in 2019, and she has been dating a basketball agent named Rich Paul for just over a year. Last we checked in, he was expertly handling dating a very famous woman, and she was head over heels in love. In a new Elle interview, Adele shared some new intel on how the relationship is progressing, and it sounds as though they're on a pretty blissful trajectory.
"I've never been in love like this," she said. "I'm obsessed with him." And "lucky for him, I love basketball." Lucky indeed. Anyway, Adele, who has a son with her ex-husband, Simon Konecki, and Paul, who has three kids of his own, are planning to unite their families at some point, namely by renovating Sylvester Stallone's former Beverly Hills mansion together. So, if you are as nosy as I am, you may be wondering, Are they going to get married? Adele said she "absolutely" wants to get married again, but when asked if she's engaged, her answer only prompted more questions. "Well! Well. Well, I'm not married," she said. "I'm not married." Okay …
She proceeded to repeat "I'm not married" twice more when the question was repeated, then spontaneously broke into song. "I'm just in loooove! I'm happy as I'll ever be. I might as well be married." Huh! In response to further questioning, Adele eventually conceded, "I'm not engaged. I just love high-end jewelry, boy!"
So there you have it: Three "wells," four "I'm not married"s, and a passion for high-end jewelry, boy! If you have any idea what this means for Adele and the subject of her next album, please let me know. In the meantime, my regards to this very happy couple.