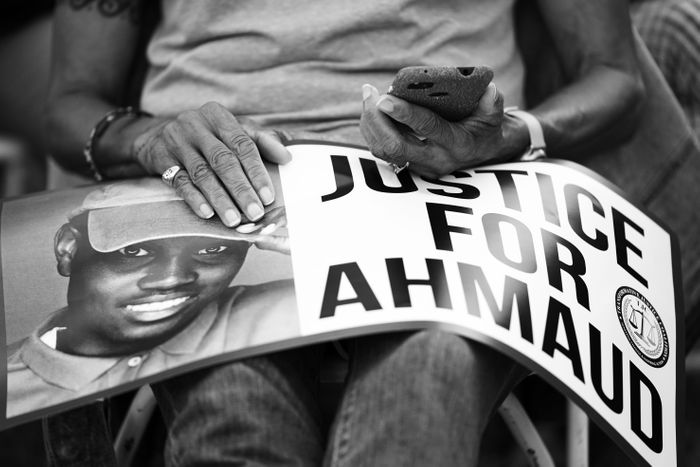 Photo: Sean Rayford/Getty Images
On February 23, 2020, Ahmaud Arbery, a 25-year-old Black man, was fatally shot while jogging through Brunswick, Georgia, after three white men — Gregory McMichael, 65; his son, Travis McMichael, 35; and William "Roddie" Bryan, 52 — pursued him down a suburban street in pickup trucks. According to police reports, both McMichaels confronted Arbery with firearms before Travis McMichael fired the fatal shots.
Afterward, the men claimed they suspected Arbery of stealing from a neighbor's house that was under construction, though there is no evidence Arbery stole anything from the house. Yet the men weren't arrested until more than two months after the shooting, when a video Bryan filmed of the encounter went viral, sparking national outrage. "My son was lynched, lynched by a racist lynch mob," Arbery's father, Marcus Arbery Sr., said at the time.
The McMichaels were finally arrested in May 2020; Bryan was arrested a few weeks later. The three men were charged with nine counts including one count of malice murder and four counts of felony murder. They pleaded not guilty, arguing that they were conducting a citizen's arrest under a since-repealed Georgia law. In November, a jury found the three men guilty of murder, and all three were sentenced to life in prison. At a subsequent federal trial in February, a jury found the three men guilty of hate-crime charges. Now, the McMichaels have been sentenced to their second life-in-prison terms on those charges. Here, what to know about the case.
What did the prosecution argue?
For the most part, the prosecution's strategy was to dispel the defendants' two major claims — that they acted under the citizen's-arrest law and that they acted in self-defense.
In her opening statement, prosecutor Linda Dunikoski said Arbery was "under attack" by the three defendants, the New York Times reports. The defendants claimed they suspected Arbery of stealing from an under-construction house that he stopped at during his run, but video surveillance showed Arbery didn't take anything from the construction site. Dunikoski pointed out that both McMichaels admitted to police that they didn't know whether Arbery had broken into the house when they set out to pursue him, making their claim to have acted under the citizen's-arrest law dubious. Dunikoski also recounted how the defendants chased Arbery down the street for five minutes, playing the video Bryan took in which Bryan and the McMichaels' trucks closed in on Arbery. According to police interviews, Gregory McMichael, wielding a firearm, ordered Arbery to stop and threatened to "blow your fucking head off." Addressing Travis McMichael's claims of self-defense, Dunikoski argued that he told police he "didn't remember" if Arbery ever grabbed his shotgun. "I want to say he did," McMichael said.
Over eight days of testimony, the prosecution called 23 witnesses to the stand. Among them was Officer William Duggan, one of two police officers who arrived at the scene. Duggan recalled arriving at the scene and finding Arbery on the ground covered in blood. Duggan claimed there was nothing he could do to attend to the severity of Arbery's injuries. Duggan saw Travis McMichael sitting nearby. When asked if he was okay, Travis allegedly responded, "No … I just effing killed somebody." Larry English, who owned the home that was under construction, testified that nothing was taken from his property and that he'd never authorized or asked the McMichaels to check on it.
But a glaring omission from the prosecution's argument was been any substantial discussion of race. It's a fact that would seem hard to ignore in a case in which three white men chased down and killed an unarmed Black man, especially given that Bryan told investigators he heard Travis McMichael use a racial slur after Arbery was shot and that one of the defendant's trucks apparently had a Confederate flag emblazoned on the vanity plate. Black pastors and civil-rights leaders — including Al Sharpton, Jesse Jackson, and Martin Luther King III — have been notable presences at the trial to the extent that the defense argued for a mistrial, a call the judge dismissed.
What was the defense's strategy?
The defense relied upon Georgia's old citizen's-arrest and self-defense laws. Georgia's since-repealed Civil War–era citizen's-arrest law gave private citizens the ability to arrest someone if they had reasonable knowledge or suspicion the person committed a crime. The portion of that law that gave private citizens the ability to make arrests was repealed following the national outrage surrounding Arbery's murder. "Ahmaud was a victim of a vigilante style of violence that has no place in Georgia," Georgia governor Brian Kemp said at a news conference after the repeal, calling the law "antiquated" and "ripe for abuse."
However, the law was in effect at the time of Arbery's murder and became the spine of the defense's case with defense lawyers arguing Travis McMichael was fulfilling his "duty and responsibility" to his community by pursuing Arbery. According to the defense's version of events, the McMichaels intended to catch and detain Arbery until police arrived at the scene, but Arbery fought them, so they shot him. In his opening statement, defense attorney Robert Rubin claimed Travis had seen Arbery outside English's house two weeks earlier and feared that Arbery (though unarmed) was reaching for a gun during their encounter.
The defense managed to successfully dismiss prospective Black jurors, arguing that they were biased against the defendants. Despite objections by the prosecution, the jury consists of 11 white jurors and one Black juror. Although Judge Timothy Walmsley conceded there was "intentional discrimination in the panel," he said he couldn't do anything to bring back jurors who had been dismissed. According to NPR, all-white juries are more likely to convict Black people at higher rates.
Did the defendants testify?
Of the three defendants in the case, only Travis McMichael took the stand. He claimed that, leading up to the killing, an influx of property crime had taken over his community and that his pistol had been stolen.
Travis told the court that he did not intend to kill Arbery and that he was shocked and traumatized by the incident. He claimed he pointed his gun at Arbery in order to "de-escalate" the situation, a tactic he said he had learned while serving in the Coast Guard. He said the decision to shoot Arbery was a "life-or-death decision" because he feared Arbery would shoot him or his father despite the fact that Arbery was unarmed. "He was all over me," Travis McMichael said. "He was still all over that shotgun, and he was not relenting." He claimed Arbery had his gun; footage of the incident never shows Arbery in possession of his gun, though there was an apparent struggle. On the stand, McMichael blotted unconvincing tears with a tissue and claimed he was thinking of his son the moment before he pulled the trigger.
During a cross-examination, the prosecution revealed instances from Travis McMichael's social media in which he called crime suspects "vermin." Because McMichael claimed Arbery had posed a threat to him, Dunikoski asked the defendant whether Arbery reached into his pockets, yelled, threatened him, or brandished weapons, specifically guns or knives. McMichael said no. Questioned further, he confirmed that Arbery just ran away from his pursuers.
All three men were found guilty of murder.
In closing arguments, Dunikoski said the three defendants "made assumptions about what was going on" the day of Arbery's death. In one of the few moments of the trial where race was explicitly mentioned, Dunikoski added that the defendants decided to attack Arbery "because he was a Black man running down the street."
In his closing remarks, Jason Sheffield, Travis McMichael's attorney, maintained that his client was acting out of "duty and responsibility" and that he was following the rules of Georgia's citizen's-arrest law as it existed. He also expressed remorse on behalf of his client: "Travis could have watched Ahmaud run down the road," Sheffield said. "He could have done everything other than what actually happened … and he wishes that he would have. But that does not mean that his actions on that day weren't rooted in the law."
The outcome of the trial felt particularly weighted after the trial of Kyle Rittenhouse ended in not-guilty verdicts. Rittenhouse, a white man, shot and killed two men and injured a third in Kenosha, Wisconsin, at a Black Lives Matter protest, and his acquittal set an uncomfortable precedent for violent far-right vigilantism.
On November 24, the jury found the three men guilty of murder. Travis, who fired the fatal shots, was found guilty on all counts, including malice murder and felony murder. Gregory and Bryan were both found not guilty of malice murder, but were convicted on other counts, including felony murder.
Following the verdict, Arbery's parents, Wanda Cooper-Jones and Marcus Arbery, spoke to reporters outside the courthouse. After thanking everyone who supported his family throughout the trial, Marcus Arbery said that they "conquered that lynch mob," calling the verdict "history" and proof that Black Lives Matter. "For real, all lives matter," he added. "We don't want to see nobody go through this. I wouldn't want to see no daddy watch their kid get lynched and shot down like that." He concluded with a celebratory and hopeful message, declaring, "Love everybody. All human beings need to be treated equally."
Cooper-Jones, who said she "never thought this day would come," also thanked supporters, especially noting those who had prayed for her and her family. "I just want to say thank you. Thank you. Thank each and every one of you who fought this fight with us. It's been a long fight. It's been a hard fight. But God is good," she said. She ended her comments by saying that Arbery could now "rest in peace."
Meanwhile, President Biden also released a statement on the verdict. "While the guilty verdicts reflect our justice system doing its job, that alone is not enough," he said. "Instead, we must recommit ourselves to building a future of unity and shared strength, where no one fears violence because of the color of their skin."
All three murderers have been sentenced to life in prison.
At the sentencing hearing on January 7, Arbery's parents and other family members read emotional impact statements before the court, speaking to the trauma of his murder. Cooper-Jones directly addressed her late son, saying that while the verdict doesn't bring him back, "It does help bring closure to this very difficult chapter of my life."
Judge Walmsley said Arbery had been "hunted down and shot" by the defendants. Walmsley sentenced both Travis and Gregory McMichael to life in prison without parole, while Bryan was sentenced to life with the possibility of parole. Lawyers for the McMichaels said they planned to appeal. 
All three murderers have been found guilty of hate-crime charges.
Earlier this year, a federal jury also found the McMichaels and Bryan guilty of hate-crime charges related to Arbery's murder. Whereas the murder trial tiptoed around race, the federal trial focused explicitly on the three men's preexisting racial animus against Black people, with testimony including troves of racist messages and social-media posts from all three murderers. FBI intelligence analysts testified to Travis McMichael's frequent use of the N-word in text messages as well as the ways he sanctioned and encouraged violence against Black people on social media. "I say shoot all of them," he once commented on a video of teenagers — many of them Black — attacking a white teenager. Bryan was shown to have called his daughter's Black boyfriend a racial slur in text messages and referred to MLK Day as a "monkey parade," among other offenses. Prosecutors also pointed to evidence of Gregory McMichael sharing memes claiming Irish slaves received the worst treatment of any enslaved groups. "When was the last time you heard an Irishman bitching about how the world owes them a living?" said one of McMichael's memes. Meanwhile, defense lawyers for the McMichaels argued that the language used by their clients was "not illegal."
After the federal jury reached the guilty verdict, Arbery's family joined hands outside the federal courthouse. For many, the landmark verdict was a hopeful indication that the U.S. Department of Justice will appropriately prosecute and penalize racially motivated hate crimes. "At the end of the day, the evidence in this case will prove that if Ahmaud Arbery had been white, he would have gone for a jog, checked out a house under construction, and been home in time for Sunday supper," said Justice Department lawyer Bobbi Bernstein to the federal jury in February.
The McMichaels received second life sentences for their federal hate-crime charges; Bryan got 35 years.
In a series of back-to-back hearings on August 8, a federal judge sentenced the McMichaels to life in prison and Bryan to 35 years, this time on federal hate-crime charges. Although the punishment is largely symbolic — all three men are already serving life sentences over their murder convictions — the judge also struck down their requests to spend part of their concurrent life sentences in federal prison instead of Georgia state prison over alleged safety concerns. Per the Times, a lawyer for Travis McMichael argued he had received hundreds of death threats in state prison and would be safer from "vigilante justice" at a federal facility, which generally have better amenities. The judge presiding over the sentencing hearing told Travis McMichael he had received a fair trial, "the kind of trial that Ahmaud Arbery did not receive before he was shot and killed."
While Travis McMichael declined to speak in court, Gregory McMichael addressed Arbery's family members, telling them, "the loss you've endured is beyond description" and that he "never wanted any of this to happen." Several members of Arbery's family came to court for the hearings, with his mother telling the judge: "I felt every shot that was fired every day."
This post has been updated.