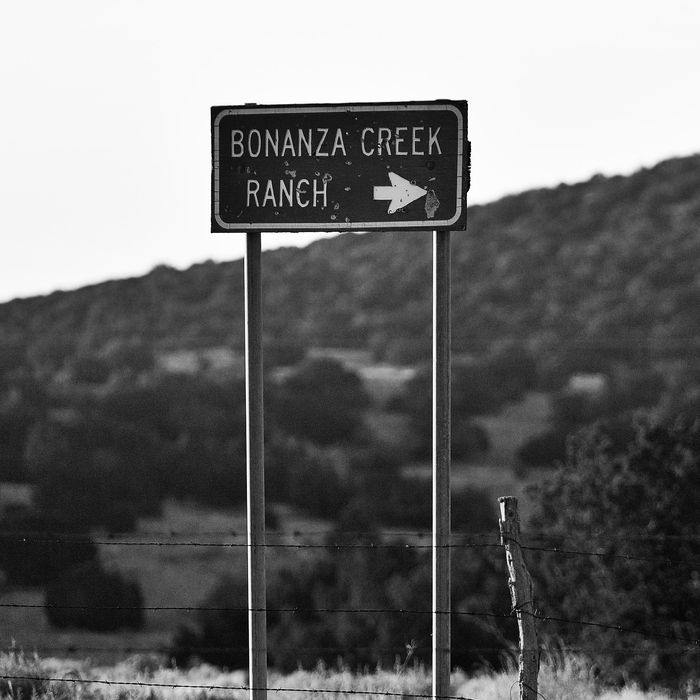 A sign pointing toward Bonanza Creek Ranch, where cinematographer Halyna Hutchins died.
Photo: Sam Wasson/Getty Images
In October 2021, a woman died on the set of the western Rust after a prop gun Alec Baldwin was holding accidentally discharged in the course of rehearsing a scene. The victim, Halyna Hutchins, was the cinematographer on the movie, which was filming at Bonanza Creek Ranch, in Santa Fe County, New Mexico. Hutchins was taken to the hospital by helicopter immediately following the shooting and was pronounced dead after her arrival. Director Joel Souza sustained injuries as well and was hospitalized.
Despite the fact that Baldwin — who was listed as one of the film's producers — is now suing the Rust armorer and other members of the crew, the show will go on. As part of a settlement between Hutchins's estate and the production, Souza, Baldwin, and Hutchins's widower, Matthew Hutchins, agreed that production on Rust would resume in 2023. "Though certainly bittersweet, I am pleased that together, we will now complete what Halyna and I started," Souza said in a statement. Filming resumed in April in a new location and with a new cinematographer onboard and wrapped in late May.
Meanwhile, three months after the Santa Fe County Sheriff's Office completed its investigation, district prosecutors charged Baldwin and the movie's prop armorer, Hannah Gutierrez-Reed, with two counts each of involuntary manslaughter; in late April, they dropped the charges against Baldwin. In June, a judge approved a settlement between Baldwin and Hutchinson's son and husband, but he still faces multiple civil suits brought by Hutchins's parents and sister and by crew members. Here's everything we know about the shooting and its fallout.
Questions have surfaced as to how Baldwin wound up with a "hot" gun in the first place.
Although props departments may use real guns on movie sets, they do not use live ammunition as a rule. The New York Times reports that investigators removed around 500 rounds from Rust's set, but typically production uses blanks to re-create the effect of firing a gun, sometimes with added powder to amp up the effect of the blast onscreen. But blanks can do serious damage too — particularly when fired at closed range.
Despite those general firearm-safety norms, the gun Baldwin was using turned out to have a "lead projectile" inside, Santa Fe County sheriff Adan Mendoza explained, according to the Times: "We would consider it a live round, a bullet, live, because it did fire from the weapon and obviously caused the death of Ms. Hutchins and injured Mr. Souza."
In the days after the shooting, members of the crew pointed fingers when it came to responsibility for giving Baldwin a "hot" firearm. Dave Halls, assistant director on the movie, told investigators he failed to inspect every round in every chamber of every gun on set. In his affidavit, Souza said the gun went off during rehearsal of a scene in which Baldwin, seated on a church pew, pulls his firearm from its holster and aims directly "towards the camera lens." The director explained that he and Hutchins were checking the camera angle at the time, and Halls told Baldwin he was using a "cold gun" just before the shot. Gutierrez-Reed, Rust's armorer, told detectives she also checked the weapons to make sure they contained no live ammunition.
Attorneys for Gutierrez-Reed maintained in a statement that their client "has no idea where the live rounds came from" and that "ultimately this set would never have been compromised if live ammo were not introduced." Months after the shooting, in January 2022, Gutierrez-Reed filed a complaint against PDQ Arm and Prop and managing member Seth Kenney, who supplied ammunition for the film. As reported by NPR, the filing claims that Gutierrez-Reed used rounds provided by Kenney and PDQ on the day of the shooting, which the suit claims were labeled "dummy rounds .45 LC." "Hannah relied upon and trusted that Defendants would only supply dummy prop ammunition, or blanks, and no live rounds were ever to be on set," reads the complaint.
Members of the Rust crew have described a high-stress and chaotic filming process.
In the weeks after the shooting, a chaotic picture formed of the environment on set. According to the Los Angeles Times, half a dozen union camera-crew workers had walked off set in protest of working conditions just hours before Hutchins was shot. There had been three misfires of the prop gun before the one that killed Hutchins, one source told the Times. "There should have been an investigation into what happened," an unnamed crew member said. "There were no safety meetings. There was no assurance that it wouldn't happen again. All they wanted to do was rush, rush, rush." The Times reported that someone texted the production manager, "We've now had three accidental discharges. This is super unsafe."
In follow-up interviews with the Times, 14 crew members attested to on-set confusion. "It always felt like the budget was more important than crew members," A-camera first assistant Lane Luper said. But other crew members have denied these claims. Baldwin reposted a series of messages from costumer Terese Magpale Davis refuting the idea that Rust had been a mess. "I'm so sick of this narrative," she wrote, per Baldwin's screenshots. "I worked on this movie. The story being spun of us being overworked and surrounded by unsafe, chaotic conditions is bullshit."
In April 2022, the New Mexico Occupational Health and Safety Bureau fined Rust Movie Productions $136,793 for a lack of firearms safety, reportedly the maximum fine allowed. Over the course of its investigation, the bureau reportedly found that there was no on-set protocol to ensure live rounds never made it onto the film set and that multiple complaints from crew members about gun safety were ignored. A lawyer for Gutierrez-Reed said the report found that the armorer "was not provided adequate time or resources to conduct her job effectively, despite her voiced concerns." But a huge cache of documents the bureau released after the report suggest Gutierrez-Reed may have known live rounds had been detected on set ahead of the fatal shooting. In published text messages, Rust's prop master tells Gutierrez-Reed she found "bad ones" in the box of ammunition. "Hannah advised she thought it meant possibly one or two rounds from the box, but Sarah told her it was more than half of the box," the summary reportedly read.
Baldwin insists he didn't pull the trigger.
The day after the shooting, Baldwin addressed the incident on Twitter. "There are no words to convey my shock and sadness regarding the tragic accident that took the life of Halyna Hutchins, a wife, mother and deeply admired colleague of ours," he wrote. "I'm fully cooperating with the police investigation to address how this tragedy occurred and I am in touch with her husband, offering my support to him and his family. My heart is broken for her husband, their son, and all who knew and loved Halyna."'
In the days that followed, Baldwin told paparazzi outside his home that the shooting was a "one-in-a-trillion episode" but didn't issue an outright denial until his December 2021 sit-down with George Stephanopoulos. "I didn't pull the trigger," he said. "I would never point a gun at anyone and pull the trigger at them. Never." Stephanopoulos noted that some have argued that "you're never supposed to point a gun on anyone on a set no matter what." Baldwin responded, "Unless the person is the cinematographer, who's directing me at where to point the gun for her camera angle. That's exactly what happened."
Baldwin argued that there was never supposed to be a real bullet on set at all. "Someone put a live bullet in a gun, a bullet that wasn't even supposed to be on the property," he said. "Someone is ​responsible for what happened, and I can't say who that is, but I know it's not me." Baldwin said that, after the gun was fired, he thought Hutchins fainted. "The notion that there was a live round in that gun did not dawn on me till probably 45 minutes to an hour later." Baldwin added that he supports "anything that will take us to a place where this is less likely to happen again."
In December 2021, the Santa Fe County Sheriff's Office issued a search warrant for Baldwin's phone, which the actor finally turned over in January 2022. He attributed the delay to interstate bureaucracy — Baldwin lives in New York, while the investigation took place in New Mexico — and said on Instagram, "Any suggestion that I am not complying with the requests, or orders, or demands, or search warrants for my phone, that's bullshit. That's a lie."
In August 2022, however, an official FBI forensic report determined that the gun "could not be made to fire without a pull of the trigger." The FBI reportedly conducted "accidental discharge testing" on a single-action .45 Colt–caliber F.lli Pietta, the model used on set. Assuming the revolver was working properly, the tests determined that there was no way for the gun to go off without the trigger being pulled, which would directly contradict Baldwin's earlier insistence that he "didn't pull the trigger."
Baldwin and Gutierrez-Reed were charged with involuntary-manslaughter.
Early this year, Santa Fe County district attorney Mary Carmack-Altwies announced that Baldwin and Gutierrez-Reed would be charged with involuntary manslaughter for their involvement in Hutchins's death. Halls, who signed a plea deal with the DA, will do six months of probation with a suspended sentence for negligent use of a deadly weapon. The district isn't planning to file charges for Souza's injuries.
"If any one of these three people — Alec Baldwin, Hannah Gutierrez-Reed, or David Halls — had done their job, Halyna Hutchins would be alive today," special prosecutor Andrea Reeb said in a statement. "It's that simple." Reeb added that the "evidence clearly shows a pattern of criminal disregard for safety on the Rust film set."
Baldwin, meanwhile, pleaded not guilty on February 23, 2023, according to the Los Angeles Times. In a court filing, he waived his right to make his first court appearance. He has also agreed not to possess weapons and not to consume alcohol and to communicate with witnesses only as is necessary to finish production of Rust. Souza was on the witness list.
But a few months later, the charges against Baldwin were dropped.
On April 20, 2023, Baldwin's attorneys confirmed to multiple outlets that the case against the actor had been dismissed. As prosecutors prepared the paperwork to have Baldwin's charges dropped, Deadline reported that those against Gutierrez-Reed were left standing, "thereby keeping the probe open and retaining subpoena power for prosecutors going forward."
Baldwin still faces a number of civil suits.
In November 2021, Rust script supervisor Mamie Mitchell filed a lawsuit against Baldwin, the film's producers, six production companies, an armorer, and the first assistant director working on the film. In her complaint, Mitchell, who is represented by Gloria Allred, claimed assault and emotional distress, according to Deadline, and asserted that the set failed to follow safety protocols for the use of firearms. According to the suit, the upcoming scene "did not call" for the cocking and firing of a gun. Baldwin allegedly accepted the gun from the assistant director instead of the armorer — the only person on set qualified to verify that a firearm is a "cold gun." Mitchell claims that no such verification happened on the set of Rust and that Baldwin should have assumed the gun handed to him was loaded unless proved otherwise.
Baldwin countered with a motion to dismiss the lawsuit, calling Mitchell's argument "completely illogical." A Los Angeles Superior Court judge ruled in September that Mitchell could not sue the film's producers as Baldwin was the only person potentially liable for the shooting, per Deadline. Mitchell's claims for intentional infliction of emotional distress and assault and battery against the Rust producers were dismissed, but the lawsuit against Baldwin is still going forward.
Meanwhile, Baldwin filed a cross-complaint against Gutierrez-Reed, Halls, gun and ammunitions supplier Kenney, and prop master Sarah Zachry, accusing them of failing to properly check the gun and ammunition on set. "This tragedy happened because live bullets were delivered to the set and loaded into the gun," Baldwin's lawyer said in the complaint, per the New York Times. As for Mitchell's claims that Baldwin was responsible for keeping the set safe, Baldwin's filling says the actor and producer was unaware of any safety issues.
The film's gaffer and script supervisor also sued Baldwin, and in February 2022, Hutchins's husband, Matthew Hutchins, filed a wrongful death suit against the actor, crew members, and producers. "Halyna Hutchins deserved to live, and the Defendants had the power to prevent her death if they had only held sacrosanct their duty to protect the safety of every individual on a set where firearms were present," the lawsuit said, "instead of cutting corners on safety procedures where human lives were at stake, rushing to stay on schedule and ignoring numerous complaints of safety violations." Baldwin, it added, "recklessly" pointed a gun at Hutchins when he shouldn't have been aiming a weapon at anyone at all. The complaint alleged that the production violated "at least 15 industry standards" for set safety and that Baldwin personally broke gun-handling protocol, as reported by Variety.
With legal claims and potential damages piling up, Baldwin's lawyers filed an expansive arbitration demand against the other Rust producers in March. The filing claimed Baldwin isn't responsible for Hutchins's death and, citing a clause in his Rust contract, seeks coverage for his ongoing legal fees. The filing claims that Baldwin had only creative control as a producer and that he wasn't in charge of budgets, ammunition checks, or otherwise ensuring safety on set. In response to Matthew Hutchins's lawsuit, the filing alleges that Halyna Hutchins gave Baldwin the instructions about positioning and firing the gun.
Hutchins's husband settled with Baldwin only for her family to file a new suit months later.
Eight months after filing his lawsuit, Matthew Hutchins announced that the attorneys had reached an undisclosed settlement. Hutchins would drop the case against Baldwin and the producers and, in exchange, would be made executive producer on the film. In an initial statement to Deadline, Hutchins said filming would resume — "with all the original principal players on board," Baldwin included. On June 1, the L.A Times reported that a judge approved the settlement, which is structured to compensate Hutchins's son, Andros, who was 9 when his mother died. The financial details of the settlement have not been made public, but the District Court Judge Bryan Biedscheid's orders require that Andros's portion of the settlement be paid to him when he is between the ages of 18 and 22. "The settlement … is fair, appropriate, and in the best interests of Andros Hutchins, a minor, protected person," the judge wrote in his order.
Although Hutchins told Deadline he had "no interest in engaging in recriminations or attributions of blame" past the settlement, his late wife's parents — Olga Solovey and Anatolii Androsovych, who are based in Ukraine — appear to feel differently. Along with Hutchins's sister, Svetlana Zemko, they filed a new suit against Baldwin, Guttierez-Reed, Halls, and the producers in February. "To lose my sister, at least personally for me, was a horrible experience, and it is one of the biggest losses of my life," Zemko said, per Insider, in a video message played for the press. "And even more devastating is to see the utter suffering of our parents and how their health has sharply declined." This is why, she said, she wanted to hold "someone who is truly responsible for this" accountable.
The cinematographer's family is suing for alleged negligence, intentional infliction of emotional distress, battery, and loss of consortium. Gloria Allred, who is representing the family in this case, told the press that Hutchins would send money home to her family and that they believed she would have helped them immigrate to the U.S. during the war. Attorneys for Baldwin and Guttierez-Reed were not commenting on the lawsuit at the time but have denied their clients' culpability on many different occasions.
Still, fresh legal action continues to arrive at Baldwin's door with a trio of crew members (the key grip, the set costumer, and the dolly operator) filing a lawsuit in late February 2023 that accuses him and his fellow producers of prioritizing a tiny budget over maintaining safety standards. Having witnessed the shooting, Entertainment Tonight reports, the crew members say they now suffer insomnia, post-traumatic stress disorder, and anxiety. The costumer, it alleges, "watched in shock as Hutchins grabbed at her abdomen," then "put her hands on Hutchins' stomach, trying to find the source of Hutchins' pain and figure out what was going on." She later "collapsed" outside the church "from the effects of the blast and the shock of the shooting," the filing states. "These injuries were caused by Defendants' failure to follow industry safety rules," it alleges. "Defendants cut corners; ignored reports of multiple, unscripted firearms discharges; and persisted, rushed and understaffed, to finish the film."
Despite everything, the movie was completed.
Rust began filming again on April 20, with cinematographer Bianca Cline taking over Hutchins's job and both Souza and Baldwin staying on as director and star, respectively. This time, they filmed at the Yellowstone Film Ranch in Montana. According to the BBC, the shooting scene that culminated in Hutchins's death has been reworked, and the movie "will bar any use of working weapons and any form of ammunition," Melina Spadone, a lawyer for Rust Movie Productions, told the broadcaster. "Live ammunition is — and always was — prohibited on set." According to CBS, filming wrapped in late May. Baldwin wrote on Instagram that completing the movie had been a "long and difficult road" and "nothing less than a miracle."
This article has been updated.