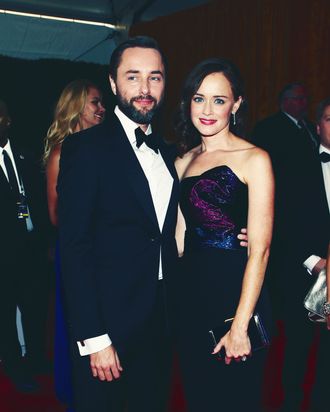 Photo: Invision/AP/Shutterstock
Alexis Bledel and Vincent Kartheiser are getting divorced after eight years of marriage, People reports.
Bledel, 40 — best known for playing Rory Gilmore on Gilmore Girls — and Kartheiser, 43, met in 2012 while filming Mad Men. In the series, Kartheiser starred as unctuous advertising executive Pete Campbell, and Bledel appeared in a brief recurring role as Beth Dawes, a woman with whom he had an affair. Us Weekly reported that Bledel and Kartheiser began dating that same year. Since then, the two have maintained a low-profile relationship, making few public appearances and comments about each other in the press. Speaking with Vulture in 2014 about "the most important things in my life," Kartheiser said, "If I share them with the world and I open that door to their fuming anger that they need to get out or their adoration that they want to flaunt, it lessens it. It cheapens it; it weakens it." Bledel and Kartheiser privately married in Ojai, California, in 2014 and welcomed a son in 2015 after keeping Bledel's pregnancy and birth secret. (Bledel's Gilmore Girls co-star Scott Patterson was the first to reveal the news, telling Glamour in 2016 that Bledel was "a proud new mother.")
A representative for Bledel confirmed that Kartheiser filed for divorce at a New York court earlier this month. Neither Bledel nor Kartheiser have offered further comment at this time.