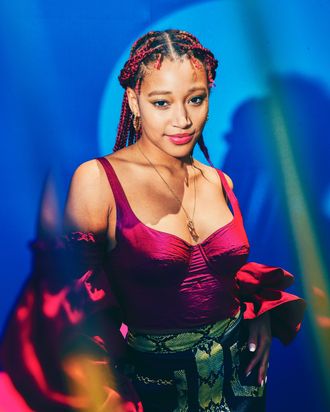 Photo: Irvin Rivera/Getty Images for IMDb
The reviews for A24's new comedy slasher Bodies Bodies Bodies aren't exactly glowing. It has been called a lot of things including "a crime against slasher flicks" and, in the New York Times, "a 95-minute advertisement for cleavage and Charli XCX's latest single." That line in particular caught the attention of the movie's star, Amandla Stenberg, who had some words for Lena Wilson, the critic who wrote the review. "ur review was great," Stenberg wrote Wilson via DM. "maybe if you had gotten ur eyes off my tits you could've watched the movie!"
Wilson, who shared a screenshot of Stenberg's message on Twitter and TikTok, did not appreciate this response. "I am devastated to have received this message," she said in a video, pointing out that she did praise the acting in the movie. "I was a genuine huge fan of hers. But I'm posting it because I don't want this person who has more social power than me to think that it's fucking okay to do something like this." (Some have questioned this description of the power dynamics between a young actor of color and a Times critic.) Wilson also suggested the actor's response was homophobic, writing in her TikTok caption, "unfathomably weird to get 'i don't want you in the locker room while i'm changing' bullying from a whole other lesbian." (Wilson and Stenberg are both gay.)
Shortly after Wilson shared her screenshot, Stenberg posted an Instagram Story explaining that she meant the message as a joke. "I'm receiving a lot of commentary on the internet for being a very naughty girl and for sending a DM that I thought was hilarious," she said in a video, laughing. She said she found the cleavage line of Wilson's "hilarious," joking that she was "proud that a piece of work I was a part of was described as such in such a renowned publication." She added, "I thought because Lena is gay — I am also gay — I thought that as gay people we would both find this comment funny."
However, Stenberg also explained that her response wasn't entirely a joke. "The amount of commentary that I receive on my boobs is so extreme," she said, "and this has happened since I was a teenager." She continued:
I think that Lena was trying to make a commentary about A24 sexualizing me, sexualizing my body, exploiting young women in order to sensationalize them, to make their media more popular, which … I understand the angle. I can tell you I wore this tank top in this movie because me and the costume designer thought it fit the character well.
In conclusion, Stenberg said, speaking directly to Wilson, "I thought your review was hilarious, I thought my DM was funny, I did not mean to harass you, I do not wish you any harm. You are allowed to have your criticisms of my work, and I'm allowed to have my criticisms of your work, and that is A-okay with me." She thanked everyone who saw "our 95-minute advertisement for cleavage" and proposed that she and Wilson both change their bios to "Local Dyke Who Cannot Stop Talking About Boobies", which is how Wilson summarized Stenberg's response to her review. That would be a happy ending, at least?