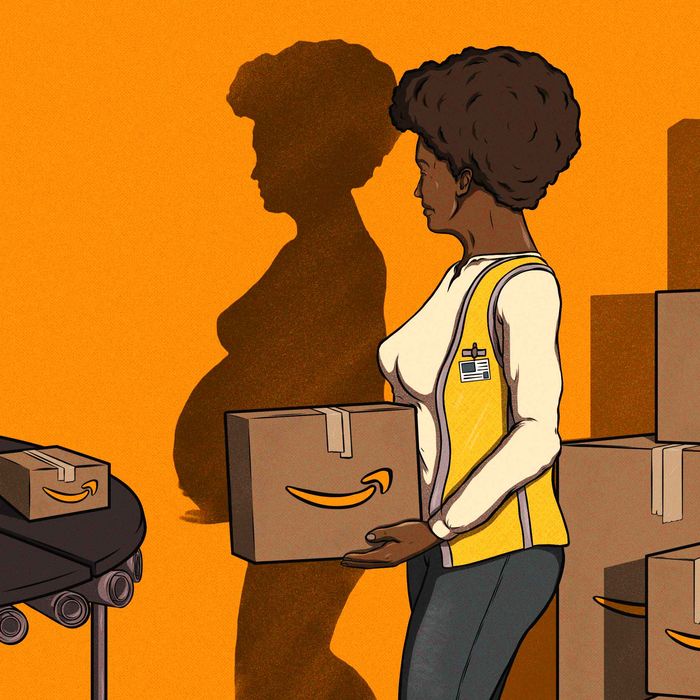 Illustration: Maxwell Erwin
This article was featured in One Great Story, New York's reading recommendation newsletter. Sign up here to get it nightly.
By the time Rebecca Bell applied for a job at Amazon, she was willing to do "literally anything" to get pregnant. The problem was money. After four miscarriages, she and her husband had already spent more than $10,000 on donor embryos, medication, and a few IVF transfers. Neither of their jobs⁠ — hers at FedEx, his in the military⁠ — offered insurance that covered the treatments she has needed since being diagnosed with PCOS, a hormonal condition that can lead to infertility. The couple even resorted to selling some of their stuff, like a chainsaw and a moped, to help with payments. Last fall, when a doctor suggested further testing that would cost yet more thousands of dollars, Bell knew she needed another solution.
The 28-year-old joined Facebook support groups, where she found women who took jobs at Amazon warehouses for the first-rate fertility benefits. This could be my last hope, she thought, scrolling through posts about how the company covers at least two full IVF cycles. The work seemed grueling, but she only needed to survive a few weeks to foot the testing bill. How bad could it really be?
In October, Bell started working overnight shifts at a North Carolina warehouse, where she spent ten hours on her feet sorting packages before lugging them on a cart that could weigh up to 200 pounds at the end of her shift. Soon, she began feeling a searing pain in her legs that became so bad she could barely stand. Then she'd wake up in the middle of the night with a jabbing sensation in her hips, which a doctor later diagnosed as bursitis, a condition that causes swelling around joints. Bell took painkillers and gave herself pep talks: Keep pushing through. There is no other option. After a week of agony, she took the next one off, then quit. It was enough time to both cover the necessary testing and make her feel like an "80-year-old woman." "It's terrifying," she says. "It's like, 'We have great benefits, but we're going to break your body.'"
The U.S. health-care system treats IVF and egg freezing as luxuries for the rich. Yet unlike nose jobs and face-lifts, they are treatments for infertility, a condition that plagues up to one in six couples and affects men and women at roughly the same rate. There is no federal mandate to provide infertility coverage — a bill requiring private health insurers to do so has stalled in Congress — and at the state level, coverage is sporadic. A single full IVF cycle can cost up to $30,000, and most people are stuck paying for treatments out of pocket.
After doing the math, their only option might be to take a job⁠ — often a second job⁠ — at one of the growing number of companies with fertility benefits. While Silicon Valley behemoths like Apple and Meta were at the forefront, offering these perks to their white-collar workers who often pull in six-figure salaries, a growing list of corporations, including Wayfair, Target, Starbucks, and Amazon, now offer them to lower-wage workers. Helping navigate the pros and cons of each insurance plan are TikTik accounts and Facebook groups where mostly women shepherd one another through the fine print, offering tips on how to survive long shifts (compression socks are a must) and get coverage while doing the least amount of work (apply for medical leave). In some cases, they post on behalf of male partners, but the majority are looking to get hired themselves. These online networks, like the Amazon page with more than 3,000 members or the 9,000-person-strong Starbucks group that features a sonogram of a latte-sipping fetus as its cover photo, are gold mines for anyone looking to leverage a company's insurance.
But zoom out and the picture is a little less Rosie the Riveter. Doctors usually say patients going through the IVF process, which involves hormone injections to stimulate egg production, should avoid intensive cardio and heavy weights — activities that, in the worst-case-scenario, can cut off the blood supply to their swollen ovaries. There's also some evidence that overnight hours or heavy lifting on the job can reduce fertility in IVF patients, according to a study from Harvard's School of Public Health.
I spoke with 14 current and former Amazon-warehouse workers, all of whom applied exclusively for the benefits; most said they were in constant physical pain and mental distress during shifts on which they spent between ten and 11 hours on their feet picking up or inspecting packages. There was a nursing assistant and a marine biologist, both of whom put their careers on hold for the coverage; others pulled double duty, working graveyard shifts before turning to their day jobs as teachers and mail carriers. "The very work that will pay for your fertility treatment may well be the kind of work you should not be doing when you are having fertility treatments," says Josephine Johnston, a bioethicist and a director at the Hastings Center, a research institute focused on health policy. "That's a Black Mirror–type bind for people to be in."
A spokesperson for Amazon said that while the company doesn't have evidence of women taking warehouse jobs for IVF coverage, it encourages employees to use all available benefits. She said Amazon offers a "variety of flexible shift options" and that any employee who's pregnant or trying to get pregnant "can be accommodated consistent with recommendations they receive from their health care providers."
Despite the danger to their bodies, many of the women I spoke with said they felt handcuffed to Amazon. It often seemed like the best option in a country that doesn't treat the desire to give birth, or the choice not to, as a basic reproductive right worthy of coverage. Instead, infertility has historically been seen as a personal defect, says Johnston. "If you break your leg skiing, you will get help," she says. "If you don't have functional fallopian tubes, you will not get help." While infertility may not cause extreme physical pain, one study found its mental-health effects on women to be similar to those resulting from a cancer diagnosis. In some cases, the two conditions overlap. But if someone with breast cancer needs to freeze their eggs before starting chemotherapy, insurance won't cover the procedure in most of the U.S. Dr. Kara Goldman, the medical director of fertility at a Chicago-based clinic, worries that just like abortion care, IVF access will split down partisan lines and "be determined by where you live"; the Supreme Court's Dobbs decision could embolden states to define embryos as people, raising the specter of legal threats against fertility patients and providers.
When Nina* decided to freeze her eggs last year, she pleaded with her insurance company to recognize the treatment as a medical necessity. The 35-year-old had just been diagnosed with a very low ovarian reserve, but since Washington State doesn't mandate fertility coverage, she was out of luck. Nina is a vocational rehabilitation counselor who works for the government to help people with disabilities find jobs; there was no way she could afford the $60,000 her local fertility clinic quoted for multiple rounds of egg retrievals and medication. That's how she ended up wearing an ill-fitting snowsuit and boots in an Amazon-warehouse freezer last summer.
She worked overnight shifts, filling grocery orders and unpacking pallets with frozen dinners and ice cream. For the two hours she spent in the freezer, Nina had to enter every item into a smartphone, a task she says required removing her bulky ski gloves, since the Amazon stylus didn't work. (The Amazon spokesperson said employees "are limited on the length of time they can work in the freezer" and are given commercial-grade personal protective equipment.) Her hands turned red and went numb. She was both shivering from the cold and sweating from the physical labor — a combination that made her nauseous. Toward the end of her second shift, Nina broke down crying in the bathroom: She knew she couldn't go back. "Being in that freezer was so awful," she said. "I was a little traumatized." 
A few days later, she learned from the Facebook group that with a doctor's note for her anxiety, she could apply for medical leave. She was able to keep the insurance coverage for six months and save more than $50,000 on egg freezing without ever stepping foot in the warehouse again. A small win, yes, but the big picture has a crooked frame. "I shouldn't have to take a second job to get health-care benefits," Nina says. "I still feel angry about it."
A system that relies on the whims of corporate America to provide infertility coverage only exacerbates inequality. More than 40 percent of large companies with at least 20,000 staffers now cover IVF, and almost 20 percent cover egg freezing, a number that has almost quadrupled since 2015. But the vast majority of U.S. employees still lack any access. Only 17 states have passed laws requiring insurance companies to pitch in on costs, and they can come with many caveats, such as excluding same-sex couples, certain health plans, or particular treatments. They also don't apply to workplaces with self-funded insurance plans, like Walmart, America's largest private employer. New York is the only place that requires Medicaid to cover fertility treatments, though that just includes drugs. This patchwork approach leaves marginalized groups most cut off from care. While Black women are more likely than white women to suffer from infertility, they are less likely to access services that could help them start a family.
Workplaces that do provide these benefits project a socially conscious image, but they have an underlying business agenda. In Silicon Valley, perks like egg freezing can act like glue, keeping white-collar staffers stuck at their desks, delaying childbirth to focus on work. In lower-wage jobs, they are more like bait, luring in desperate workers who otherwise would not put up with poor and unsafe conditions. Management knows this type of coverage — and the threat of losing it — can dissuade employees from taking any kind of collective action. Starbucks said it couldn't "make promises" to cover abortion travel costs for employees at unionized stores, while Amazon has reportedly been waging an all-out war on labor organizers. Companies "never gave these benefits out of the goodness of their hearts," says Jennifer Klein, a Yale professor who studies labor history. "It's always been about maintaining managerial control."
Amazon has the most attractive bait for people struggling to get pregnant. Anyone who can pass a background check and drug test can easily get hired in the warehouse, where insurance coverage starts on day one. At other workplaces popular with Facebook support groups, there are interviews to pass and the benefits take longer to kick in. But Audrey,* who has worked at multiple companies to fund three rounds of IVF, says scrambling during rush hour at Starbucks or lugging 50 pounds of animal feed at a Tractor Supply store is "nothing like the pain and torture of Amazon." "It will wreck you," she says. "Mentally, physically, and emotionally."
When she was hired at a South Carolina warehouse almost two years ago, the 37-year-old developed a routine to cope with the soreness coursing through her body. She'd take six Tylenol a day, and after her ten-hour overnight shifts as a "picker," which involved walking up and down three floors to gather delivery items, she'd bathe in Epsom salts and elevate her feet in bed. It still wasn't enough to stave off the blisters and swelling, so on her doctor's advice, Audrey got steroid injections and wore compression socks with custom orthotics. To numb the stabbing sensation in her lower back, she'd strap on a brace with an ice pack at work. Throughout her half-hour meal break, she would often sit in her car, crying. Audrey, I know this sucks, she'd tell herself, but we're doing it for a good reason.
Last April, she had a miscarriage, and after taking a series of medical leaves related to COVID and a pulmonary embolism, she quit Amazon. "There's a never-ending supply of desperate people in the United States," says Audrey, who now works part-time at Tractor Supply. "They're fine with just rolling them in and rolling them right back out."
Emily* was indeed desperate. After a miscarriage, she discovered her fallopian tubes were blocked and IVF was the only path forward. As a 25-year-old nanny, there was no way she could afford it. Feeling screwed and heartbroken, she quit her job last fall and showed up at an Amazon warehouse to start daytime shifts as a picker. In February, she began hormone injections that led to sharp pains in her bloated stomach; they worsened when she bent down or squatted, motions she was expected to do 65 times an hour just to meet her quota.
Emily gave the company a doctor's note saying she needed to avoid that type of activity, along with lifting anything weighing more than five pounds, and that she should be put on lighter duty for the month. But HR took so long to process the request, she says, that she was forced to go on unpaid leave for roughly four weeks instead. Before her second egg retrieval in March, Emily couldn't afford to miss another paycheck; she decided to work until the pain became unbearable. Less than a week into her shots, she started to feel a stab in her gut every time she bent over to put another box filled with cooking griddles or jeans on to her cart. "I knew at that point, My ovaries are getting too big," she said. "There's no way I can work through this." After submitting another note from her doctor, once again, Emily ended up on unpaid leave.
Despite Amazon's top-notch fertility benefits, a few people told me they struggled to get time off for IVF appointments. Emily said that even when she managed to leave a shift for a doctor's appointment, she was written up for failing to meet her quota. At least seven women sued Amazon between 2012 and 2019, alleging they were fired after requesting longer breaks or lighter work while pregnant, according to CNET. (Six of those cases have been settled, per the report.)
This winter, while Bridget* was checking returned packages at an Amazon warehouse in Kansas, she started taking a drug to prevent miscarriages that also causes diarrhea, along with other gastrointestinal issues. The 21-year-old ran to the bathroom three times within ten hours but says she was reprimanded by managers for "cutting down on production." Amazon is notorious for monitoring employees' every move; Bridget says the higher-ups knew exactly how long she had been gone for, and even when she told them about the medication's effects, threatened her with "serious consequences" if she kept leaving her station. Furious, she went to the bathroom again and decided to hand in her work badge. "The pain, the pressure, and now I couldn't even go to the bathroom? Hell no," she told me. "You're constantly criticized for everything you do." (The Amazon spokesperson said "employees are free to go to the bathroom as needed without fear of reprisal" and that the company works "hard to support employees requiring an accommodation due to a fertility treatment." ) Bridget ended up on COBRA, which, though cheaper than paying for IVF treatments out of pocket, still cost her $700 per month.
That's a price tag Briana Morris couldn't afford. Instead, to keep the plum coverage, she put herself in physical danger after she began packing orders overnight in a Texas warehouse. When she clocked out at 6 a.m., the 30-year-old would sometimes drive straight to her day job as a mail carrier to grab a quick nap in the post-office parking lot before her shift began. Within two weeks, she had started dozing off behind the wheel, and she quit Amazon shortly after. "I just couldn't take it anymore," she said. "I was either going to shut down or have an accident." Yet with no other way to pay for IVF, she has gone back to the company several times.
Morris managed to get pregnant and gave birth to her son last September. Five months later, he died from a blood clot. Heartbroken, she's been determined to try again, and she made her fourth return to Amazon in June. This time, she applied for medical leave after her first shift, a trick she had learned from the Facebook support group, but she was fired a few weeks later for failing to provide a doctor's note. Morris compares her power dynamic with Amazon to "an abusive relationship." "They take advantage of me," she says, "but they're waving benefits at the end."
Not everyone has an Amazon horror story. One woman, who works eight-hour shifts as a warehouse packer, said she'd keep the job regardless of the IVF benefits because of the "wonderful schedule and wonderful colleagues." Another, who also boxed up orders, told me she didn't find the work stressful or physically hard. "Very easy, in my opinion," she said, though, to be fair, her previous employer was the U.S. military. While Dr. Goldman, the fertility director, sees the potential for exploitation, she thinks that any company offering fertility benefits is making a "huge move in the right direction" and should not be "demonized."
For others, it has been a mixed bag. Tatiana,* a special-education teacher, said she had a terrible experience taking on a second job at an Amazon Fresh warehouse in New York City last year. Her asthma acted up in the freezer, and on some days, she says, her legs were so numb she couldn't even walk one block to the subway. A few months later, the 35-year-old moved to a Brooklyn warehouse, and the difference was "night and day." There, the managers let her take breaks to finish up her master's degree or do hormone shots; she could leave early if there were enough hands on deck. In total, she saved about $40,000 on IVF by taking the job. In the end, Tatiana feels grateful: "Had it not been for Amazon … I probably would not be able to say, 'I am pregnant with twins.'"
Even women who went through hell at the delivery giant will qualify their anecdotes with gratitude. After all, Amazon gave them the chance to start a family. What dream isn't worth a little sacrifice? Some Facebook-group members I contacted shooed me away, worried any article on the topic would lead the company to scale back its infertility benefits. Yes, the working conditions weren't ideal, but many were most angry at a political system that doesn't consider IVF worthy of coverage. "I tried every single other way to get insurance," said one woman who works primarily as an event planner and yoga teacher in New York. "I was really mad at the government. I wasn't that mad at Amazon."
It would be understandable if she were. A company whose CEO is rich enough to take joyrides in space can afford to care about his employees' health, both within and without the warehouse walls. Yet Amazon has little financial incentive to do so. A high turnover rate of roughly 150 percent each year is baked into the business model, to stave off disgruntled or mediocre employees, according to the New York Times. Even though Amazon has struggled to hire during "the great resignation," for the most part, there has been no shortage of desperate cogs to keep its wheels turning.
The job has made Emily throw up and become faint and dehydrated — she barely drinks water to avoid bathroom breaks — but she won't be quitting anytime soon. She had her first embryo transfer in July, and it worked. She plans to stay at the company to cover doctor's appointments and go on maternity leave. Over the past few months, she has been waking up in the middle of the night, panicking that if she fails to meet her quota, Amazon will let her go. In her darkest moments, Emily worries about miscarrying from the stress and physical labor at work. It would be the cruelest of ironies if the very conditions that enabled her IVF treatment also sabotaged her chance at a family. But, for now, the stakes are too high to walk away. "I do feel very hostage," she says. "If I get fired, I cannot have a baby."
*Some sources in this story asked to go by their first names or pseudonyms to protect their privacy.