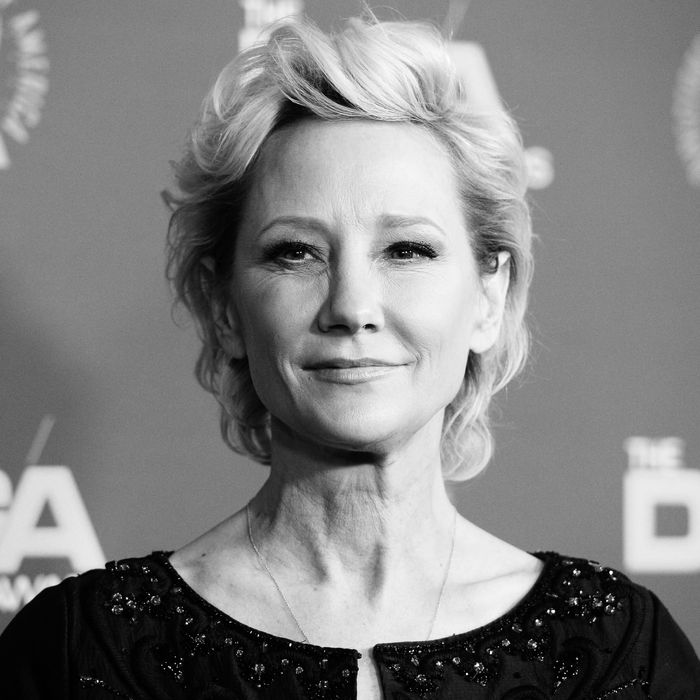 Photo: Broadimage/Shutterstock
Actor Anne Heche has died, People reports. Earlier this month, Heche sustained severe injuries after crashing her car into a two-story house in Mar Vista, a neighborhood of Los Angeles, resulting in an anoxic brain injury that left her in a coma. A representative from Heche's family told People that while Heche legally died last Friday, she would remain on life support until organ-donor recipients were found, as per her wishes. On Sunday, a representative confirmed Heche was taken off life support. She was 53 years old.
Born in Aurora, Ohio, in 1969, Heche grew up in a conservative Baptist household and started her acting career to help support her family after her father's death from AIDS in 1983, when Heche was 13. After high school, she landed her first major role on the NBC soap opera Another World, receiving a Daytime Emmy Award in 1991 for her performance. Heche made her film debut in 1993's An Ambush of Ghosts before going on to star in multiple popular '90s films including Donnie Brasco, Psycho, and Six Days Seven Nights. She continued to appear in a number of television series, notably Men in Trees and Hung. Heche received a Tony nomination for her 2004 performance in "Twentieth Century" on Broadway.
In 1997, Heche began dating Ellen DeGeneres, whom she'd met at a Vanity Fair party. The two broke up in 2000, and Heche married videographer and real-estate broker Coleman Laffoon a year later. After they separated in 2007, Heche started a relationship with her Men in Trees co-star James Tupper. The two broke up in 2018 after over a decade together.
Throughout her career and highly publicized personal life, Heche was vocal about her struggles with substance abuse, mental illness, and the ramifications of surviving alleged childhood sexual abuse at the hands of her father, a journey she detailed in her 2001 memoir, Call Me Crazy. "I drank. I smoked. I did drugs … I did anything I could to get the shame out of my life," she told Barbara Walters in a 2001 interview about dealing with her father's abuse. "I had a fantasy world that I escaped to. I called my other personality Celestia. I believed I was from that world."
At the time of her death, Heche had multiple projects in postproduction, including the HBO show The Idol and the film Supercell, which she starred in alongside Alec Baldwin. She had also wrapped filming on the Lifetime movie Girl in Room 13, scheduled to premiere in the fall. She is survived by her two sons, 20-year-old Homer Laffoon and 13-year-old Atlas Tupper.
"Today we lost a bright light, a kind and most joyful soul, a loving mother, and a loyal friend," a representative from Heche's family told People on Friday.
This post has been updated.