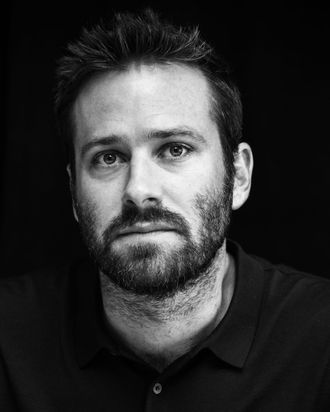 Photo: Vera Anderson/WireImage
Early last year, several women came forward with allegations of emotional abuse, manipulation, and rape against Armie Hammer, all of which the actor denied. In the wake of those revelations, Vanity Fair also published a lengthy exposé on the dark, often violent history of his oil-magnate family. But it looks like we're not done plumbing the depths of Hammer's violent proclivities, nor are we done exploring his lineage: Both are the subject of a three-part docuseries called House of Hammer, airing on Discovery+ this fall. The trailer, which dropped on Wednesday, looks absolutely horrifying.
In it, two of Hammer's exes, Courtney Vucekovich and Julia Morrison, talk about how the actor drew them in and read messages they say he sent about tying them up and being a cannibal. One message Morrison alleges he sent reads, "I have a fantasy about having someone prove their love and devotion and tying them up in a public place and making their body free use and seeing if they will fuck strangers for me."
The most shocking moment in the trailer comes in the form of a voice note, presumably provided by one of his exes, where Hammer talks about a bet that involved "showing up at your place and completely tying you up and incapacitating you and being able to do whatever I wanted to every single hole in your body until I was done with you." There's also a clip of Vucekovich describing what sounds like a sexual encounter with Hammer: "The ropes were around your neck, your wrist, your ankles, and you're completely immobilized. I'm just closing my eyes until it ended."
Armie's aunt, Casey Hammer, who provided a lot of the intel in the Vanity Fair piece, also seems to be featured prominently. News broke last year that she'd signed a deal to develop the series, and the trailer shows her sharing a few of the same details she divulged in the exposé. "You don't just wake up and become this dark controller, abuser," she says. "This behavior, it's deep-rooted." She adds, "Every generation of my family has been involved in dark misdeeds, and it just gets worse and worse."
House of Hammer will air in three parts and premieres September 2 on Discovery+.