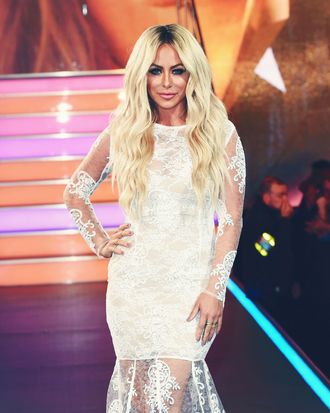 Photo: Karwai Tang/WireImage
Aubrey O'Day has long been a woman of mystery. You sort of have to be if you're out here saying Donald Trump Jr. was at one point your soul mate. Equally mysterious is her Instagram presence. Ever since the former Danity Kane singer announced last summer that she'd left the country and boarded a "flight to a new life," her feed has been full of bizarre vacation posts, which appear obviously Photoshopped but also geotagged? There's O'Day in an evening dress, plastered over a Santorini backdrop; O'Day overlooking an Indonesian archipelago; O'Day sitting on the famed Bali swing, her red dress billowing unnaturally behind her.
Earlier this month, a TikToker named Sophie made a video questioning the veracity of O'Day's vacation shots. "I will truly never get over people Photoshopping themselves into random vacation photos," Sophie says in the since-deleted viral video, which juxtaposes O'Day's scenic Bali posts with the alleged original images, stock photos and influencer pictures in which O'Day is clearly not present. "I don't even know if she went to Indonesia," says Sophie. "She either just steals content from other content creators or Photoshops herself into random promotional images with these very inspirational Instagram captions." Sophie, who runs the account @residualdata and creates content about the discrepancy between social media and reality, added, "In an era where social comparison is so high and has real effects, why are we doing this?"
This commentary didn't sit well with O'Day, who briefly made her Instagram private before clapping back this weekend with Photoshopped images of herself standing at the gates of heavens while wearing an animal-print thong. "Took the PJ to Heaven in the last 24.. wanted to share with y'all how beautiful it was," O'Day captioned the photos. "Also ran into Jesus and we hugged it out." (Per O'Day's account, Jesus had some choice words for the "lil bird on tiktok.")
O'Day continued, "Not that I need to explain myself, but I've been in this industry for over 20 years and have been traveling the world since I was 7. If I want my Instagram to be curated like a museum of ART then that's what the fuck is going to happen … Respect my aesthetic, I work hard to give y'all beautiful content that feels the way the places I travel vibrate.. because I want y'all to vibrate high with me." She ended her statement addressing Sophie directly, writing, "lil tok girl, I'm so sorry to your place of work that allows you to sit on my page all day with binoculars … stop looking left and right if you wanna move forward🤍🙏🏽".
An inspirational caption indeed. It's still not entirely clear whether O'Day's denying or admitting to Sophie's allegations, but as Picasso once said, "We all know that Art is not truth," and I, for one, am going to keep admiring O'Day's aspirational ART. Let this woman Photoshop herself into Bali and keep taking PJ trips to heaven. Maybe other celebrities should take note?