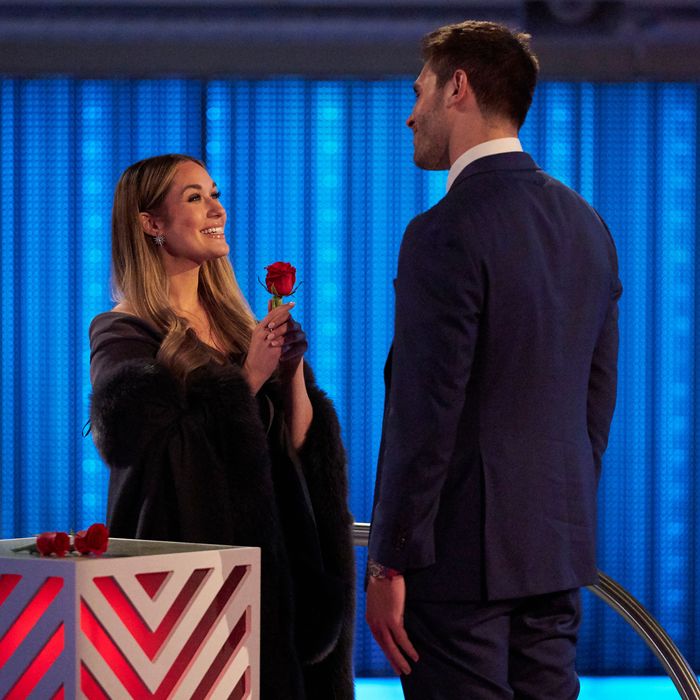 So far, this season of The Bachelorette(s) has been non-traditional because — say it with me — there are two bachelorettes. In an attempt to give both stars ample screen time and (lightly) explain to the audience how their joint journey to find love is going to work, the producers have dispensed with some of the classic early-season tropes. The biggest thing missing is that the men have had no real story lines with each other. (A function of limited screen time or limited emotional capacity among the contestants? Who's to say?) We've gotten so little footage of the men interacting with one another that it's hard to tell if they're all friends, enemies, or somewhere in between. But on last night's episode, finally, a villain emerged.
First, the editors introduced a minor-league villain in order to obscure the true villain lurking among the men at the Bachelor mansion in Los Angeles. The minor leaguer is Hayden, a 29-year-old "leisure executive" from Tampa who last week told star Gabby Windey that she was "rough around the edges." This obviously upset her, and co-star Rachel Recchia had to think twice before offering this man a rose. In the end, she did, and cameras caught him gloating to the boys the next day. He said neither Gabby nor Rachel could "hold a candle" to his ex-girlfriend, and also that he couldn't "trust these bitches." Meatball, a 25-year-old contestant in Rachel's group who goes by Meatball, filed this information away for future use.
And then, of course, everyone went to France. Host Jesse Palmer, who apparently took some French lessons in college, tapped two contestants to go on one-on-one dates with Gabby and Rachel in Paris and sent the rest of the men to Le Havre, a port town where they boarded a massive Virgin Atlantic cruise ship that included two separate "clubhouses" for Gabby and Rachel's respective contestants. (More proof the producers knew they were going to separate the men all along — these reservations don't get booked on the fly.) Thus, the first half of the episode was spent focusing on Rachel and Gabby's romantic, rain-soaked dates in Paris (Rachel likes Tino, a general contractor from California, and Gabby likes Jason, an investment banker also from California, and that's all you need to know).
The drama began in the back half of the episode, as the remaining men gathered for group dates aboard the love boat. Host Jesse reveled in speaking French at the first one, a classic French boxing competition between Gabby's men. The producers craftily invited Rachel and her men to observe the fights, which is where our true villain began to reveal himself. Logan, a 26-year-old videographer from San Diego who last week accepted Rachel's rose, admitted to the camera that he can't stop thinking about Gabby. "I worry that I still kind of find myself looking to the other side," he said. Duh duh duh.
Perhaps Rachel sensed something was amiss, because she had a complete meltdown over the fact that her contestants did not make enough eye contact with her (?) during the fights. After sobbing and telling them all she needed to feel "chosen," they put in a Herculean effort on their group date the next day, which involved being awkwardly coached in the French art of seduction. But still, our villain Logan was plotting behind the scenes. After the date, he met up with host Jesse to explain that he wanted to talk to Gabby to see if she would give him a chance, even though he knew that making such a move would for sure wreck Rachel emotionally. I guess we should have seen this coming: He did make out with both of them in episode two, one right after the other. Jesse basically told him to go ahead and talk to Gabby at the cocktail party before the rose ceremony.
But he didn't get the chance to do that, because the producers threw that minor-league villain Hayden back in our faces during said cocktail party. In one of the most darkly comic moments of the show so far, Hayden, who apparently doesn't even like Rachel that much, showed Rachel a book he made about his dog Rambo who was allegedly dying of cancer in an attempt to secure a pity rose. He got mad when Rachel was insufficiently moved by his display of forced emotion. And then Meatball — sweet Meatball — pulled Rachel aside to tell her what Hayden had been saying about her. He even added that Hayden had made a "vulgar comparison" between Rachel and his ex-girlfriend regarding "breasts."
Rachel quickly kicked Hayden off the boat. He told her he "respected her as a woman," which was demonstrably false, and then cried crocodile tears to the camera, insisting that no one would ever love him the way that Rambo does. Conveniently enough, Hayden's meltdown left no time for Logan to confess his love to Gabby and dump Rachel. He ended up just accepting Rachel's rose, and his heel turn was complete. "I feel like the bad guy," the shifty Logan told the camera. "I feel selfish. But I would be a fool not to take the rose if it means I get to talk to Gabby."
Of course, this will only get worse for everyone involved. In the teaser for next week, we see Rachel venting to Gabby after presumably being told that Logan dumped her. "This is humiliating, humiliating," she says, which is apparently the theme of the show this season. And then Logan waltzes into Gabby's men's clubhouse. God help us.