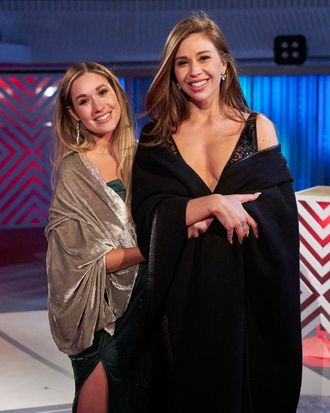 On last night's episode of The Bachelorette(s), our leading ladies' journeys to find love diverged in the most obvious way yet. While Rachel Recchia, the 26-year-old flight instructor, bounced around from contestant to contestant in sunny Amsterdam, following the typical fantasy rhythms of the show, Gabby Windey, the 31-year-old ICU nurse, took a different path.
From her time as a contestant on the most recent season of The Bachelor, Gabby has been forthcoming about her difficult, now-estranged relationship with her mother and how that's affected her feelings about becoming a parent herself. Early this season, she told front-runner Erich that she'll "maybe never know what it's like to have a mother's love." She also expressed hesitation about taking on a stepparent role when another front-runner, Nate, told her he has a young daughter at home. All of this led up to a truly heartbreaking rejection on last night's episode when Gabby invited Nate on a one-on-one date in Amsterdam to tell him she couldn't move forward with him because she's not sure if she ever wants to be a mom.
This was sad, obviously, but also remarkable, as Bachelor Nation shows so rarely allow for their stars to express anything other than the expected "I'm here to find love, get married, and start a family." Gabby, meanwhile, was straightforward with Nate and explained herself clearly. "It's gonna get harder, and I never want to say good-bye, but I think we're just in two different places in our lives," she said through tears. "I'm terrified of not just being a mom but being bad at it."
We have truly never heard a statement like that come from a Bachelorette before. In the world of the show, Bachelorettes are the pinnacle of femininity, always implicitly and explicitly expressing their heteronormative desires to be wives and mothers. That the producers allowed this conversation to play out with seemingly very little editing feels like a big step forward for the franchise.
The rest of the episode, however, snapped back to the normal rhythms of the show. Rachel trotted off on her one-on-one date through the tulip-dotted countryside with Zach, a 25-year-old "tech executive" from L.A., sipping Champagne in another pop-up hot tub and making out in the Rijksmuseum. She took the rest of her contestants on a group date in Amsterdam that involved pointless feats of strength like lifting up large wheels of cheese while shirtless. Gabby got a group date, too — she went with a "red-light district" theme, gathering the guys to talk to a dominatrix about whips and safe words. I'm not sure what the point of any of it was as both stars' front-runners for next week's hometown dates have been clear for a while.
One interesting curveball: Logan, the season's main villain, who jumped from Rachel to Gabby last episode, was unceremoniously removed from the show after he allegedly tested positive for COVID. The way producers handled this situation was extremely odd: Host Jesse Palmer (yep, he's still around) told Gabby about his diagnosis, but when he explained Logan's absence to the rest of the men, he obscured it, saying only that there was a "situation" with Logan. If it's true that Logan tested positive for COVID, the "situation" was that everyone had just been playing with whips together in an enclosed room with him for several hours. But no one else tested positive that we know of, and Logan was never heard from again, not even via Zoom.
In the end, Rachel offered roses — and, thus, hometown dates — to four men: Zach, Aven, Tyler, and Tino, the last of whom is getting very angsty about not being crowned the winner of the show already. (Tyler, who criticized Tino's whining about not getting the group-date rose, wins for the most memorable quote of the episode: "Tino's acting like a real baby back bitch.")
Gabby, meanwhile, passed out just three roses, given that Nate and Logan were already gone (or, more likely, isolated by themselves somewhere on that massive cruise ship). Next week, she will visit the hometowns of Erich, who really seems like a front-runner now, as well as Jason and Johnny, who are becoming increasingly difficult to tell apart.
Will this season provide any more real, honest moments like Gabby's farewell to Nate? It's tough to say. But based on the trailer for next week's episode, we can certainly expect more tears.