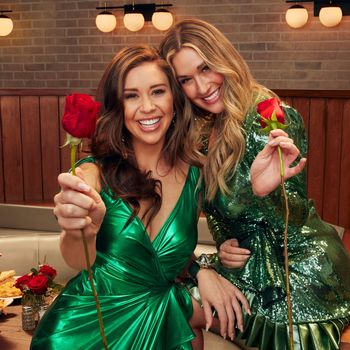 Photo: Gizelle Hernandez/ABC
I have been wondering for the past couple of weeks how The Bachelorette producers were going to make the "hometown dates" episode work. As we know, this season features two bachelorettes — a unique twist that has mostly served to humiliate the women at various points throughout the season. They have been rejected, insulted, and made to feel less-than, but now, finally, they are nearly at the end of their journeys and getting closer to the ultimate prize: a Neil Lane engagement ring. And true love, of course! But some of the classic elements of the show are proving difficult to manage in double vision.
On last night's episode, the producers attempted to speed through seven different hometown dates: four for Rachel Recchia, the 26-year-old flight instructor, and three for Gabby Windey, the 31-year-old ICU nurse. That's seven different locations in the continental U.S., seven nearly identical men, and seven families to meet for the very first time. The editors had to squeeze them all into two hours, and they failed: Poor Aven, a 28-year-old sales executive from San Diego, got bumped to next week's "Men Tell All" special. (According to Bachelorette spoiler accounts, producers did film all seven dates in the span of a week, which is both impressive and terrifying.)
The rest of the men blended together in hyperspeed, introducing their prospective brides to their families in Southern California, New Jersey, Florida, and New Orleans. Who are any of these guys? And why should we care what their families think about them possibly proposing to someone they met on TV? The pacing of the episode did not give us much time to ponder these questions.
In the end, our front-runners remained the same: Gabby is clearly the most in love with Erich, a 29-year-old real-estate analyst from Bedminster, New Jersey, and Rachel is obsessed with Tino, a 27-year-old general contractor from Santa Clarita, California. During Gabby's visit with Erich, she met his father, who was dying of cancer and has since sadly passed away. After the family visit, Erich and Gabby made out in a Bedminster tavern and confessed that they were falling in love with each other. There is simply no way they won't end up together.
Rachel had a tougher time with Tino's parents, who decided to take up the mantle as the "skeptical family" this season. Both parents grilled Rachel and Tino about their decision to possibly marry each other after meeting on a television show and dating nonexclusively for two months. "I was not expecting my dad to be this stringent with his questions," Tino told the camera, choosing almost the right word. Rachel was more blunt, telling a producer, "I think they hated me." I still think they will end up together unless Tino decides to betray Rachel at the last moment, which of course all male Bachelorette contestants are apt to do.
What about the rest of the guys? Well, Gabby's remaining men — Jason, a 30-year-old investment banker from New Orleans, and Johnny, a 25-year-old realtor from Palm Beach, Florida — both told their families they like Gabby, but they're not ready to propose. Tyler, a 25-year-old carnival-game owner from Wildwood, New Jersey, confessed his love for Rachel before she awkwardly dumped him on the boardwalk where he owns a basketball-themed game. I started to feel bad for him, then remembered that we barely know who he is. Then there was Zach, a 25-year-old "tech executive" from Anaheim, California (and nephew of actor Patrick Warburton), who is desperately in love with Rachel. Their date seemed fine, and I bet Rachel takes him to the finals, but he's not going all the way.
What will happen with the rest of the season? Thankfully, it seems like the women are going to narrow down their choices, so we no longer have to pay attention to the Jasons and the Johnnys who all look the same anyway. During the teaser for upcoming episodes, we saw host Jesse Palmer (He's still here!) tell Rachel that Gabby left the Mexican resort where they apparently filmed the finale (hopefully with Erich). We saw both women cry, so there will definitely be more drama (I have my eye on Tino). Next week is the "Men Tell All" episode, in which we will apparently get to see Meatball, a 25-year-old man who goes by the name Meatball, cover himself in tomato sauce. This thing's not over yet!