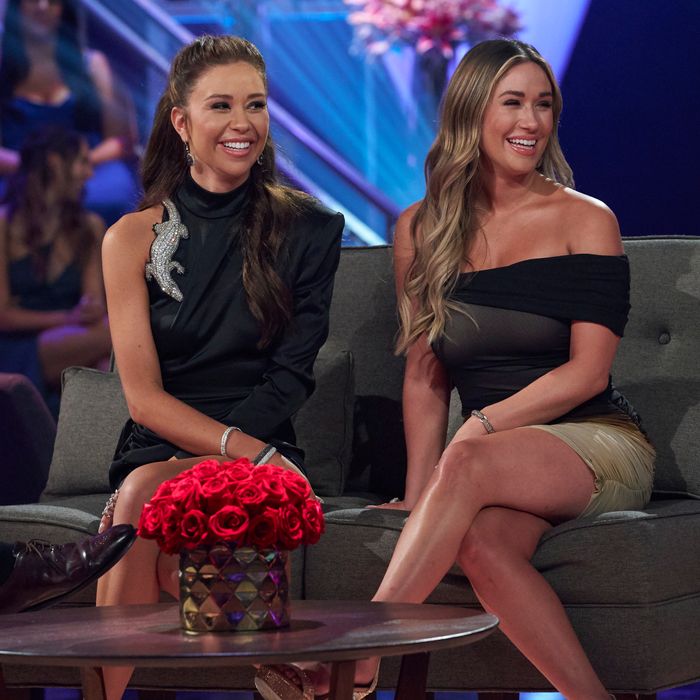 Last night's episode of The Bachelorette(s) was a catchall for leftover footage from the season, the traditional "Men Tell All" interviews, and several trailers for upcoming tangentially related television shows. Thank goodness host Jesse Palmer (still kicking) was there to tie everything together. He opened the show with a recap of the season so far: "History was made earlier this year when we introduced not one but TWO Bachelorettes." Yes, that is what happened. Gabby Windey, a 31-year-old ICU nurse, is one Bachelorette, and Rachel Recchia, a 26-year-old flight instructor, is another Bachelorette, and together they make two.
Usually, the "Men Tell All" episode focuses on the lead's journey to find love over the course of the season and producers have her check in with all her cast-off boyfriends before the Fantasy Suite dates (coming next week). This time, however, there were simply too many random men this season to form any kind of cohesive narrative. Instead, Host Jesse loosely arranged the interviews around the theme of bad behavior. Every man who bad-mouthed Gabby and/or Rachel during the season was given an opportunity to explain himself. Some of them were more successful than others.
But before we got to this apology tour, we had to get through some leftover footage from last week's hometown dates. Producers aired a measly couple minutes of poor Aven, a 28-year-old sales executive, showing Rachel around his hometown of Salem, Massachusetts. To underscore the witchy setting, editors played creepy Halloween music throughout. Aven's divorced parents seem nice, and in the end, Aven told Rachel he was falling in love with her, which made her happy. Then, back in the studio, Host Jesse revealed that both Gabby and Rachel passed out roses to all of their remaining men, so we will see them again next week for Fantasy Suites. (If you're keeping track, that means Erich, Jason, and Johnny are still in the running for Gabby's final rose, and Zach, Aven, and Tino are competing for Rachel's.)
Safe in the knowledge that Fantasy Suites will continue with the maximum amount of men (and drama), Host Jesse turned to the assembled castoffs to ask them about why they suck so much. Some of the worst offenders declined to attend: Hayden, who called Gabby and Rachel "bitches" and compared their boobs to his ex-girlfriend's before crying about his dog, did not show up. This did not stop the other men from talking about how gross he was. And Chris, the weirdo from episode one who couldn't stop talking about "females" and the Fantasy Suites, also declined to participate. But Jacob, who said some unfriendly things to Gabby while dumping her for Rachel, did show up, and he tearfully apologized for demeaning her. Mario, who won Gabby's first-impression rose but later flirted with Rachel, also apologized to Gabby after attempting to blame her for his behavior. And Logan, the season's top villain who made the switch from Rachel to Gabby before being kicked off the show for getting COVID, promised to try to be a better man going forward.
Roby, a magician who happens to be the brother of Leelee Sobieski, debuted a new bleached-blond hairstyle. He had nothing to apologize for because Gabby and Rachel sent him home on the first night for being a magician, essentially.
The most interesting portion of the "Men Tell All" interviews came when Host Jesse asked Nate, a 33-year-old electrical engineer who had one of the most heartbreaking departures from the show, about the "rumors" surrounding his personal life. I make it a point not to read spoilers, so I was unaware of these rumors before last night. Apparently, two of his ex-girlfriends have come forward to say that he two-timed them and kept his young daughter a secret from one of them. Listen, I don't want to hear that. And it seems Host Jesse didn't really, either, as he let Nate vaguely explain and apologize before commending him for being a role model to the other men. We all love Nate, and we hope that after this segment, he gets to be the Bachelor.
After hearing from all the terrible men of this season, Host Jesse quickly changed gears to promote several upcoming ABC-Disney television properties. We got to see a trailer for the new season of Bachelor in Paradise (Shanae is back!) as well as a trailer for the new season of The Kardashians on Hulu (Kylie Jenner is sad). And then Host Jesse welcomed the stars of the new gay rom-com Bros, Billy Eichner and Luke Macfarlane, to the stage. The guys talked to Rachel and Gabby about some of the most cringeworthy moments from the season and ended their segment by daring Meatball (he was there!) to pour spaghetti sauce all over his body again. He did it.
What did we learn from this hodgepodge of trailers, apologies, and marinara-based humiliation? I don't know, and I still don't know who half these guys are. Luckily, we have just six of them to focus on going forward — and I still think our front-runners are clear. See you all next week in Mexico for the most dramatic Fantasy Suite dates of all time (aren't they always?).