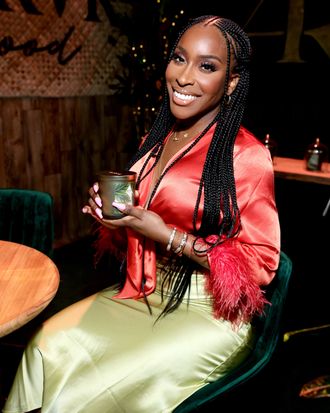 Photo: Emma McIntyre/Getty Images for YouTube Beauty
Beauty YouTuber Jackie Aina is getting criticism from customers and people on Twitter and elsewhere online for her latest Forvr Mood candle collection. While the brand's past fall collections have included cheekily titled scents like "Thotumn" (cinnamon and buttery caramel) and the Halloween-inspired "Trickery" (candy corn), the names in this year's fall collection are an homage to her Nigerian heritage.
The four-candle set "The Owambe Collection" includes one candle titled "Soro Soke," a Yoruba phrase that translates to "speak up" or "speak louder." Some backstory: This phrase was used as a rallying cry during Nigeria's #EndSars social movement in 2020, which called for an end to police brutality. People online are calling out the fact that Aina, who is Nigerian American, did not post or speak out publicly on the matter at the time. They are accusing her of promoting Nigerian culture only when it is convenient for her, for profit.
As one tweet reads, "Dear Non-Nigerians, The reason why this is receiving so much backlash is because Jackie Aina shamelessly named one of the candles It was one of the rallying cries during EndSars. But Jackie was notably silent during the protests."
Critics have claimed that not only was she silent, but she also blocked people who asked her to lend a voice. Aina has spoken up before, talking about not wanting to feel like she has to be an "industry attack dog" or the voice people are always looking for.
One fan said, "As a long term Jackie Aina fan, I'm so disappointed at how tone deaf this is. I didn't even know she refused to shed light on the end sars movement till I saw several tweets about it today. And using Soro Soke as a candle name when it was the rallying cry for the movement?? 0/10."
Update: By the end of the day, Aina apologized on her Instagram and has since pulled the product. "As the brand owner of Forvr Mood, I understand our decision has severely hurt members of my Nigerian community with the naming of the candle Soro Soke. We missed the mark on this and it will never happen again."
There are some people who, nonetheless, love the collection. Here are the mixed feelings:
Aina has not responded to requests for comment.