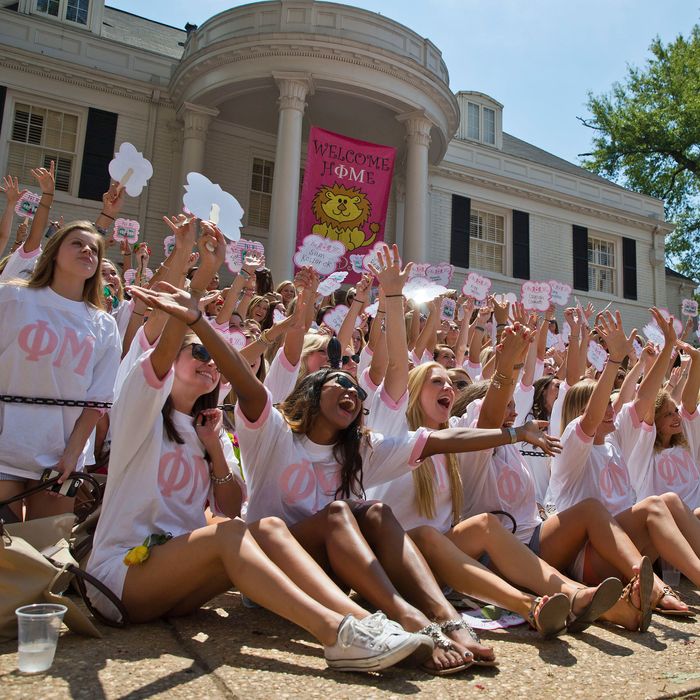 Photo: Brynn Anderson/AP/Shutterstock
It's officially August, and Bama rush is back, babes. As you may recall, last summer, the University of Alabama's Greek-life recruitment process blew up on TikTok after potential new sorority members (PNMs) posted videos documenting the goings-on of Rush Week, from what they wore to parties ("My earrings are from Kendra Scott, my shoes are from Shein") to the highs and lows of Bid Day. Per the Alabama Panhellenic Association, this year's recruitment begins on August 6, but season two of Bama Rush already appears to be taking over TikTok:
Apparently, it's never too early to pack your "rush bag" (a tote with essentials for making the rounds from house to house). Behold this PNM's giant pink Longchamp:
"There's literally so much stuff in this bag, my shoulder's going to break off before the end of the week," she says, showing off a massive haul that includes a portable fan, a toiletry bag with a sewing kit, a compact mirror, flip-flops, moleskins for blisters, a separate bag with hairspray and two kinds of deodorant, ponchos in case of rain, a giant bag of mints, and more. "I hope that I have everything," she says. It's unclear what she could possibly be preparing for — a long international trip? A bunker for the apocalypse? — but in any case, I'd say she's all set.
Beyond being addictive, last year's Bama rush spotlighted the exclusionary aspects of Greek life, a system deeply entrenched in racism, classism, and sexism. The majority of Bama rush PNMs on TiKTok appeared to be white women, which is unsurprising: The University of Alabama desegregated its sororities only in 2013 after Black students on campus raised allegations of racism and discrimination, and things haven't gotten much better since. Despite the Alabama Panhellenic Association promising "equitable opportunities" in its recruitment rules, the University newspaper, The Crimson White, reported that only 1.2 percent of APA students identified as Black in 2020.
Needless to say, it's all very fraught — though that probably won't stop me or the rest of TikTok from getting hooked once again on the saga of whether Mackenzie Leigh rushed her dream house. Who needs cult documentaries when you have Roll Tide?