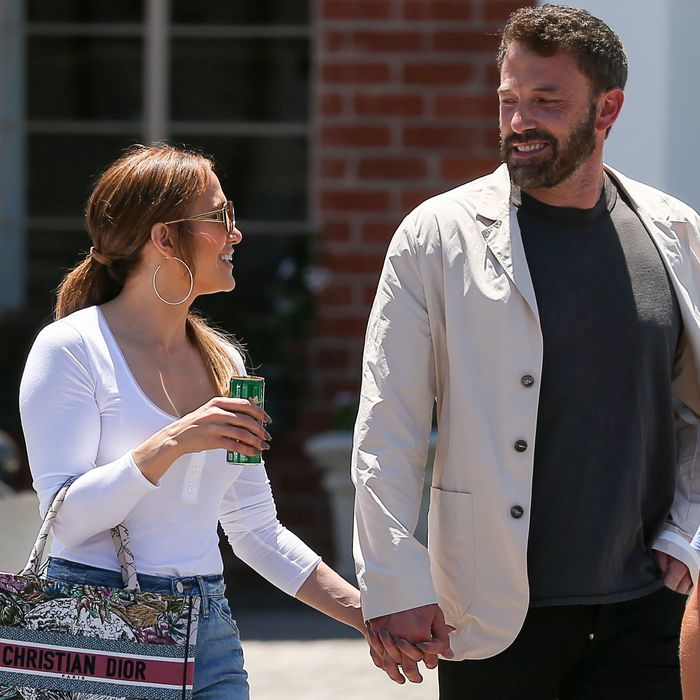 Photo: Bellocqimages/Bauer-Griffin/GC Images
Did you really think J.Lo and Ben Affleck were going to stop at a low-key wedding? In the month since they married in Vegas, this couple has been very busy; they went to Paris and Dunkin' Donuts and apparently managed to plan a big wedding party in Georgia. That's right: It's finally time for Bennifer's official wedding party, which happened this weekend at Affleck's house in Riceboro, Georgia — the same house they were supposed to get married at in 2003 before they called off their engagement.
This event was for friends and family of the couple, which reportedly included Matt Damon, Jimmy Kimmel, and Kevin Smith, though the head count is still unknown. (People reported that Affleck's brother, Casey Affleck couldn't attend due to "parental obligations at home.") The couple's kids, who have been present for virtually every step of this couple's union, were also there. Paparazzi photos appear to show Lopez's twins, Max and Emme, holding onto the end of their mother's impossibly long veil, as Affleck's children, Violet, Seraphina, and Samuel, stood behind them. All guests were instructed to wear white, as evidenced by Smith's photo from the event. "This is as formal as I've been dressed since maybe my First Communion when I was 7," the director famous for wearing hockey jerseys and baseball caps at every occasion, wrote on Twitter. (He still wore a baseball cap to the wedding.)
The three days of festivities reportedly started on Friday with a rehearsal dinner and a surprise trip to the ER after Affleck's mother reportedly fell off a dock, cutting her leg. Luckily, the injury was minor, and the chaotic first day was followed by a ceremony on Saturday and a barbecue on Sunday. Per "Page Six," the wedding was intended to be "all about J.Lo," because "Ben wants all of the focus to be on her for their big day." Wise. Page Six also shared that podcaster and celebrity life coach Jay Shetty, who performed four staged marriages in J.Lo's movie "Marry Me," would be officiating. Sadly, J.Lo did not reprised her blindingly sparkly outfit from the film — she chose a custom Ralph Lauren dress instead. The form-fitting gown featured short, cap sleeves, and an open back. And Affleck wore a white tux, not dissimilar to the one he wore to their Vegas wedding.
Beyond the location, we don't know many details about the weekend's agenda, though based on Instagram posts from a few attendees, it does appear that Saturday night ended with a fireworks display — because why not? But other details remain a mystery. Did J.Lo perform "America the Beautiful"–"Let's Get Loud"? Did they have a tower of doughnuts in lieu of a cake? How did the Afflecks fare in an estate with only five bathrooms? Whatever the answers are, I can't wait to hear more details about this 20-years-in-the-making affair. Congratulations (again) to them!
This post has been updated.