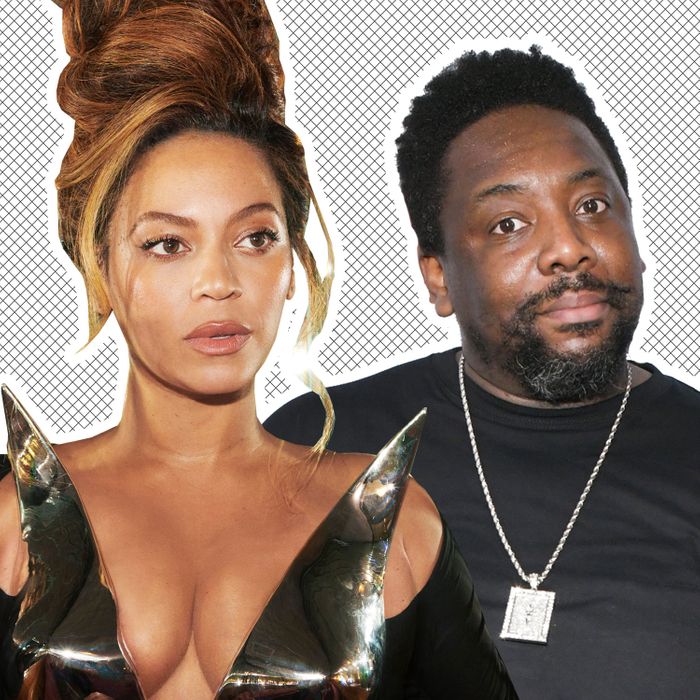 Photo-Illustration: The Cut; Photo: Parkwood Entertainment, Rodin Eckenroth/Getty Images
On the song "Pure/Honey," Beyoncé's voice isn't audible until 20 seconds into the track. Instead, we are introduced to the voices of two others: the Kevins. Kevin Aviance, the nightlife staple and drag legend, becomes the beat, sampled from his 1999 iconic classic, "Cunty." Then comes the voice of Kevin JZ Prodigy, once dubbed ballroom's Voice of a Generation, sampled from DJ MikeQ's 2009 track "Feels Like." They lead the way for the star to make her most direct reference to the ballroom scene yet on Renaissance, her electric ode to safe spaces.
Kevin JZ Prodigy's status as a ballroom commentator who has worked balls globally, provided the live chanting for a ballroom segment at the 2022 BET Awards, and lent his vocals for a Mugler runway show makes him a legendary sample on Renaissance. "This is one of the biggest artists in the world, one of the greatest talents of our time," Prodigy says of the inclusion of his voice on the album. "The fact that she heard my voice and thought 'I need that right there' … the answer was yes the second she thought it." His work is clearly important to Beyoncé: The megastar used the first 20 seconds of the song, featuring only Aviance and Prodigy, to soundtrack her video teaser for the entire album.
Over the span of his ballroom career, Prodigy's voice has become the sonic manifestation of the vogue femme category, often preferring purrs or other onomatopoeic utterances to evoke the mood of a beat or inspire a voguer to move. That voice has soundtracked several viral videos emerging from the ballroom scene — and like the art form of voguing, Prodigy's voice is an embodiment of queerness, combining both masculine and feminine energies while reworking popular phrases and songs into something new.
Here, the ballroom legend opens up about how he joined the scene, his approach to making music for balls, and what it feels like to be sampled on a track by Beyoncé. "I feel like we are well on our way to making music that will chart on 'Billboard,'" Prodigy says of ballroom's subgenre. "I can't stop now; I have to follow the path that God gave me."
When I first engaged with your work years ago, you were known on the scene as the Voice of Philadelphia. In 2020, Ballroom Throwbacks called you the Voice of a Generation. Can you tell me how all this started?
I ended up in ballroom by accident. I was hanging out with two of my friends in 1997 and they were heading down to a club. There was so much energy everywhere. I'll never forget, I saw three voguers: Dee Dee, Niambi, and Aamina. I was like, what the fuck is this? I was so amazed at everything I was seeing! I was like, how do I do this, how do I learn? My friends Dennis and Lloyd started teaching me and introduced me to Aamina. That's how I learned to vogue. I ended up joining the House of Movado. It wasn't an easy ride. It was a very long, painful ride full of all types of emotions, but it's a ride I wouldn't change for the world.
You learned to vogue first — and I think that's how you actually connect so well with people on the floor, because you know what people want to hear — but how did that turn into chanting?
This was also by accident. I used to make music on a karaoke machine when I was younger, but I never took it seriously. VJ the DJ is the reason I make music. We would hang out, laugh, talk a little bit. In 2001, he called me and said, "Bitch, we have a CD." At the time, I didn't realize what was going on, but you know, God works in mysterious ways. If it's for you, it's for you.
For years, I just sold CDs. Nobody knew I could commentate, except the people who were hanging around me. We would be playing around and someone would give me a mic and I would say, "Ooohhh, cu-cu-cunt cunt cunt," and people just knew it was a good feeling. It turned into something more when I would see my favorites, like Niambi and Aamina. I would go, "Ni-ni-ni-nininini-ni-ni" or "Ah-ah-Aamina, mina." I would get so hyped to see my friends and my favorites vogue that I wanted to give them something to make them do something.
Jay Blahnik started putting the microphone in my hand at mini-balls and would just say, "Go ahead, bitch, do it." Then the iconic Meechie Lanvin let me do LSS at the Icon Ball in 2004. That was my first time commentating at a major ball; I will never forget it. I started walking commentator versus commentator the next year, in 2005.
With your chants, sampling is so important. You've made chants from movies like Harlem Nights and Boomerang. Even in "Pure/Honey," the "I can't get through, should I go, should I go, should I go left" is from Janet Jackson.
That's the thing: I'm so highly influenced by Janet, it's unreal. That line is from the song "I Want You." I remember when I heard that for the first time. I was lying in bed with my ex, who said I should make a chant.
I feel like if I'm going to do something, I'm going to do it to the point that it's completely different. Make it to the point where you won't even notice where I got it from. When Mary J. Blige sang a Chaka Khan song, she owned it. When Whitney Houston sang "I'm Every Woman," she took it to the next level. If I'm going to do something, I have to take it to the next level. What's crazy is nobody knows where my "I'm a Woman" chant came from. "I'm a Woman" came from Batman. I was on the phone with my gay mother, Madelyn, and I was watching Batman. I was like, "Bitch, Michelle Pfeiffer just got Batman together." Michelle goes, "Batman, how could you? I'm a woman!" I'm constantly thinking of so much stuff and doing my version.
What went into creating the "Pure/Honey" sample?
It's like you're creating magic and you don't realize what you're doing. You don't know where it's going to take you. You're just up there to do one thing — I just went over to have fun and make music with MikeQ. Greg Evisu was there too. That was the same night we did "Voguing Train." I said, "Mike, let me do something over the regular 'Ha.'" At the time, my voice wasn't as strong as it is now; I didn't have as much vocal technique. I just went, "Cun-cun-cun-cunt. Cunt to the feminine to the what?" I didn't know what I was doing, but then Mike Q … he turned it into that. And you really just never know where it's going to go.
I'm a huge Madonna and Janet fan. Those two, I breathe them, I live through them. So when you see artists like Beyoncé and Rihanna, you're so proud that they are continuing the legacy but also building their own legacy. For Beyoncé to sample my song "Feels Like," which is over 10 years old but people still go back and listen to all over, to be perfectly honest I burst into tears.
What did it mean for you to be sampled on this track in particular along with Kevin Aviance's "Cunty," which is one of the most sampled songs in ballroom, and Moi Renee's "Miss Honey"?
Hell yeah! "Cunty" is one of the most iconic songs. To have my voice next to Kevin Aviance's is a complete honor. "Cunty" is ballroom. "Cunty" is Niambi and Sinia. "Cunty" is … I gotta calm down! But also, I got to go there. "Cunty" is vogue femme. It is femme queen performance. It is the art. It is an honor to be a part of that. "Miss Honey" is one of the most classic songs ever. And to top it off … Beyoncé Knowles Carter. Let me tell you something. Child, words couldn't describe how I feel.
I cried to myself several times. Beyoncé is music. She can sing, she can dance, she can produce, she is the crème de la crème. If you hate Beyoncé, you're a hater. You're jealous. I respect her foundation, I respect everything she does, and the fact that she heard my voice and said, "I want that right there" … fuck yeah. Use it! Use it, Beyoncé. The second she thought about it, the answer was yes. God blessed that woman several times over and for me to be a part of that blessing. You can only imagine how I feel, but I am maintaining my composure because I don't want to explode.
Your most widely known attribute is your voice, but it sounds to me like you have a lisp or speech impediment. I'm wondering if I'm hearing that correctly. And if I am, I think it says something that you have been able to turn your voice into your power. 
I do have a lisp. It's bad. I have a speech impediment and sometimes I really hate talking. It's actually beginning to come out right now. I have to concentrate a lot on talking and not lisping, which stresses me out. But I've noticed that it helps me because I'm so focused on what I'm doing.
Am I shocked at how things are? Yes, I am. Am I shocked at how I commentate? Yes, I am. But I feel like it helps. That's where a lot of the tongue trills come from. I'm able to do that because my tongue moves a certain way. Sometimes I'll stumble over words, but I can do this: Cha-ch-ch-cha-cha, cun-cu-cu-cu-cu-cunt cunt.