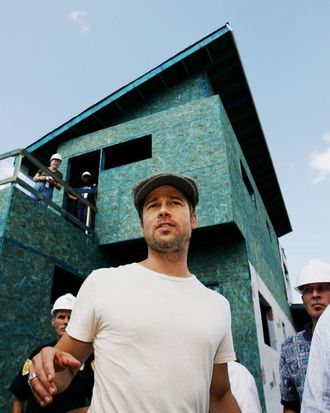 Brad Pitt in front of the construction site for one of his foundation's new homes in 2007.
Photo: Alex Brandon/AP/Shutterstock
Brad Pitt is involved in not one but two lawsuits making headlines this week. On Thursday, days after outlets confirmed that Angelina Jolie was suing the FBI over a 2016 investigation into claims that Pitt assaulted her and their son, he settled an entirely separate suit involving the shoddy homes his foundation built in New Orleans after Hurricane Katrina. The $20.5 million settlement, which will be covered by the nonprofit Global Green, will go toward the costs of repairs to structures that were supposed to provide housing for families displaced by the hurricane, but which residents say are now virtually unlivable.
In 2018, several homeowners filed a suit against Pitt and his Make It Right foundation, claiming that the 109 homes the group built in the aftermath of the hurricane (41 short of their original pledge of 150) were defective. The initiative, which Pitt announced in 2006, was touted as an ecofriendly, affordable, and flood-proof housing solution for the Ninth Ward, with star-studded endorsements and a smattering of A-list architects designing the buildings. Pitt raised millions of dollars to fund the project and sold the homes for $150,000 each.
Over the next decade, reports of the project's rapid deterioration emerged. According to The Guardian, within weeks of moving in residents discovered there were no rain gutters, overhangs, covered beams, or waterproof paint, exposing the buildings to rain damage. Make It Right reportedly made some minor repairs, but soon started refusing to tell residents what was wrong with their homes unless they signed nondisclosure agreements. In 2014, The Advocate reported that the glass-infused wood in the houses' walls was causing them to "rot from the inside out." Earlier this year, an academic who lived in one of the homes as part of her research said that only six of the houses remained livable. The 2018 suit listed a host of other issues: leaks, black mold, rotted porches, collapsing stair rails, electrical fires, plumbing problems, poor ventilation, and termite infestations. Some residents have allegedly become sick while living in the houses — the lawsuit's attorney said in 2018 that they suffered from severe headaches and "Parkinson-like diseases."
Make It Right, which Pitt founded for the explicit purpose of rebuilding housing in Lower Ninth, initially responded to these accusations with lawsuits of their own, placing the blame on their lumber supplier, the project's head architect, and their former executive director. Around 2015, the organization all but disappeared — its downtown New Orleans office was shuttered, they stopped filing tax forms, and residents said no one was returning their calls.
Pitt petitioned to have himself removed from the suit, claiming he had no personal involvement in the project since he turned day-to-day operations over to the foundation after getting them set up. A judge denied his request in 2019. Meanwhile, Make It Right was hit with two more lawsuits in 2021: one from a local bank and another from a lawn mower who says the foundation owes him thousands of dollars in unpaid wages.
Now, Pitt seems to have enlisted the help of Global Green, a California-based nonprofit that ran its own housing initiative in the aftermath of Katrina and has worked with Pitt before, to pay off the settlement. Pending a judge's approval, the money will be distributed between 107 of the program's homeowners, who will reportedly be eligible for up to $25,000 each as reimbursement for the repairs they've had to make.
In a statement released Thursday, Pitt thanked the NGO for its support. "I am incredibly grateful for Global Green's willingness to step up and provide this important support for the Lower Ninth families," he said. "We collaborated in the early days post-Katrina and we are very fortunate to have Global Green's generous continuing commitment to help address the challenges around these homes and others in need. Hopefully this agreement will allow everyone to look ahead to other opportunities to continue to strengthen this proud community in the future."