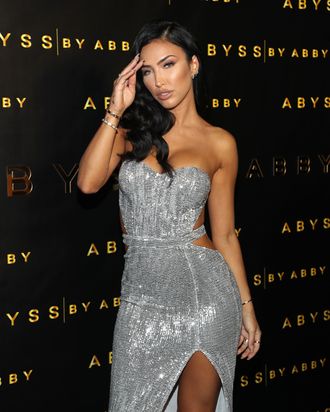 Photo: Jerritt Clark/Getty Images for Abyss By Abby
It was only a matter of time before Nick Cannon became, at the very least, tangentially connected to Selling Sunset. If Justin Hartley and Simu Liu can do it, so can the man with a million and one jobs. Cannon is joining the extended Selling Sunset family through Bre Tiesi, with whom he just welcomed a son, Legendary Love Cannon.
According to her Instagram, Tiesi has been working as a real-estate agent — in addition to her modeling career (she's a Wild 'n Out regular) — for a while, though her professional Instagram account is currently private. Right now, she's best known as Cannon's newest co-parent, but fans shouldn't necessarily expect him, or their child, to make a cameo on the Netflix reality show.
"I'm not going to necessarily hide [Legendary] from anything," Tiesi told People of her approach to sharing her personal life with the cameras. "It is what it is between his dad and I. He's still obviously so little, so I will protect him from the majority of it for a little while." Huh. Okay. Still, Tiesi did say that she was excited to bond with the other new and soon-to-be moms in the Oppenheim offices, including Heather Rae El Moussa, so fans can expect motherhood to factor into her storyline at least a little bit.
Also joining Selling Sunset for seasons six and seven is Nicole Young, a member of the Oppenheim Group who was actually originally supposed to be on the show when it premiered. She backed out at the last minute. "I just wasn't ready to expose my entire life," she told People.
Selling Sunset season six does not yet have a release date.