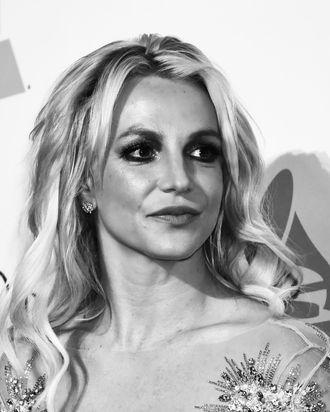 Photo: Jeff Kravitz/FilmMagic
Britney Spears released a raw, emotional video testimony detailing the isolation she felt during her conservatorship.
Spears uploaded the 20-minute video to YouTube on Sunday evening — just recorded audio, no visuals — as Taylor Swift and Lil Nas X were walking down MTV's 2022 Video Music Awards' black carpet. The video was publicly available for about an hour before it was put on private, but not before fans and others could listen — and take notes.
Spears wanted to speak directly to fans, and might have turned down Oprah.
Spears opened the video saying that she woke up the morning of the recording feeling the need to tell her story. She seemed to confirm the rumors that she had been in contact with Oprah Winfrey about an interview, but "getting paid to tell your story — I feel like it's kind of silly." She added, "I'm here just to open myself to others and try to shed a light on — if anyone out there has ever gone through hardships or whatever it is — just to put a light on it, and so that person doesn't feel alone. Because I really know what that feels like."
Spears added that there's still a lot she hasn't shared with the public out of fear of being judged or dismissed. "I haven't really had any outlet to share completely [and] openly for so long," she said. "[I was] scared of judgments, thoughts of other people, and what they think or what they may say."
Later in the video, she said that she had offers to do interviews for "lots and lots of money," but "for me, it's beyond a sit-down, proper interview." She added that she wanted to speak up to help others. "I'm sharing this because I want people to know I'm only human. I do feel victimized after these experiences, and how can I mend this if I don't talk about it?"
Spears described the conservatorship as "punishment" by her father, but claimed her mother "made it all happen."
Going back to the beginning, Spears recalled that the conservatorship never made sense to her. "I literally spoke in a British accent to a doctor to prescribe my medication, and three days later there was a SWAT team in my home," she said. Spears claimed that her mother, Lynn Spears, and two of her friends "held me down on a gurney" before she was loaded into an ambulance. "None of it made sense," she added. "Literally, the extent of my madness was playing chase with the paparazzi."
Spears said she now sees everything was "premeditated," explaining, "A woman introduced the idea to my dad, and my mom actually helped him follow through and made it all happen." She seems to be alluding to Lou Taylor, her former business manager and an associate of her father, Jamie Spears.
Spears claimed she was sober when she was hospitalized.
The singer claimed that when she was first hospitalized by her parents, she was completely sober. "There were no drugs in my system, no alcohol, no nothing — it was pure abuse," she said. "I think the main thing I do remember when it started was my dad's control. He loved controlling everything I did."
Expanding on her father's control, Spears recalled her Las Vegas residency, claiming, "I couldn't go where I wanted to go. I couldn't have the nannies that I wanted to have. I couldn't have cash."
Spears confirmed her second Vegas residency wasn't postponed because her dad was sick, but because her father wanted to send her to a facility.
In January 2019, Spears canceled her second Las Vegas residency, Britney: Domination, and announced that she would be going on "an indefinite work hiatus." In the video, she confirmed what some fans have long suspected — that this was what was told to the press to conceal the fact that her father was sending her to a facility after she refused to perform a specific dance move in rehearsals. "I remember everything got really weird and quiet, and all the directors and producers went in the back room and just spoke, and that was it," she said. "The next day I was told that I had to be sent away to a facility and that I was supposed to say on my Instagram the reason was because my dad is sick and I needed treatment."
Spears claimed that she called her father, crying, but all he told her was to listen to the doctors. "You don't have to go, but if you don't go, we're going to go to court and there will be a big trial and you're going to lose. I have way more people on my side than you; you don't even have a lawyer, so don't even think about it," she alleges he told her.
Speaking of her time in the facility, Spears claimed that she was forced to give "six vials of blood" every week and work all day without breaks. She also claimed that she didn't have a door on her room, saying security guards and others at the facility "watched me change naked every day." At the facility, she said she wasn't allowed to go to her AA meetings, and she missed having that support group.
The #FreeBritney movement helped her leave the facility.
According to the singer, the facility was forced to let her go after the #FreeBritney movement gained steam. "He had to let me go because the #FreeBritney campaign came out," she recalled. "I remember one of the guys was on an interview on the street and he said, you know, 'I could be totally wrong, and if I'm wrong, I'll be really embarrassed and I'll just go have a drink somewhere.' He said, 'But I do feel like they're doing something to her right now, and I'm not really sure what it is, but that's what my heart says.'" Spears called the #FreeBritney movement "confusing," because her family didn't appear to respond or do anything. "These people are on the street fighting for me, but my sister and my mother aren't doing anything. To me, it was like they secretly, honestly liked me being the bad one. Like I was messed up, and they kind of liked it that way. Otherwise, why weren't they outside my doorstep saying, 'Baby girl, get in the car. Let's go.'"
Reflecting on the "trauma" of the experience, Spears said, "They literally killed me. They threw me away. That's what it felt like; my family threw me away."
Spears almost fled the country with an unnamed man.
Spears detailed a time during her Vegas residency when she says she was in a "secret relationship" with a man who "wanted to just leave the country with me and we had it all set up to just leave." At the time, she said, "My biggest fear was: What would my dad do if I did do something wrong? What if I left the country? What if they found me; what would they do?" She feared "they would lock me up or something."
Spears is "more angry" at her mother, who took to Instagram to respond to the video.
In the video, Spears said that she was angrier with her mother than her father because she believes her mom failed to help her. "I feel like she could have gotten me a lawyer in literally two seconds," she said. Lynne Spears responded to Britney's video on Instagram, posting a black-and-white photo of her and Britney together and addressing her daughter directly, writing that she "tried my best" to support Britney's "dreams and wishes" and help her "out of hardships." Lynne also claimed Britney rejected her calls and the "countless times I have flown out." Despite posting her response on a public social-media account, Lynne ended with an apparent bid for privacy: "I have tried everything," she wrote. "I love you so much, but this talk is for you and me only, eye to eye, in private."
Spears, who continued to post on Twitter after the video was taken down, is now out of her conservatorship, but her court battles continue. Most recently, a judge denied her father's request to have her sit for a deposition, and she is currently fighting against her father's and her mother's separate requests for her to pay their attorney's fees.