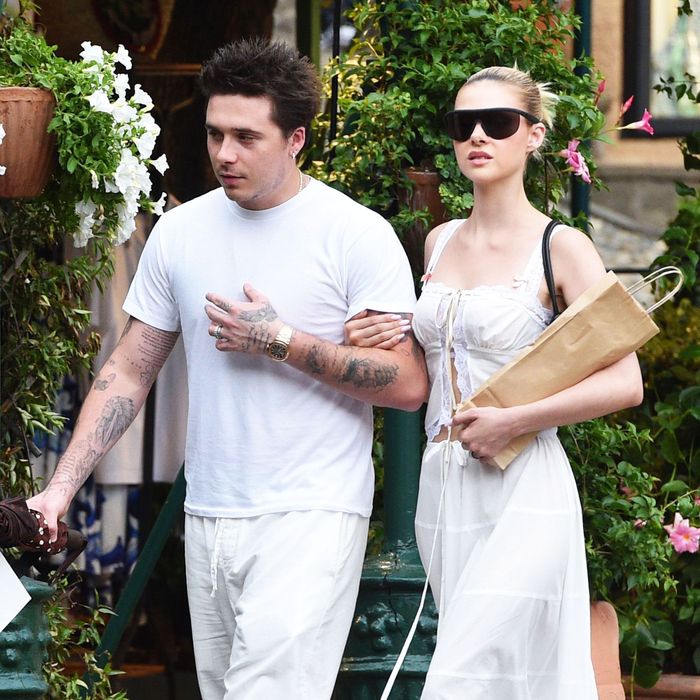 Photo: ipa/fototre/Shutterstock
Brooklyn Peltz Beckham would like you to remember he's married. Like, super-married. So married, in fact, he estimates he has around 70 tattoos dedicated to his wife, Nicola Peltz Beckham. Apparently, the love language of the son of Victoria and David Beckham is getting a lot of tattoos, and far be it for me to judge, but is this maybe too many tattoos?
Brooklyn estimated that 70 of his 100 tattoos are dedicated to his wife, including one of his more recent adornments, which reads "married" on his hand. "I was kind of just like, 'Oh, we're married, why not?'" he told USA Today. "It wasn't a thing I thought about for months." Nothing says true love like getting permanent ink injected into your skin on a whim, apparently. The aspiring chef said Nicola cried when she saw it — in a good way. "She always cries when I get her another tattoo," he said. "I always love to surprise her with new ink."
Brooklyn's many tattoos for Nicola include the name of her grandmother Gina on his elbow, a bunny for her other grandmother on his forearm, a love letter she wrote him on his back, his wedding vows on his bicep, and Nicola's name and eyes on the back of his neck. And, according to Brooklyn, that's not even a tenth of the tattoos he has for her.
In case you feel like doing the math, the Peltz Beckhams have been married for less than six months, and they've been together for only three years. That's a lot of tattoos to rack up in such a short period of time. At this rate — roughly two tattoos per month — he's going to run out of skin to ink before their tenth anniversary. If Brooklyn's on some kind of quest to become the most tattooed wife guy on the planet, he's definitely got a shot.