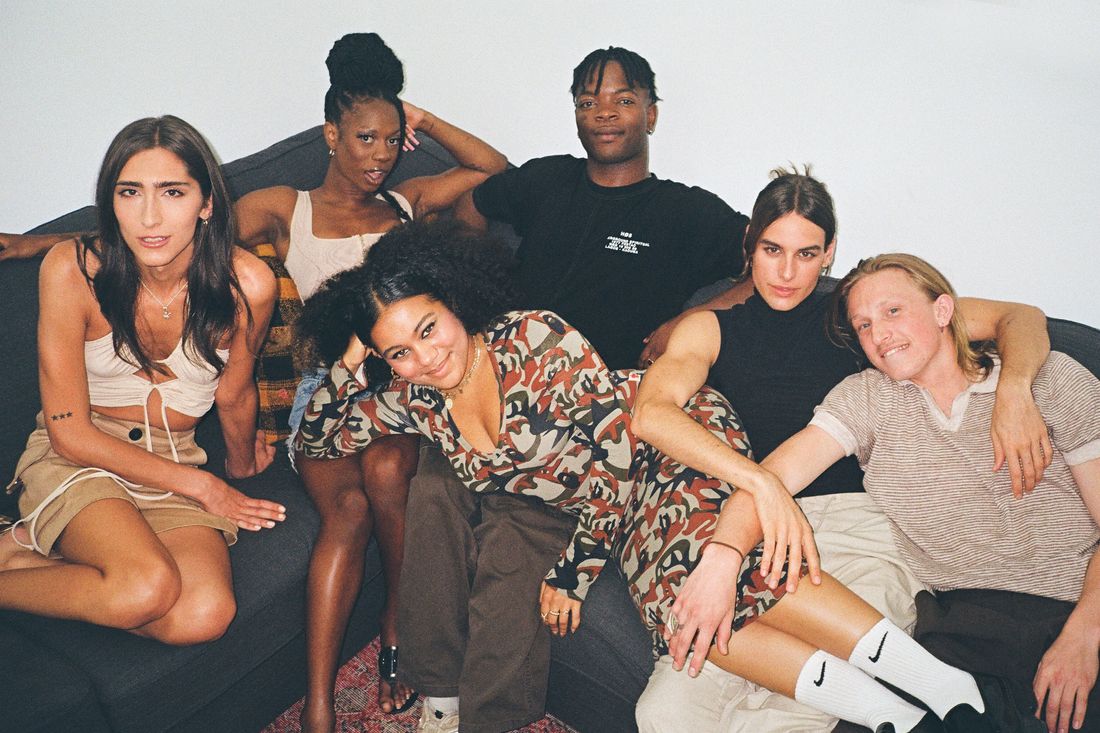 From left, Claude Shwartz, Sophia Wilson, Ebon Gore, Taofeek Abijako, Fernando Casablancas, and Ben Hard.
Photo: Marie Tomanova
Whatever Dimes Square is exactly — an ironically naughty anti-woke intellectual movement, the post-pandemic creative vanguard of downtown New York, or, more than likely, just a bunch of mostly pretty and privileged young people hanging around a few newish bars along the eastern end of Canal Street thinking they are doing something important simply by being there — it's as good a place as any in the city today to see and be seen. So why wouldn't there be a Dimes Square reality show?
The Come Up, which premieres in September on Freeform, is not so much The Real Housewives of Dimes Square as it is an upbeat "unscripted" docuseries about six Gen-Z New Yorkers with their hustle on. Light on sex and partying but filled with dreamy proclamations about life in the city — "I came when I was 17, and that changed everything, darling!" — and romantic street shots, particularly of the area outside Clandestino, the show attempts to capture what it's like to be a limitlessly ambitious young person who wants it all (love, money, status).
The cast features model-performer Fernando Casablancas, fashion designer Taofeek Abijako, photographer Sophia Wilson, nightlife personality Ebon Gore, and actors Claude Shwartz and Ben Hard. Hard, a strawberry blond with freckles, is the new kid, just in from San Antonio, working as a bartender, and eager to try new things, like stand-up comedy, hot dogs off the street, and boys. "Here in New York, I think that there's a lot more of this sexually awakened culture," he observes in the show. Oh, and also: "I got to kiss a model, which is a first." (That would be Casablancas — scion of the modeling family — whose story line involves a breakup with model Jordan Barrett, whom he'd "married" — not legally, though — last year in a ceremony in Ibiza involving a shaman and Kate Moss.)
The Come Up's New York is not burdened by jadedness but instead enchanted by naïve self-belief and serendipity. It's the sort of place where you get picked by the producers of a show about young people in the city, which will be seen mostly by people who don't live here but watch Freeform, a basic cable channel better known for Grown-ish. (It'll also stream on Hulu.) Each cast member is brimming with the conviction that they deserve this. "Crazy things just happen to me. That's my life," says Wilson. And Hard: "My friends could see me being at home … or being famous!"
Meet the Cast
Claude Shwartz, Actress
Age: 24
Hometown: New York
"I've always lived downtown, because where else would I go? I'm a trans woman that wants to be an actress."
Sophia Wilson, Photographer
Age: 22
Hometown: New York
"A Vogue cover would be sick, you know?"
Ebon Gore, Nightlife personality
Age: 23
Hometown: Jacksonville, North Carolina
"I want to prove that we are going to make the best party that anyone has ever seen."
Taofeek Abijako, Fashion designer
Age: 24
Hometown: Lagos, Nigeria
"I still consider myself a struggling artist, in a sense."
Fernando Casablancas, Model
Age: 24
Hometown: Rio de Janeiro
"A downtown kid is down first of all. They're a down girl. They say, 'Let's go to this rave.' A downtown kid is down for a good time."
Ben Hard, Bartender, actor, and comedian
Age: 23
Hometown: San Antonio, Texas
"There are some wild creative folks out there lurking in the shadows, ready to give me ketamine!"
More From the 2022 fall fashion issue
See All