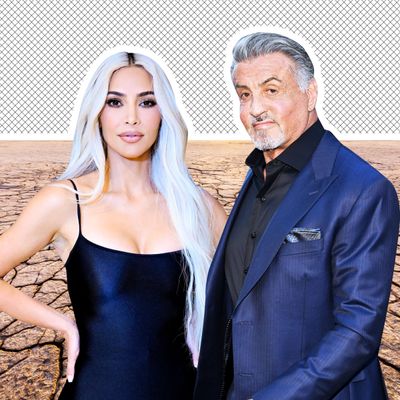 Photo-Illustration: by The Cut; Photos: Getty Images
Earlier this summer, we were not at all shocked to learn just how flagrantly many celebrities use their private jets, making major contributions to the climate crisis. I guess, then, it should not come as a surprise that wealthy people are also terrible at saving water in the middle of a drought. In May and June, over 2,000 customers in the Las Virgenes Municipal Water District, the company that supplies water to Calabasas, Hidden Hills, and Western L.A. County, were informed they'd gone too far over their monthly water caps. Among the offenders: Sylvester Stallone, Dwyane Wade, Kevin Hart, and Kim and Kourtney Kardashian.
According to county documents obtained by the L.A. Times, this motley assortment of celebs have used more than 150 percent of their designated water budgets at least four times since the Water District declared a drought emergency in November, and they may be forced to use flow-restrictor devices to cut back on their water consumption.
It is not a huge surprise that two Kardashians have made it onto this list — Kylie Jenner was a major offender in the whole private-jet debacle, mostly because she seemed to really like posting about just how casually she uses these things. I still don't understand how Kim's sinks work, but maybe they're to blame here.
Some of the celebrities being blamed do seem to have some kind of explanation — Dwyane Wade and his wife Gabrielle Union, for example, whose Hidden Hills house used 1,400 percent more water than it was budgeted, told the L.A. Times a problem with their pool had caused their water consumption to skyrocket and that they're going "to extensive lengths to resolve the issue." Others went on the defense, like Stallone, whose lawyer told the Times that his 230,000 excess gallons could "mischaracterize and misrepresent the situation" and cited the 500 trees on Stallone's property that could die and fall over if not properly watered. A spokesman for the water supplier told the Times that water budgets take into account the amount of irrigated land on a given property, so make of that what you will.
Southwest America is currently experiencing a megadrought, and experts have said we're living in the driest two decades since 800 A.D. In November, Southern California's urban water district, which supplies Las Virgenes, declared a drought emergency, and in June Las Virgenes cracked down on its restrictions amid a major water shortage. Maybe, while I do everything in my power to stop amassing tote bags, the rich and famous could fix their pools and grow a little less grass?