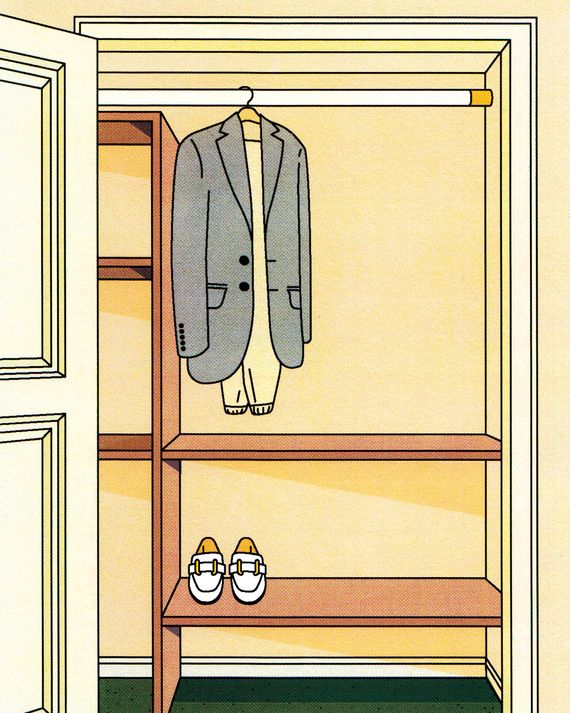 Illustration: George Wylesol
Moderation isn't interesting to me. I dislike incremental change. Once you've decided to do something, why wouldn't you just do it right then? Where I'm going with this: After another frustrating experience of trying to get dressed in a semi-post-pandemic world — What did I used to wear to dinner with girlfriends? Do I look good in strapless tops? Didn't I have more bags than this? — I reached into my closet and tossed about 40 percent of my clothing. Obviously, I hadn't thought this decision through and very suddenly had a lot fewer clothing options. Sure, I was rid of those uncomfortable sandals that I truly was never going to wear. But there's attacking a problem and then there's actually fixing it.
As with all great love stories (yes, this is a love story), fate stepped in and a fashion fairy godmother appeared to me in the form of Amy Smilovic. She is the founder and creative director of a brand called Tibi. In perhaps the only good thing the Instagram algorithm has done for my life, it allowed me to find Amy by way of an ethical-fashion advocate who highlighted her for encouraging people to wear the clothes they have and buy fewer new ones. Suddenly thrust into a rebuilding phase of my wardrobe journey,
I was captured by Amy's certainty about having less. She unpacks nuances of why outfits fail: why a lack of irony can make you look too preppy, why the wrong proportions make your outfit boring, why you shouldn't match your top to your shoes. It was as if she were speaking to me directly — and she absolutely understood why I'd just vaporized my closet.
Amy has a clearly defined style philosophy that she calls "the creative pragmatist," the tenets of which are "chic and chill." For her, clothes balance ease and functionality — oversize pants that sit on the hips, a signature ring on the back of blazers for easy hanging, nylon fabrics in tailored, refined silhouettes. But Tibi has a decidedly offbeat bent: asymmetrical back pockets, a double-collar oxford, a faux-furred pump. It's a brand for women who have shit to do. Amy speaks with the authority of a cult leader. "If you don't 'love' what we are creating — that is fine," Amy wrote to me. "In fact that means maybe I have succeeded — because if you don't love it, and we do, it simply means that the brand is not your style."
She will write to you, too. The first DM I sent Amy on Instagram was after buying a pair of Tibi nylon cargo pants and wondering if they were meant to be that big. She suggested I go down a size. (She was right.)
Her impact on my life was swift, since I don't do half-steps. First came a pair of cotton drill pants in one of the brand's signature silhouettes, then a pair of white patent slides that nearly always earn me compliments and inquiries. After that, a barrage of Tibi packages that I'm certain my accountant will be confronting me about soon.
Amy's voice was also in my head every morning. Her rules echoed: big, slim, skin, her mantra to keep your proportions balanced; that black and brown do, in fact, go together; how any look can either be dialed up or down with an oversize blazer.
I'm sure people who know me would insist I didn't dress poorly before, and absolutely I agree. But what they can't see is how much less fraught it's all become. Even when I'm stumped, I know where I'm trying to go and when I've landed on it.
Amy's philosophy stresses appropriateness — looking like you understand the context in which you showed up in a given environment without sacrificing feeling like yourself. Working in Hollywood, I have my own hang-ups about being a writer and wanting to be taken seriously, which basically means "not being confused for being an actor." In meetings with executives, I've always been cognizant of wanting to look cooler than everyone else in the room — an attempt to convey that I'm the creative mind and should be listened to. As a Black woman in these rooms, I also want to exude authority that goes way beyond "Yes, that character is kind of racist." Tibi and Amy have allowed me to more easily say with my clothing, I am competent, and you should trust me — but please remember that we are not the same.
My journey of destruction and rebuilding took me to a final test: the confusing Los Angeles Evening Event. It's a function full of land mines: fluctuating temperatures, incredibly varied interpretations of the word casual, getting roped into a picture with a celebrity and having to live with that Getty Image disaster for the rest of your life. I put my new tools to work. Silver joggers from Tibi that kind of look like space pants but somehow work, a gray bodysuit, an oversize blazer, white slides, silver hoops. It felt chic, modern, and stylized. I had followed the rules: I was comfortable, and I looked like I was going somewhere and wasn't confused about what was going to be happening there. I didn't exactly need Amy's approval, but I posed in the mirror and sent her a picture anyway. She promptly responded: "Okay, this is so damn appropriate. And so simple. I am sure you were the most at ease there. Doesn't that feel amazing?"
More From the 2022 fall fashion issue
See All