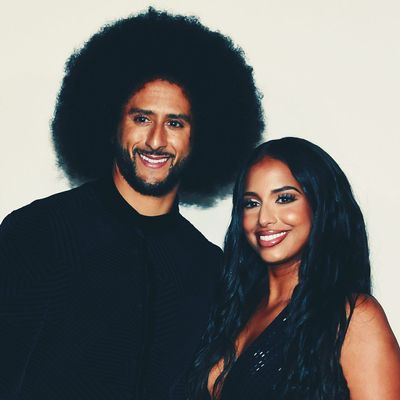 Photo: Jon Kopaloff/FilmMagic
Congratulations are in order for Colin Kaepernick and Nessa Diab. The radio personality announced that she and Kaepernick welcomed their first child together a few weeks ago just hours before hitting the MTV Video Music Awards black carpet to host the preshow.
"I thought long and hard about our life-changing news today," she wrote on Instagram, captioning a photo of herself with Kaepernick and their newborn. "I decided to do so because today is the first day in a few weeks where I stepped out for work with a new life title — MOM!" Despite the very public announcement, Diab said she struggled with the decision to post, but decided to take the opportunity to connect with her fans. "I wasn't going to share anything because this is sooooo personal to us and I realized I'm a complete mama bear," she wrote, adding that she hoped opening up about motherhood would "allow me to connect with you in different ways that I never imagined."
Diab chose not to disclose the birthdate, sex, or name of the baby on Instagram, only saying that "Colin and I welcomed our amazing baby to the world a few weeks ago and we are over the moon with our growing family." She also praised her partner, saying that the former NFL player was "the most amazing dad" and "is by our side for every moment of this journey." Kaepernick reposted Diab's announcement on his Instagram Stories, but has not commented separately.
As a new mom, Diab used her VMA red-carpet hosting duties to ask celebs like DJ Khaled and J Balvin for parenting advice. "The best advice is … there's no advice," J Balvin said. When Diab followed up asking if she'd ever get a good night's sleep again, he tried to let her down easy. "I don't think so. That's why I wear glasses. I don't want to show what's going on in my eyes right now." DJ Khaled took a more philosophical approach, saying, "Best piece of advice: It's not about you no more." He also led the crowd in applauding the news, telling the host, "That's your biggest blessing. Your world is gonna change. Your life is gonna change."