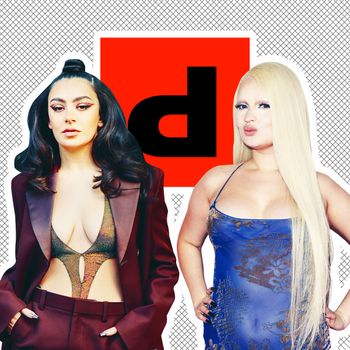 When Allie Arciprete joined me on Zoom from her New York City apartment, she quickly confessed she's been wearing the same shirt for almost a month. The black-and-white Harley Davidson tank was from the Charli XCX and Depop collab, and yes, she was wearing it that day too. "I'm not going to lie," she said, pulling open her jacket to reveal the tank. "I've had it for three weeks, and I've probably worn it every week since then." This was "crazy for me," she explained. "I am a huge no-outfit-repeating person because I have so many clothes to wear."
Charli XCX launched the 50-piece collection, all items from the British pop star's closet ranging in price from $15 to $2,000 (!), on May 2. There were curated pieces from the "Used to Know Me" music video, a Mugler bodysuit, and more casual pieces from past videos, like the Harley Davidson tank that Arciprete was lucky enough to score for $20 before everything sold out.
Less than a week before Charli's Depop drop, pop singer Kim Petras debuted her own collab, selling 24 pieces from her personal closet on her Depop page ⁠— like a custom sequin-and-feather New Year's Eve dress, a Miu Miu Mickey sweater, and Givenchy boots. Petras's collection, priced between $20 and $950, sold out in 48 hours.
Even before these official celebrity collaborations, fans were flocking Depop to find out what Emma Chamberlain, Bella Hadid, Devon Lee Carlson, Olivia Rodrigo, and author Ottessa Moshfegh were liking and selling from their closets.
Monetizing their fans' parasocial relationships, celebs and influencers are rethinking what merch could be and where they can sell it. Why pay someone to manufacture your product (which may lead to some Sour issues) when you can sell old clothes straight to a fan who's more than willing to pay? Especially when fan accounts on Twitter and Instagram, which post daily updates of celebs' outfits to their thousands of followers, serve as a catalogue of sorts. When Arciprete bought Charli's tank, she messaged one fan account to see if they had a picture of the pop star in the tank so she could recreate the image on Instagram.
"Nobody's gonna have the same piece. Plus, I'm kind of a super fan, so it's extra special to me," the 22-year-old explains.
While this isn't exactly new — the Kardashian Kloset, where the fam sells their used clothes, has been going strong since 2019 — the familiarity of the platform makes this moment different. Shopping for celebrity castoffs in an app that's already on your phone — and that you're used to using to buy non-famous people's castoffs — feels more like a win than navigating to a whole new site (that looks kind of dated, sorry). And being able to interact with a celebrity's profile, whether that's what they're selling or liking, feels far more personal.
Even someone like Landon Annoni, who has a collection of over 15,000 pieces of celebrity clothing, costumes, and artifacts, used the Charli XCX and Depop collab to add to his collection. "There was a lot of stuff Depop brought to the table that I wouldn't have been able to get my hands on otherwise," he said. Annoni often gets pieces from his favorite moments in music history, though he doesn't buy the pieces to wear himself, he buys them to store and display.
Does this mean celeb merchandise is a thing of the past? I mean, Beyoncé can still sell us invisible merch and we'll gladly bite. But being able to shop the very pieces idols wear? That creates a stronger line of communication, not only between celebs and fans but among the fandom as well. The proposal is more than a way for pieces of clothing to live more lives. If anything, it's a one-of-a-kind immersive fan experience — the ultimate merchandise.