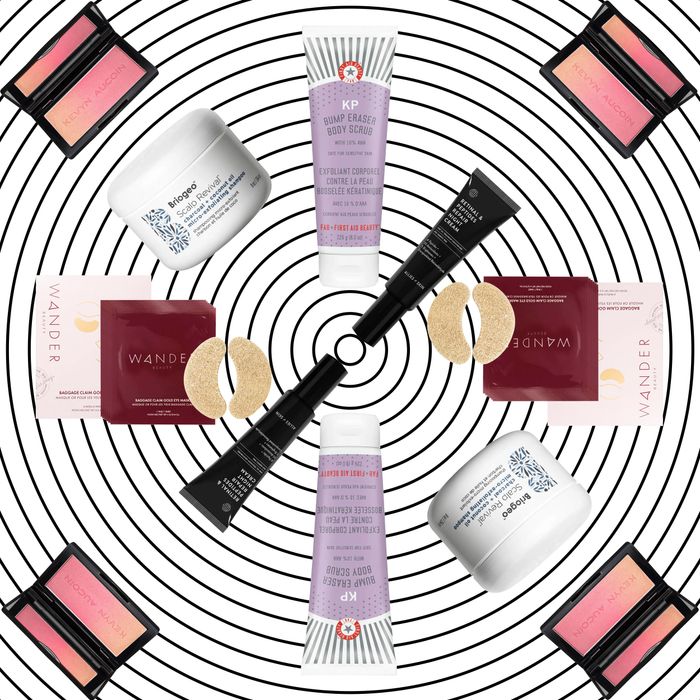 Photo-Illustration: by The Cut; Photos: Retailers
It still might be August, but believe it or not, it's time to start restocking our fall-beauty favorites. I know we just want to enjoy the last few weeks of summer, but who can turn down a restock when it's on sale? Not me.
Until August 17, Dermstore's Anniversary Sale is offering up to 25 percent off products depending on the brand. For example, select Paula's Choice, Dr. Loretta, and Herbivore Botanicals products are 15 percent off; select Oribe, Murad, and La Roche Posay products are 20 percent off; and select COSRX, Bioderma, and NuFace products are 25 percent off.
Whether you need to stock up on leave-in conditioners to keep your hair just as hydrated as your skin or you simply want to try out some luxe skin-care tools, there's something in this sale for everyone.
Often dubbed a dupe of Bioloque Reacher's P50 lotion, this liquid exfoliant sheds layers of skin while minimizing pores, redness, blemishes, and more.
It would be remiss of us not to mention the NuFace every time it's on sale because it's just that good. It tones and lifts the face while simultaneously reducing the look of wrinkles and lines.
If you're like me and suffer from more hyperpigmentation during the summer because of increased sun exposure, then you'll want to add these to your daily routine along with your sunscreen. Editors, influencers, and beauty obsessives love these daily peels because they visibly reduce dark marks and bring a renewed radiance to the skin.
Smooth skin is an all-year-round thing, and this body scrub gently exfoliates the skin to reveal a smoother surface. Reviewers with skin conditions and body acne swear by it, and while I don't have body acne, my secret to using this scrub is using it on my bikini line to reduce ingrown hairs and hyperpigmentation. Spoiler alert: It works.
I know we don't want to think about the cold coming soon, but the reality is … it's coming. Get ahead of your dry winter skin with this moisturizer. Reviewers love it for the way it seeps into the skin to deeply hydrate the complexion.
If the bags under your eyes aren't Chanel, at least they can be gold. These eye masks were my go-to this summer to calm my skin from sun damage with its aloe-leaf ingredients. But they're just as beneficial in the fall to continue to soothe the under eye.
If you're like me and wear eyelash extensions, then your lashes probably crave daily conditioning. Even if you don't wear extensions, this conditioner seals in moisture, strengthens your natural lashes, and leaves them looking healthy. After consistently using this, my natural lashes barely struggle under my extensions.
Improve your skin's elasticity while getting your dose of retinol with this cream blended with peptides to strengthen the skin's barrier while fighting fine lines and wrinkles.
Summertime can bring a lot of damage to hair, from dipping our tresses into pools to excess dirt and oil buildup from sweat, but so does winter with its dry air. This shampoo not only refreshes the scalp with peppermint and detoxifying charcoal, but it also soothes it. It's a hair revival that keeps your scalp tingling (the good kind of tingle).
As someone who loves makeup, but cannot do eyeshadow to save my life, I appreciate palettes like this. They're easy to use and include shades that look good on all skin tones for a soft yet nude glam.
Because you can never have too many beauty blenders. I like to restock every season. This one is specifically for a flawless blush application.
That being said, blush isn't going anywhere, so yes you should continue to stock up. It was a #BlushGirlSummer and it'll be a #BlushGirlFall, too. This ombré powder is perfectly pigmented for a natural flushed look for all complexions with four shades ranging from rosy pinks to deep reds.
Looking for more sultry and sexy curls for fall? This best-selling spray brings incomparable volume to tresses, and it smells good.
This styling cream is Selena Gomez's go-to for a sleek bun. The argan oil adds shine while the white honey nourishes and conditions the hair. If it's good enough for Selena, then it's good enough for us, because her sleeked-back hairstyles are always perfect.