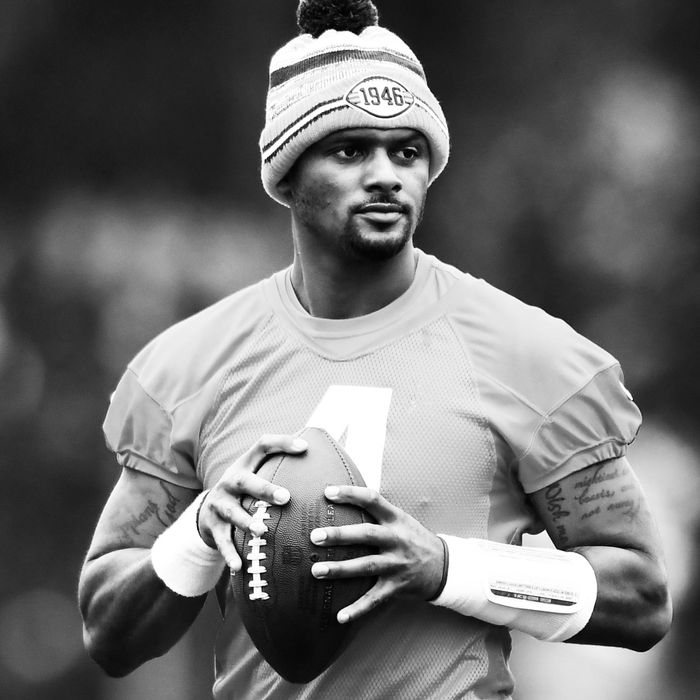 Photo: Nick Cammett/Diamond Images/Getty Images
After a 15-month investigation into the sexual-misconduct allegations against Deshaun Watson, the Cleveland Browns quarterback has been suspended for six games.
Watson has been accused of sexual misconduct by over two dozen massage therapists he hired between the fall of 2019 and March 2021, with allegations including exposing himself and coercing them to touch him in a sexual manner. Two of the women say he pressured them into performing oral sex during their sessions. Watson has repeatedly denied the claims against him, recently saying, "I just want to clear my name." He has settled 23 out of the 24 civil lawsuits brought against him, and two Texas grand juries have declined to charge him criminally.
Monday's ruling came from former federal judge Sue L. Robinson, who oversees player discipline and wrote that she found the NFL has "carried its burden to prove, by a preponderance of the evidence, that Mr. Watson engaged in sexual assault (as defined by the NFL)." In addition to the six-game suspension, Robinson ruled that Watson can work only with team-approved massage therapists during team-directed sessions for the duration of his NFL career.
The NFL has long faced scrutiny for how it handles sexual misconduct and violence against women, and many critics expressed dismay at the leniency of the ruling. The NFL had previously asked for a full year's suspension, and Tony Buzbee, the lawyer who represented many of Watson's accusers, called the ruling a "slap in the face." Some have expressed frustration that Atlanta Falcons wide receiver Calvin Ridley was suspended for a year after betting that his team would win a game, while Watson is missing just six games over sexual-misconduct allegations.
Despite the ongoing claims against him, Watson signed a record-breaking $230 million five-year contract with the Cleveland Browns in July. With the expectation of a suspension, the Browns and Watson structured his contract so that he would lose a minimal amount of money for not playing a full season. Following Monday's ruling, he reportedly was greeted with cheers from fans who were watching practice.
Cleveland Browns owners Dee and Jimmy Haslam said in a statement that they respect the decision and "will continue to support" Watson. Assuming the NFL doesn't appeal the decision, Watson will return to the field to play the Baltimore Ravens on October 23.