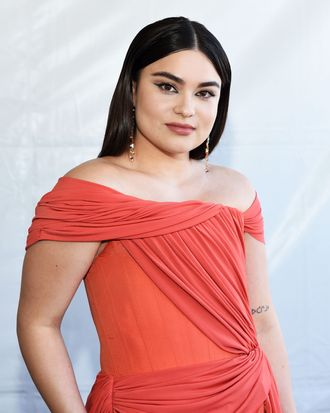 Photo: Amanda Edwards/Getty Images
If you haven't heard of Devery Jacobs yet, it's only a matter of time before you start seeing her everywhere. Born and raised in the Kahnawà:ke Mohawk Territory in Quebec, the 29-year-old actress has landed recurring roles in shows like American Gods, The Order, and Rutherford Falls, and worked both in front of and behind the camera in the Canadian independent-film scene for the past decade. But with her leading role in FX's groundbreaking show Reservation Dogs, one of the first television series to feature an all-Indigenous cast and crew, we're witnessing a star's breakout moment.
In the series, which is currently airing its second season on Hulu, Jacobs plays Elora Danan, the unofficial leader of a quartet of Native American teenagers growing up in rural Oklahoma as they engage in petty crimes to save up enough cash to escape to California. When the second season shifts its focus to exploring the identities of its core four individually, we get to know Elora on a much deeper level. Not only does Jacobs deliver some of her most captivating work in this season's fourth episode, but she also served as a co-writer alongside series creator Sterlin Harjo, telling the story of her community's farewell to a dying elder. Her biggest takeaway from the experience, she tells me, was learning to "trust my own voice and that there is a space for us out there."
Elora Danan, your character in Reservation Dogs, is a pretty tough girl, and you've previously played characters who are similar to her in that way. What draws you to playing fierce women?
I think that — and I'm by no means upset about it — it really started when I played my first leading role in a feature film, titled Rhymes for Young Ghouls. That was the first time I played an Indigenous character directed and written by an Indigenous filmmaker, so that was the first experience where I really recognized the character, and recognized my mom, my community, and family members in the film. It was a career-defining moment for me.
Since then, I guess people have been seeing me in a lot of tough-type characters. While I'm so happy to play those types of characters — I think that they're so rich and there's so much to draw from — with Elora Danan, I really wanted to make sure that she was specific and different, and she is. I started playing the character as if she was closed off, as we ventured into the first season; I knew we would really get to become close and familiar with Elora.
Do you relate to her at all?
I relate to her mostly as someone who is a big sister. I very much feel that same energy with my co-stars, but also as Elora toward the other Rez Dogs. She has a leadership quality that comes from such a place of love for everyone around her. Nearly every other component was radically different from myself.
You joined the writers' room this season, and you also co-wrote the fourth episode, in which the community prepares to send a dying elder off into the afterlife. How did you make that happen? 
During the first season, I was annoying enough and asked questions about the character, sharing my thoughts on Elora's journey that I hoped resonated with Sterlin, and it seems that they did. I was prepared to get all my writing samples together; I was prepared to plead my case. When I approached Sterlin, he actually just invited me into the writers' room, and I realized I didn't have to fight to the death for it.
I have either known or known of all of the writers in the room for years because the Native film industry is so small, but it's full of people who are determined to create our stories. The people in this writers' room have been working for decades to break these doors down. Tazbah Chavez took me and Erica Tremblay under her wing as the female writers of Reservation Dogs. She guided us through what's typical of a writers' room, how it differs in Sterlin's room, and set us up for success with projects to come outside of this series.
What was it like having more influence over Elora's story this season?
I had more ideas and was more passionate about all of the other characters other than Elora's journey in this season. When Sterlin was divvying out episodes to writers, I had been especially passionate about the beauty of our communities surrounding deaths. I feel like in Western culture, death is so taboo, hands off, somber, isolating, and cold; I never understood that growing up in my community. There are exceptions when the death is unexpected or tragic, or in the case of the Reservation Dogs character Daniel, he left before he was supposed to. But when somebody has lived their full life and has been surrounded by community, it ends up being a celebration; some of the most fun times are during funerals and wakes. I was really passionate about that glimpse into our communities that I don't think nearly enough people have been able to bear witness to.
You've been acting for quite a while but had, as you mentioned, your first leading role in Jeff Barnaby's 2013 movie Rhymes for Young Ghouls — how has it been navigating the industry in the almost decade since then?
It is definitely a different industry now than it was during that time. I think that had Rhymes for Young Ghouls come out in 2022, it would have been a very different story, and it would have had a much wider impact. After that film, I moved to New York and naïvely thought that after working with Jeff Barnaby, the rest of the industry would be like that, that there would be other Indigenous filmmakers out there who would get funding and we'd be able to collaborate more on different projects. I was quickly schooled that if and when there were few Indigenous roles out there, they were all Pocahontas-type, adorned in Buckskin, stereotypical roles of Indigenous women.
During that time I began writing out of necessity, because I was really frustrated and thought, why am I waiting for my community's stories, for the experiences that I had witnessed growing up? Why am I waiting for a non-Indigenous writer-director to create those when I have a perfectly capable voice of my own? I found such a love for storytelling in front and behind the camera. It was really empowering.
Has there been a moment in your career where you've been starstruck?
When I first met Taika Waititi in 2018, I kind of made a complete fool of myself. The TIFF rising-stars program set up the program and I completely geeked out. He came by the luncheon that we had and we took some photos together. He's such a silly, warm person that we were doing funny poses, so everybody thought that we were closer than we were. I almost cried. Then when the Reservation Dogs audition came around, and we were doing the network testing and callback with Taika in the room, I was glad I already got that embarrassing geekiness out of my system and could focus on the work. I'm not somebody who gets starstruck by many people; his work had such an impact on me.
You mentioned in previous interviews that you love Harriet the Spy. Could you elaborate on why it resonates with you, whether it be the book or film — or both?
It was both of them. I originally watched the film and loved this spunky, rebellious young girl who was insatiably curious and wanted to be a writer. I really connected with her. In the movie, I loved the jazz score, and in the book — because I had read that a little bit later, maybe around grade four — I related to a quote from Ole Golly, who says something about living the way that's best for you otherwise you'll end up living like your family. It's not that there's anything wrong with living like your family, but it's about finding what is true to you. It's still something that rings true to me as a grown person.
I reread the book a couple years ago and started doing some research on the author, Louise Fitzhugh. I learned that she was an out gay woman in the '60s. It all connected. I was like, "Oh my God, Harriet was a baby queer who was questioning and figuring out what works for her." It was such an affirming moment and I felt so seen, even though I only stepped into my queerness as I moved to the city, and as I got further in touch with myself as an adult. I've always been this baby queer running around spying on my cousins and neighbors on my Rez, and writing down everything I saw, accidentally spilling some secrets when people would dive into my journal.
You've been filming Marvel's Echo series in Atlanta — what we can expect from this show?
I can't say a whole lot, but I can say that I'm really excited to work with my co-stars. To work with such legends like Tantoo Cardinal and Graham Greene, it's just an honor. One of the familiar faces I am working with is Sydney Freeland. I worked with her on Rutherford Falls and Reservation Dogs. It's our third project together in a row, which was unexpected but one that I'm so happy about because Sydney is so awesome.
This interview has been edited and condensed for length and clarity.