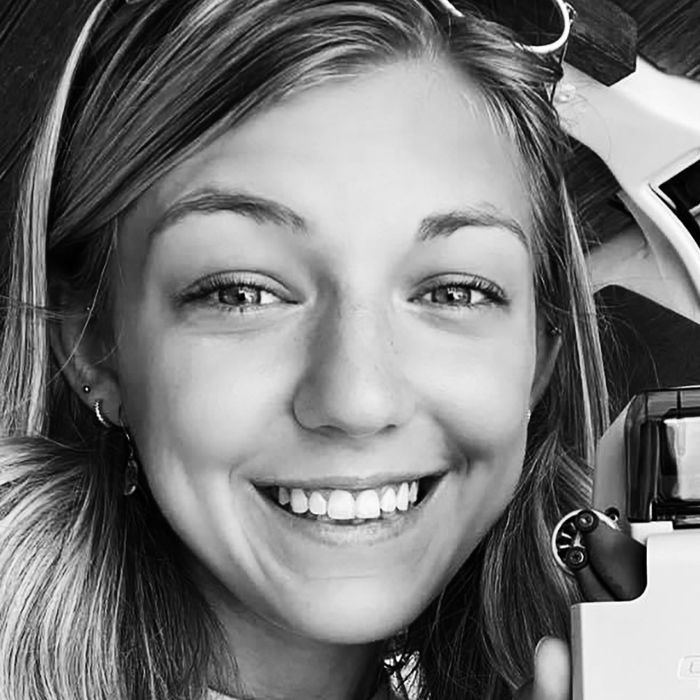 Gabby Petito
Photo: Grand Teton National Park
Influencer Gabby Petito was reported missing on September 11, 2021, after an extended road trip through the desert with her boyfriend, who had since returned to the couple's Florida home. Just over a week later, the FBI found human remains consistent with the description of Petito. Later, a coroner determined she died by strangulation.
23-year-old Brian Laundrie refused to tell police where he last saw Gabby Petito, 22; indeed, he reportedly refused to tell them, or Petito's family, anything at all. Yet officers in Moab, Utah, responded to a dispute between Petito and Laundrie in mid-August of last year; Petito was "crying uncontrollably," per the report, while Laundrie explained "that time spent created emotional strain between them and increased the number of arguments."
When their daughter disappeared, Petito's parents said they hadn't heard from her since late August, and pled with Laundrie and the public to share any details they might have about their daughter's death. But Laundrie disappeared shortly after returning to Florida: The FBI issued an arrest warrant, though authorities were unable to locate him for weeks. On October 20, the Sarasota County Medical Examiner arrived at a Florida park after "some articles" apparently belonging to Laundrie turned up. Partial human remains found at the site were identified as Laundrie's on October 21. More than a month later, medical examiners revealed a cause of death. And now, almost a year after Petito disappeared, her parents are suing not only Laundrie's family but also a Utah police department they say fumbled a domestic dispute between the couple, forfeiting protection for Petito when she needed it.
Here's everything we know so far.
Gabby Petito was a travel influencer.
Originally from Blue Point, New York, Petito lived with Laundrie — apparently her fiancé — and his parents in North Port, Florida. Beginning around 2019, the pair traveled the country together, with Petito documenting their trips on Instagram, YouTube, and TikTok. On July 2, they left from Long Island on a cross-country drive, posting from national parks and hot springs under the hashtag "van life." Her most recent Instagram post went up on August 25.
A witness to an argument they had in Utah called police, who separated Petito and Laundrie for a night.
On August 12, police in Moab, Utah, stopped Petito and Laundrie after a witness called 911 about a "domestic problem" the couple allegedly had outside the Moonflower Community Cooperative. The 911 caller said they saw Petito slap Laundrie across the face during a fight over a phone, and then climb through the van's window as if Laundrie had locked her out. When police pulled them over, Petito was "crying uncontrollably," per a police report. "At no point in my investigation did Gabrielle stop crying, breathing heavily, or compose a sentence without needing to wipe away tears, wipe her nose, or rub her knees with her hands."
Laundrie told the officer that so much time together inside the van had created "emotional strain" that led them to fight more, while Petito reported "serious anxiety" made worse by "little arguments she and Brian had been having all day." Laundrie, meanwhile, said Petito became "manic" from fear that he would strand her in the desert. During their argument, Petito scratched Laundrie's face and arms, but per the report: "They are in love and engaged to be married and desperately didn't wish to see anyone charged with a crime." Laundrie said he felt safe and did not appear to have hurt Petito physically, the officer concluded; still, he brought Laundrie to a hotel and left Petito in the van to cool off for a night, encouraging them "to take advantage of this time apart to relax their emotions and regain control of their anxiety."
Police labeled the incident a "mental/emotional break" rather than a domestic assault.
Laundrie arrived back to Florida on September 1 without Petito.
Over two weeks later, on September 1, Laundrie arrived back in Florida without Petito. On September 11, the day Petito's parents reported her missing, North Port investigators found the couple's van at Laundrie's parents' house. As the last known person to have seen Petito — and also her boyfriend — Laundrie became a person of interest in the case. But he wasn't talking.
He refused to speak with police.
On September 15, North Port police — who worked with the FBI and police in Suffolk County, New York, on the case — said Laundrie had neither "made himself available to be interviewed by investigators" nor "provided any helpful details."
"As a father, I can imagine the pain and suffering Gabby's family is going through," said North Port police chief Todd Garrison in the initial statement. "We are pleading with anyone, including Brian, to share information with us on her whereabouts in the past few weeks. The lack of information from Brian is hindering this investigation. The answers will eventually come out."
Police routed all their questions through Laundrie's attorney, Steven Bertolino. In a statement to CBS2 New York, Bertolino explained: "In my experience, intimate partners are often the first person law enforcement focuses their attention on in cases like this and the warning that 'any statement made will be used against you' is true, regardless of whether my client had anything to do with Ms. Petito's disappearance. As such, on the advice of counsel, Mr. Laundrie is not speaking on this matter." Both he and his family, Bertolino added, "will continue to remain silent on the advice of counsel."
Chief Garrison has appealed to Bertolino publicly, reminding him that "two people left on a road trip and one person returned." Meanwhile, Petito's family said they haven't seen her since August 24 or 25, when she was hiking in Grand Teton National Park in Wyoming and video-chatted with her mom. Petito's mother said they texted over the next few days, but Petito went dark after that. They also issued a statement, saying: "They are frantically searching for answers and information in their daughter's disappearance while Brian sits in the comfort of his home."
On September 19, the FBI found a body matching the description of Petito.
On September 19, the FBI held a press conference sharing that they had found what they believed to be Petito's remains, in Bridger-Teton National Forest. "On behalf of the FBI personnel and our partners, I would like to extend sincere and heartfelt condolences to Gabby's family," an FBI spokesperson said during the conference. Laundrie, whom the police are calling a "person of interest," was still missing, but the next day, police declared the home where he lived with his parents and Petito a "crime scene." On September 21, the Teton County coroner Dr. Brent Blue announced that a preliminary autopsy determined her death a homicide.
The FBI issued an arrest warrant for Laundrie.
On September 24, a federal court approved an arrest warrant for Laundrie, whose whereabouts had been unknown since September 17, charging him with using "unauthorized access devices." Specifically, he appeared to use a Capital One debit card, which may have belonged to Petito, around August 30 and September 1. "It is my understanding that the arrest warrant for Brian Laundrie is related to activities occurring after the death of Gabby Petito and not related to her actual demise," said Steven Bertolino, the Laundrie family attorney, per Insider. "The FBI is focusing on locating Brian and when that occurs the specifics of the charges covered under the indictment will be addressed in the proper forum."
It appears Petito was strangled to death.
On October 12, one month after Petito was reported missing, Teton County coroner Dr. Blue confirmed her death to be a homicide and said she died by strangulation. He also said "that her body was outside in the wilderness for three to four weeks" before authorities discovered it.
Meanwhile, human remains turned up in a Florida park. The FBI identified them as Laundrie's.
Laundrie's parents reportedly went to Myakkahatchee Creek Environmental Park in Florida to search for him on the morning of October 20, alerting the FBI and local police to their plan. The park is about five miles away from their home, and according to CNN, investigators found "some articles" apparently belonging to Laundrie on a trail he liked to hike. The Sarasota County Medical Examiner subsequently arrived on the scene, along with officers from the Pasco County Sheriff, Sarasota County Sheriff, and Lee County Sheriff's office, plus a cadaver dog. Per NBC 4 New York, human remains were found near a backpack consistent with the one Laundrie was using around the time he disappeared. On October 21, the FBI confirmed, via dental records, that the remains were Laundrie's.
On November 23, the Laundrie family's attorney revealed the cause of Brian's death to be a self-inflicted gunshot wound. "[Brian's parents] Chris and Roberta Laundrie have been informed that the cause of death was a gunshot wound to the head and the manner of death was suicide," attorney Steven Bertolino told E! News. Investigators also recovered a notebook from the scene, in which Laundrie admitted to killing Petito.
One year later, Petito's parents are suing Moab police.
Nearly a year after Petito disappeared, her parents have signaled their intent to sue the Moab, Utah, police department for wrongful death, arguing that officers mishandled what should have been a domestic-violence complaint. The notice of intent names officers Eric Pratt and Daniel Robbins, who pulled the couple over during their fight. An independent review of the situation, released in January, found the officers had incorrectly classified the incident: A witness had reported seeing Laundrie slapping Petito in the face, and although Petito claimed to have hit him first, police reports on the encounter offered no documentation of her injuries or an indication that Laundrie had been asked about them. "Both written reports are missing significant details as it relates to the who, what, when, where, and how as it relates to this incident," Brandon Ratcliffe, captain of the Price City Police Department and conductor of the review, concluded.
In court documents, Petito's parents go further, arguing that their daughter "displayed the classic hallmarks of an abused partner" and that police overlooked them, failing to question alleged inconsistencies in Laundrie's account. They cast Petito as "the primary aggressor," the court docs reportedly contend, and Laundrie as "a potential victim of domestic violence." The suit contends that the Moab City Police Department hasn't done enough to train its officers to identify signs of intimate-partner violence and asks for $50 million in damages.
Petito's parents are also suing Laundrie's parents, with a Florida judge giving the green light for a $30,000 civil suit to move ahead in June. They allege that Laundrie's parents not only knew their son had killed Petito but also knew where he'd left her body and kept quiet about all of it throughout the search. They're claiming intentional infliction of emotional distress, but an attorney for Laundrie's family has argued that the "law imposes no such obligation to speak" and that, "in our society, under our laws, people are free not to speak."
This post has been updated.