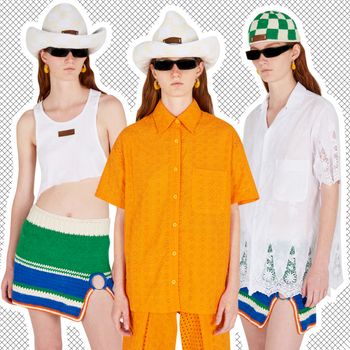 Photo-Illustration: by The Cut; Photos: Retailers
What Is It?


Cult-favorite jewelry brand Éliou just launched its debut ready-to-wear collection: an eclectic and gender-inclusive assortment that features everything from garden-print trousers made from dish-towel fabric to a rainbow crochet cowboy hat. Much like Éliou's jewelry, each item is delightfully specific — almost personal in nature. I recently described the brand's aesthetic to a friend as "something you found on vacation at a market on the Amalfi coast or in the South of France that tons of people ask you about every time you wear it back home." (Basically a wearable bragging right, no biggie).
According to one of Éliou's founders, Duda Teixeira, the process of translating that sense of discovery and one-of-a-kind-ness from jewelry to clothing was an inevitability in Éliou's progression: "There was a moment when we realized we couldn't find the clothes to match our jewelry in our own wardrobes and that's when we knew it was time to go for it."
It wasn't a decision she or her co-founder Cristina Mantilla undertook lightly, though. "The market has a lot of fast fashion and we wanted to create something different," Mantilla shared.
With this goal at the forefront, it took them over a year to build the collection. Each piece is produced in very limited quantities, handmade by Teixeira's family in her mother's hometown of Vitória, Brazil. Her mother is one of seven sisters who were all involved in making the collection (the first samples were actually made on her late grandmother's sewing machine). "It was a proud experience to see the matriarchs of my family come together to work on this," Teixeira said.
"Even her cousins were our fit models," Mantilla added. "It really was this one crazy family affair."
Do I Need This?


Yes. In a world of mass production and oversaturation, the novelty of something handmade with genuine care in limited numbers is definitely worthy of consideration. If you're looking for a new and special addition to your summer wardrobe, you can't go wrong here. It also doesn't hurt that the collection is really fun. Like "excited to get dressed because this exists" kind of fun. I'm emotionally attached to many of the pieces; however, the ones currently occupying separate tabs in my internet-browser window devoted to shopping contemplation include: the Bico Crochet Skirt and Vera Shirt. They look great styled together, but I can also see myself wearing either as a swim coverup or with Nike waffle sneakers and a crewneck sweater come September.
How Do I Get It?


The ready-to-wear collection ranges in price from $150 to $598 and it's exclusively available to shop on Éliou's website. The individual shop pages list exactly how many units of each piece were made, and in some cases, how long it takes to create one. For example, there are 14 units of the Vitória Crochet Skirt, and each one takes a week to produce by hand. For the Garden Patchwork Shirts, which take six days to make, each patch is crocheted by Teixeira's aunts, Tia Zezeca, Tia Rosa and Tia Vera in her mom's living room and then sewn into the shirts by hand. Pretty incredible, right?
If any of their jewelry catches your eye (like, say, the necklace Harry Styles just wore on the cover of Better Homes and Gardens), you can find it through a variety of retail partners such as Net-A-Porter, Nordstrom, MATCHESFASHION, and Shopbop in addition to the brand's website.