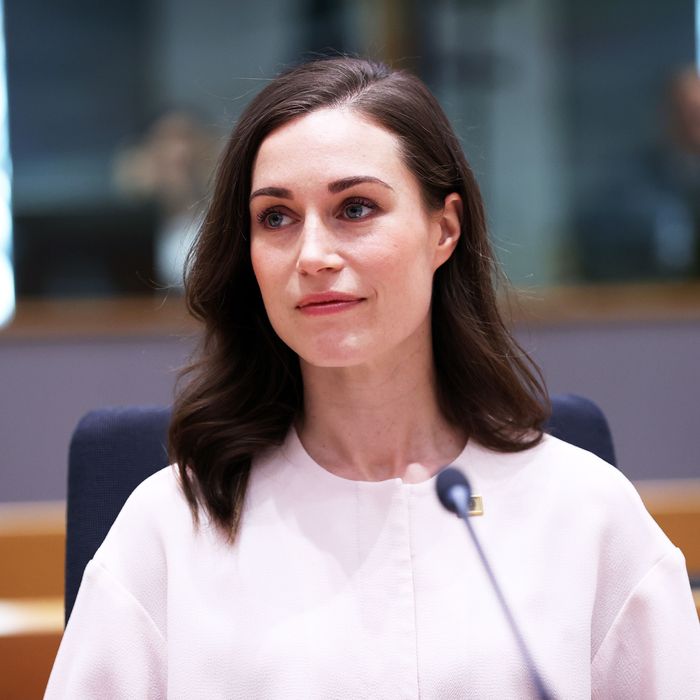 Photo: Anadolu Agency/Anadolu Agency via Getty Images
Last week, videos of 36-year-old Finnish prime minister Sanna Marin dancing with friends at private parties circulated online, drawing criticism from various geeks and losers, including opposition-party leader Riikka Purr, who suggested Marin submit herself for drug testing. (Though the videos present no clear evidence of drug use, a voice can be heard saying "This gives you a great feeling," which I have often said about sleep, TikTok ASMR, and ordering dinner on DoorDash despite a full fridge of groceries.)
In response to the public outcry, Marin replied, "These videos are private … They were recorded in private premises. I am displeased that they have been published. What they are about is that I was spending an evening with friends, partying, admittedly boisterously, dancing and singing." Marin stated she wasn't aware of any illegal drug use at the parties in question, and that only alcohol had been consumed. (Something I also honestly believed about every party I attended in college!) Marin also agreed to take a drug test, which came back negative.
Marin did, however, apologize for a picture taken at a party at her residence in which two topless female influencers kiss. (Nice.) "In my opinion, the picture is not appropriate. I apologize for it. That kind of a picture should not have been taken, but otherwise, nothing extraordinary happened at the get-together," Marin said.
The incident calls to mind the oddly frantic right-wing reaction to a video of Alexandria Ocasio-Cortez dancing in college, suggesting a widespread moral panic around politicians who are (1) women (2) coordinated and (3) somewhere south of 75 years old. Marin was elected as prime minister of Finland in 2019, becoming the youngest person to hold the office in Finnish history. In December 2021, Marin was criticized for going clubbing without her work phone, leading her to miss a message about having been exposed to COVID-19. Last week, prior to the video leaks, the German newspaper Bild dubbed Marin "the coolest politician in the world." So take that!
This post has been updated.