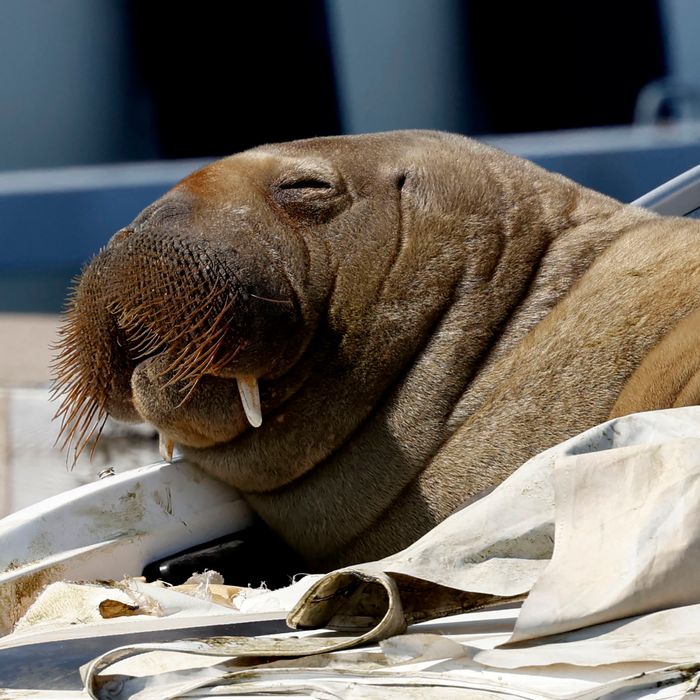 Photo: Tor Erik Schrøder/NTB/AFP via Getty Images
The icon of the summer, Freya the walrus, has died. Known for claiming boats as her own up and down Europe and spending her days snoozing away in the sun, Freya the walrus was the epitome of a summer vibe. She was euthanized by authorities this week.
According to Norwegian officials, Freya was euthanized after attracting large human crowds, causing a potentially dangerous situation. Despite a previous warning that Freya would have to be euthanized if people didn't keep their distance, crowds apparently continued to flock to her. "The decision to euthanize was taken on the basis of a global evaluation of the persistent threat to human security," said the head of Norway's fisheries directorate, Frank Bakke-Jensen, per The Guardian. "We carefully examined all the possible solutions. We concluded that we could not guarantee the wellbeing of the animal by any of the means available." According to CNN, moving her was apparently too complex and, per Bakke-Jensen, "not a viable option."
Freya the walrus weighed 1,300 pounds. Her favorite pastimes included sinking the occasional boat, soaking in the sunshine, and traveling along the coast of Norway. She was also quite the traveler, spending the last year hopping between Scotland, Germany, and the Netherlands. She has slept on boats, submarines, and docks. She was also known for her aggressive snacking and no-fucks-given attitude.
Unfortunately, Freya's appearance in Norway attracted a lot of attention. The increased interaction with humans, who insisted on swimming with her and interrupting her many, many naps (walruses are known to sleep up to 20 hours a day) with demands for photos, prompted officials in Norway to fear for people's safety. Olav Lekver, a spokesperson for the Norwegian fisheries directorate, told the New York Times that Freya "chased people on paddle boards and kayaks," and that, "in the end, we couldn't see any other option."
Rune Aae, a biologist who has been tracking Freya this summer, doesn't agree. As reported by the Times, he called the decision to euthanize the walrus "too hasty" in a Facebook post. "Freya had sooner or later gotten out of the Oslofjord, which all previous experience has shown, so euthanasia was, in my view, completely unnecessary." This step does feel extreme, especially given that humans are the entire reason Freya got stuck in the Baltic Sea in the first place. First, she was forced out of her arctic home and into the Baltic due to manmade climate change. And now she's been killed because humans couldn't stay away from her. Freya, the world did not deserve you.