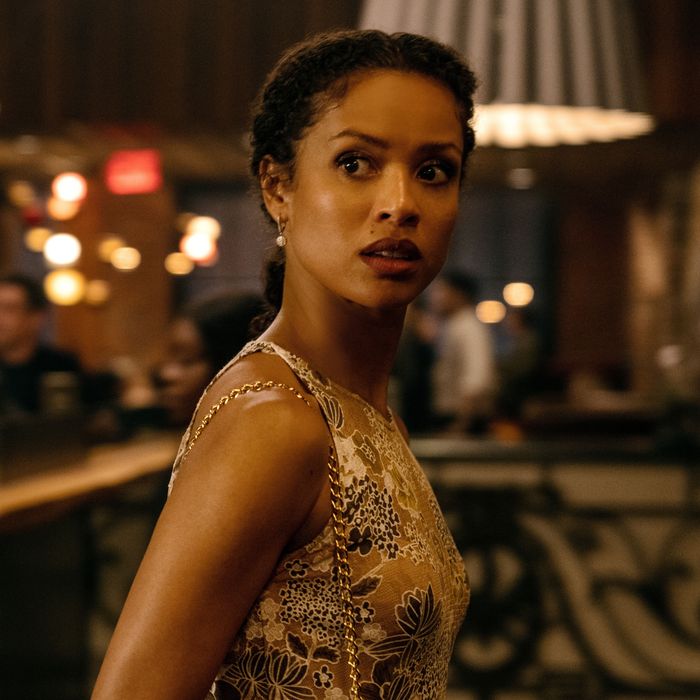 Photo: Ed Araquel/Apple TV+
Gugu Mbatha-Raw's onscreen résumé is a mixed bag: She's played a pop star, a judge, an aristocrat, and a talent booker. In Surface, which premiered on Apple TV+ earlier this summer, Mbatha-Raw plays Sophie, an affluent San Francisco philanthropist who works at a hospital. She spends the series trying to collect the pieces of her life after waking up with no memory thanks to a boating accident that she's told was a suicide attempt. As Sophie tries to reconstruct an image of who she was before her accident, she also begins to uncover her own secrets, leading her to suspect someone is lying to her about what happened on that boat. The juicy neo-noir all plays out against the sleek, old-meets-new splendor of San Francisco's Haight-Ashbury neighborhood.
While that setting is technically new territory for Mbatha-Raw, Surface shares plenty of DNA with her past projects (and not just because it was produced by her Morning Show co-star Reese Witherspoon's company, Hello Sunshine). Mbatha-Raw's characters are constantly navigating powerful hierarchies, whether that's the mysterious overlords of a Marvel spinoff or the toxic execs running morning TV. It's not totally surprising to see her take on a new kind of power — the kind that's robbed from someone who has to rely on others for her memory. "As the show evolves," she says, "that power dynamic shifts, and Sophie grows into her identity and solves the mystery of herself."
Mbatha-Raw spoke to the Cut about finding Sophie's power. See a sneak peek in the exclusive Apple TV+ link below.
You've played a lot of roles that explore power — who has it, how it operates, and what happens when it changes hands. How do you see that playing out with Sophie?
 
When I first read Veronica West's script, I loved the concept of Sophie having lost her memory and being this woman in search of herself. Initially we discover Sophie has seemingly the perfect life with her husband in this very luxurious house and a very affluent world they're in. But essentially she's relying on him for her reality — she's under a conservatorship and doesn't know much about her world. She's very reliant on her husband's version of events. And that power dynamic shifts as the show evolves and Sophie grows into her identity and solves the mystery of herself.
The show really subverts that traditional "damsel in distress" idea of a noir, but also the idea of having memory loss. I grew up on movies like The Bourne Identity where you see a male protagonist figuring that stuff out. But I've never really seen it with a female character who looks like me, done in such a stylish way.
There's a scene in the first episode where Sophie listens to some records that her husband believes could help her remember specific moments of her life. What are songs that evoke vivid memories for you personally?
Nina Simone is a big one. I remember dancing around the kitchen with my mum to "My Baby Just Cares for Me" when I was about 6 or 7. I told our director Sam Miller that story, and he surprised me with that song while the camera was rolling for that scene. We did it as one long take, which was about half an hour of dancing.
I read that you make playlists for your characters. What was on your playlist for this show?
Some music was already written in by Veronica, like in the record-player scene. Ollie and I contributed some songs that we felt were Sophie and James's songs. Ólafur Arnalds composed the music for the show, and it's rare that you know who the composer will be while you're filming, so I listened to a lot of his music. He's an incredible Icelandic composer, and a lot of his music is very elemental and eerie.
Sophie's affluent life provides us with a lot of real-estate porn, which reminds me of shows like Big Little Lies or Billions. Why do you think these luxurious surroundings are such ripe settings for drama?
I think it's a combination of having something really gorgeous to look at, but knowing that underneath the surface there's something unsettling at its core. Especially in the past few years when people have been confined to their homes, I think that our psychological relationship to our homes has shifted. There's an escapism to it — an aspirational quality to looking at this beautiful architecture, the houses in the iconic Haight-Ashbury area of San Francisco. Our production designer Jeremy Stanbridge gave the house this "beautiful but something is off" feel. It's stunning, but it could be menacing.
You were promoting the show in New York during a massive heat wave. Any tips for keeping everything polished in the humidity?
Not really! I've been melting with the rest of them.