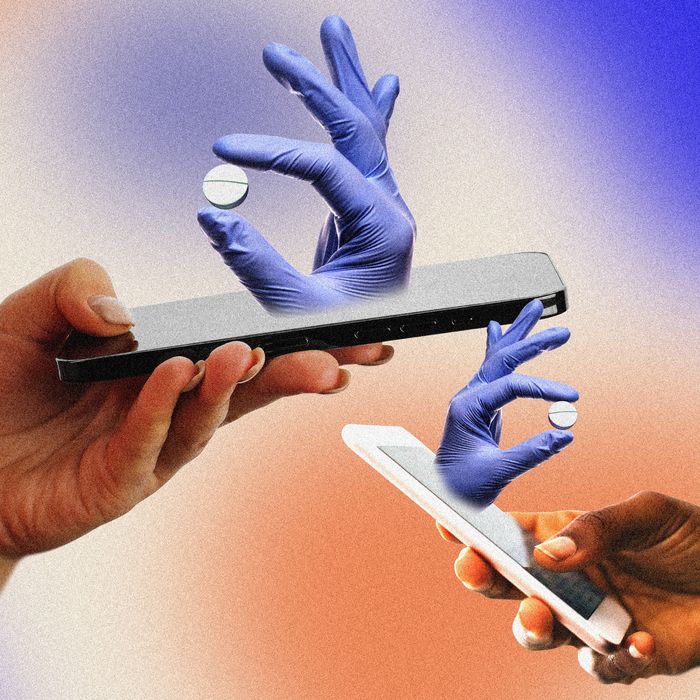 Photo-Illustration: The Cut; Photos: Getty
This article was featured in One Great Story, New York's reading recommendation newsletter. Sign up here to get it nightly.
It was 2019, remembers Kiki Freedman, and "cactus dicks were all over the place." That summer, pharma-delivery start-ups Hims and Roman had raised enough cash to plaster virile advertisements for erectile dysfunction meds across New York City's subways. Around the same time, the last abortion clinic in Missouri, where Freedman had gone to college, seemed ready to shutter. Seeing the ads, she'd wondered, Could something like that work for abortion?
In 2020, abortion pills (which were approved in the United States over 20 years ago) finally supplanted in-clinic procedural abortions as the most popular method for ending a pregnancy. That same year, in response to the pandemic, the FDA removed the in-person dispensing requirement for the pills, which had long been regulated with the same kind of strict protocols as opioids, later making the change permanent. And in the spring of 2021, Freedman launched her company under the friendly name Hey Jane.
Since then, Hey Jane, which has billed itself as one of the first digital abortion clinics, has sold abortion medication to over 10,000 patients, grown to a staff of nearly 30, and netted $3.6 million in venture capital, giving it an edge over a crop of similar companies that have sprung up since the FDA relaxed its rules. The start-up has been celebrated for its potential to expand abortion access in a country increasingly hostile to reproductive rights. "We expect that abortion care via mailed medication will become the most viable form of access for most people moving forward," Freedman said in a statement the day Roe v. Wade fell, reaffirming Hey Jane's commitment to "putting the power back in people's hands," a kind of unofficial company slogan.
But the reality is that Hey Jane is hampered by the same restrictions as everyone else. As of now, the company only ships to Colorado, Illinois, New Mexico, Washington, New Jersey, California, and New York. Telemedicine abortion is banned in 20 states, some of which are attempting to pass legislation that could punish out-of-state travel for abortion. In Texas, mailing an abortion pill is already a state felony punishable by jail time and a fine up to $10,000. Georgia is also trying to outlaw the mailing of pills, and eight states have already imposed outright abortion bans. Hey Jane can't provide pills — or legal protections — to would-be patients who live under any of these restrictions. So where does the company go from here?
Freedman, Hey Jane's co-founder and CEO, suggests we meet at Ruby's, a brunch spot in Murray Hill. She wears leopard-print sandals, carries a shabby beige tote, and looks younger than her 32 years, with blonde hair and light-blue eyes. She is sunny and friendly, but there's a kind of acerbity running beneath her Everywoman thing. She quickly sketches out how she got here: After college she was ready to build a career in nonprofits but was lured in by business and its potential to better "scale impact." "A business-driven approach centers the end user," she says, slipping solemnly into pitch-speak. "You have to keep them happy or you're not going to exist." So instead of nonprofits, she spent a year at the consulting firm Bain & Company before a mentor convinced her to join Uber. Over the next four years, she worked in management roles in launch, strategy, product, and operations, then left in 2018 to get an M.B.A. at Harvard.
"It was fun work," Freedman says vaguely of Uber. "I learned a lot." Some of that — in regard to rapid growth and navigating red tape — parlayed well into her new job, and Hey Jane's investors, which include a VC firm backed by early employees of Uber, seem to recognize Freedman as someone who can make their money back. Though the start-up's competitors — other telehealth abortion-pill companies including Choix, Abortion on Demand, and Carafem — either offer a wider variety of reproductive services or serve more states, what makes Hey Jane attractive, as an investor put it, is "its huge potential to scale and be impactful."
The company plans to expand beyond abortion to address other "screaming problems" within the women's-health space. It's already rolling out birth control pills, and services for "really marginalized, historically ignored" concerns are forthcoming. These include emotional support for miscarriage, treatment for postpartum depression, and, potentially, virtual therapy. Such additions would bring Hey Jane closer to the model set by Roman (now known as Ro), which launched with ED pills in 2017 and now calls itself an "end-to-end consumer healthcare company." Hey Jane "doesn't just offer just the pill," one investor told me, "they've actually thought about a comprehensive end-to-end solution that includes mental-health services and preventative care. Hey Jane is the full package."
Using the platform is straightforward. A 15-minute intake involved answering a set of questions about my period, health conditions, and health history. After uploading a photo of myself with my ID and signing a series of consent forms, I paid a $249 fee, far less than the $560 median out-of-pocket cost of abortion pills in the U.S. After paying, I was given the option to speak with a provider via text, phone, or video chat, and my questions about medication interactions and underlying conditions were answered in a few hours. A couple of days later, the pills arrived at my Manhattan apartment in a discreet USPS envelope with a cute polka-dot baggie tucked inside.
Existing telehealth clinics "are really transactional," says Freedman. "You fill out a form, get a text from a doctor, and some pills show up in the mail," she adds, describing precisely my experience with Hey Jane. "Clearly that has worked well for men's health. Roman is worth $7 billion. But no one has figured out how to apply that model to women's health."
What makes Hey Jane unique, Freedman says, is what she calls the company's "wholesome support" model "that layers emotional support, as well as community support, on top of this clinical layer." This system is still pretty anemic, and involves access to a Reddit-like private forum where patients can commiserate and an app-based chat line that's open 24/7 for emergencies and business hours for everything else. The chat line is where patients can ask questions, schedule video appointments, or request emotional support, which Hey Jane's nurses are called on to provide, though patients "can message our team for support on whatever they want," says Freedman, adding that conversations range from medical concerns to skin-care tips. If someone has more "robust emotional-care needs," they're outsourced to a hotline.
The Hey Jane users I spoke with had not taken advantage of the start-up's community or emotional-support offerings, choosing it mostly for the promised speed and convenience (according to the company, you can expect to receive the pills in two to three business days). They also seemed to respond to the start-up's soothing online presence: While its rivals hold fast to pill motifs, there is nothing overtly clinical about Hey Jane's website, with its serif affirmations and merch section where you can buy a $56 sweater stamped with an image of Gloria Steinem and the words "Take No Sh*t." The company's social-media accounts are curated with abortion-themed Olivia Rodrigo quotes and Clueless memes, and when coupled with its emphasis on speed and convenience, Hey Jane resembles any other direct-to-consumer start-up for skin cream or razor-blade subscriptions.
"It felt somewhat familiar," a 32-year-old start-up founder who got an abortion with the company last winter told me. The website, she admits, is what drew her in: "The branding, the messaging. I was like, Oh, I know what this is."
And, perhaps, the more people brought in by Hey Jane's consummate mastery of millennial marketing, the greater impact it can have on access. Hey Jane's role, explains Freedman, is to absorb demand in blue states. So if 100 women in New York can have their abortions at home with pills, that's 100 more appointments in clinics, some of which might help accommodate an out-of-state surge. Plus, the company notes, access can still be difficult in places where abortion is perfectly legal; plenty of women in the states it serves live far from a clinic, and getting a delivery from Hey Jane might be their best option.
That kind of absorption could be substantial, but it's perhaps less ambitious than the bold reputation for access that Hey Jane enjoyed during its first funding round. In a TechCrunch article from last summer that declared Hey Jane had raised "$2.2 million to solve for state anti-abortion legislation," it was reported that Freedman "plans to be able to offer treatment in all 50 states in coming years," though even then it would have been impossible for Hey Jane to do such a thing without entering states illegally. (The company now says they never planned to offer medical abortion in all 50 states.) Freedman has said the states in which Hey Jane operates were chosen "strategically" so that women seeking abortions in hostile states can travel to them, but whether patients are sending Hey Jane prescriptions "to post offices or a friend they may know" is unknown to the company.
In spite of these limitations, Hey Jane is an additional channel of access at a time when everything seems to count. "People want to be able to take care of themselves at home," says Katie McHugh, an OB/GYN and abortion physician in Indiana who notes that, if anything, Hey Jane serves as a kind of pilot program for telemedicine abortion — basically proof of concept for a future with even less in-clinic accessibility and availability.
It also spreads out the work a little bit. "The bulk of the mailing of pills is going to fall on us for all of those states where abortion is illegal," says Dr. Linda, an abortion provider who works for AidAccess, a European nonprofit that provides pay-what-you-can abortion pills by mail to patients in every state, including those that have banned abortion. "The more organizations doing it for the rest of the country, the better."
Hey Jane is raising more money from investors this summer, and Freedman notes there's greater interest this time around, suggesting they still recognize the company's potential to ratchet up into a premier virtual women's health clinic — a way for them to invest in reproductive care that will provide returns. Abortion pills will surely remain a cornerstone of Hey Jane, but the day mine arrived, I wondered if they were always beside the point. I'd just spoken with a stay-at-home mom from Westchester, one of the wealthiest counties in New York, who'd chosen Hey Jane even though she "had probably as many options as possible." The start-up, she explained, was easy and convenient — she'll probably go back for their other services.