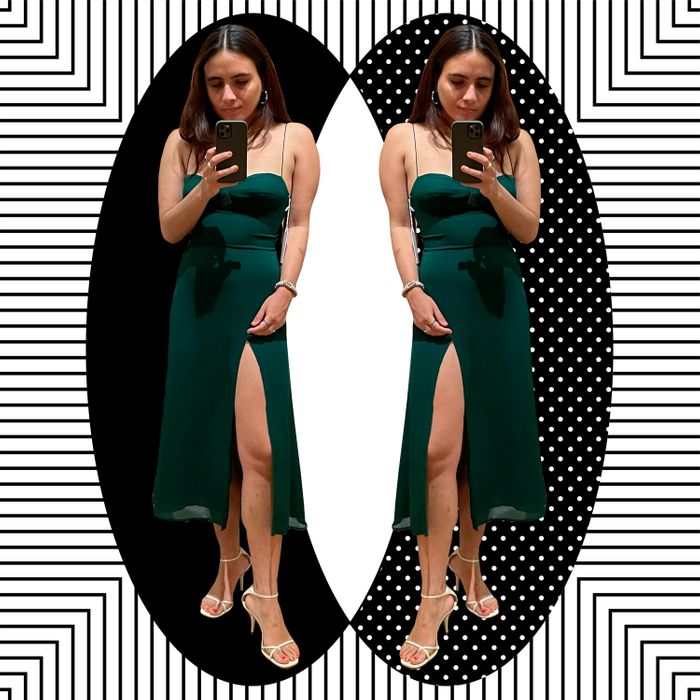 Photo-Illustration: The Cut; Photo: Bianca Nieves
Reformation: The brand known for dresses to be worn at weddings (or honeymoons à la J.Lo); slightly threatening-sounding newsletter subject lines; and catering to a specific body type. Or at least that has always been my assumption.
I had never worn a dress from Reformation until this past spring, when I was gifted a black linen maxi dress (that is no longer available on the site) that to my surprise was very versatile. I wore it to work events, at dinner parties, and on Sunday strolls. A size 4 actually hugged my body correctly (not too tight in the boobs and just enough formfitting-ness around my torso so I could breathe properly). But I wasn't yet convinced that that would be the case for all of its dresses.
Can you blame me? Thanks to the rise of Instagram in 2012, Reformation took over the feeds (and closets) of every thin, millennial, and female-identifying consumer out there. It didn't introduce extended and plus sizes until 2018, and to this day these size 14–24 or 1X–3X offerings aren't available to try on in most stores. (Why is that still a thing?) Plus, in 2020 the brand faced even more changes when founder Yael Aflalo resigned after allegations of racism rose within the company, and the label proceeded to put together a diversity and inclusion board.
Today, Reformation remains as popular as ever. The #Reformation hashtag on TikTok has 41.7M-plus views and countless of try-on and haul videos showcasing the beauty of body diversity. So we reached out to Reformation and asked the brand to send us its top-three-selling dresses: Kourtney, Juliette, and Marguerite. Me (a size 4) and three of my colleagues (sizes 8; 10; and 10/12) went and tried on these three dresses at the Soho store.
Size 4 | Size 8 | Size 10 | Takeaways
Size 4
How does it fit?
True to size. The adjustable straps and bodice provide enough support that 34B owners like me can wear the dress confidently without a bra. The smocking in the back provides comfort and the faux wrap skirt has enough fabric so my underwear didn't show. (I did not plan accordingly and was wearing an interesting pair of underwear and you couldn't even tell.) The slit is high, which could be a deterrent for those who want to wear shapewear.
Would you purchase it?
Yes, but only if it were on sale. It would be my safety dress for a family event or a friend's graduation.
How does it fit?
True to size. The site says it runs slightly small, but as somebody who's in between a size 4 and 6, the size 4 fit well. (The size 6 was too big at the chest; I had to adjust the straps very tightly.) The bodice allowed me to not wear a bra and still feel supported.
Would you purchase it?
I don't see myself wearing it for anything besides a wedding. However, I can see why it's the top-selling dress from the brand. It fits like a glove and the emerald color elevates the silhouette even more.
How does it fit?
True to size. The fitting bodice complimented my body nicely and the slit was not too high. The silhouette is similar to the Kourtney dress, but this time the fabric is 100 percent silk rather than 100 percent viscose.
Would you purchase it?
No. The dress made me feel great, but if I ever needed an occasion dress, I still wouldn't choose this one as an option, because while I do love a good silk slip dress, the fabric paired with design isn't my style.
Size 8
How does it fit?
It runs small. I'm a true size 8, and it fit too snug, so I tried on a size 10, which was fine. As someone who is 5 feet 4, the length was too long for my liking and it made the slit fall awkwardly in front of the dress.
Would you purchase it?
Yes, on sale. The length was a deterring factor, but nothing a good tailor couldn't fix. Though factoring in the tailoring cost, the price would be too much.
How does it fit?
It runs small. This was verified by a sales associate who noted that Reformation, as a whole, tends to run small. (The Soho location had limited sizing in-store.) As a result, they gave me a size 12, one size larger than I normally wear. But in this case, it fit great.
Once I got into the size 12, I looked beyond snatched in this dress. The ruching at the hip and slit in the leg highlighted all the bits of me that deserve to be celebrated. However, for me, the bodice provided little-to-no support when it came to my boobs.
Would you purchase it?
Yes. But only if I were in a rush (like two weeks before I had to attend a wedding or, if you're a procrastinator like me, the night before.) Otherwise, I'd explore other options. This dress did make me feel amazing, but I'm a bit wary of the price point for the quality of the fabric used and how unflattering it was on my chest.
How does it fit?
It runs small. Again, I had to size up to a 10. But once a sales associate adjusted the straps on the 10, it fit great.
Would you purchase it?
No. It's really not my style. I don't think I would get much wear out of it beyond the occasional wedding. Plus: The process of tying the straps can be annoying, especially if you don't have a pair of extra hands to help you out, but it's a key step to getting the dress to fit right.
How does it fit?
It runs small. I'm normally a size 8 or 10 (I have a dress at home from Reformation that's an 8 and fits incredibly well) and was given a 12, which ended up, once more, fitting like a glove. I would size up if you're interested in this dress.
This frock was fairly flattering, with a similar cut to the Kourtney dress, but if you're well endowed in the breast region, this might not be the best fit for you. I was given one of the larger sizes, and my very-average-size chest filled it up pretty easily, and I still wasn't getting any support from this piece's straps or fabric. It's truly a nip slip waiting to happen.
Would you purchase it?
No. I could probably find something that sits a little better on my chest for this price point.
How does it fit?
True to size. I am an 8, and this one fits right, whereas in other styles I had to size up to a 10.
Would you purchase it?
Yes. The palm green color was pretty, and for me, this dress was the most flattering out of the three that I tried on. I think it's pretty much the same silhouette as the Juliette and Kourtney, but it felt more fitted in the bodice. It felt comfortable and sexy but not so much so that I felt exposed. I would wear this one to a cocktail party or, you guessed it, a wedding.
How does it fit?
True to size. The thicker material at the neckline provided ample support for my chest. The silhouette was flattering on me, and I loved the way the material moved in the light; it was mesmerizing. If you have low-key beef with the bride and are in the mood to divert attention to yourself: (1.) Seek therapy, and (2.) Consider this dress.
Would you purchase it?
Still, no. As much as I enjoyed wearing this dress, I'd search for other options before buying this one. It comes back to the same issue I've had with most Reformation dresses: I can't justify the price for the quality I'm getting. On this specific dress, I noticed some loose threads, which of course could be wear and tear from others trying it on, but for nearly $300, I'd expect quality that could withstand that.
Size 10
How does it fit?
It runs small. I tried on a size 12 because the 10 was a bit restrictive over my hips and the slit was way too revealing. Once I did that, I was pleased with the fit. This dress actually sat on my hips nicely and the straps held my boobs up without any alterations, which is very rare for me.
Would you purchase it?
Yes, if I needed something last minute.
How does it fit?
It runs small. (Cue Kandi Burruss's "Legs, Hips, & Body.") I don't think it's made for people with curves. I tried on a size 10, just to see what it looked like, and it was tight on my hips. The 12 wasn't right either. And the 14 was way too big. I normally struggle with dresses like this because of my hip-to-waist ratio, but this one didn't work for me at all.
Would you purchase it?
No.
How does it fit?
True to size. Great, actually. The straps were adjustable for my double D's and the slit showed just enough thigh, without being too revealing. I love how this dress hugged my waist. I'm usually not into silk dresses because I don't think they compliment me, but the fit of this sold me.
Would you purchase it?
Yes. I actually would purchase this. It's the perfect fit and just the amount of sultry I like with my clothes. I know I'd kill this at a wedding, so message to my friends: I'm waiting on your engagements and invites.
.

Takeaways
1. Reformation is a great option if you attend weddings frequently or if you need something fancy-ish in a pinch. The dresses work well for weddings, summer parties, and beach gatherings.
2. Sizing is still very unpredictable. We recommend giving yourself options when it comes to sizing (buy an extra size up and return what doesn't fit).
3. Pay attention to the labels so you can focus on products made of better quality, like silk or 100 percent linen.
4. Try to score the label's best sellers on sale. At the full-price point, we would consider looking elsewhere and investing in a dress you can wear over and over again (without worrying about its quality diminishing over time).
For more from the Cut Shop team, follow us on Instagram and Twitter, where we share our best new finds, favorite styling tricks, and more.