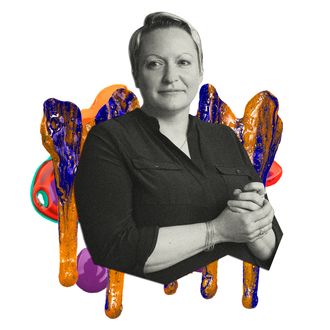 Photo-Illustration: by The Cut; Photo: Courtesy of Diageo
Johnnie Walker is the world's best-selling whiskey, and its "master blender" job is probably the top job in the spirits world: The master blender is the brain behind a brand's beverages, and in Johnnie Walker's 200-year history, Dr. Emma Walker (no relation to the Johnnie Walker family) is the first woman to hold the title. A chemistry Ph.D. with a passion for Scotch, Emma was working as a pharmaceutical chemist when she interviewed with Diageo, one of the world's biggest beverage companies and Johnnie Walker's parent company. She was amazed to learn that "whiskey scientist" was a real career and spent the next several years completing her "distilling diploma" from London's Institute of Brewing and Distilling. Fourteen years later, in 2021, she was promoted to the top job. 
"I'm still expecting to wake up and find out that I have just imagined it," Emma admits over Zoom from her office in Menstrie, Scotland. She's soft-spoken with a punky eyebrow piercing and a quick smile. She spoke to the Cut about how to handle big mistakes and when to ignore bad advice. Walker lives in Edinburgh with her partner. Here, how she gets it done. 
On her morning routine:
I get up at about six o'clock because it takes me about an hour or so to drive to work. Breakfast is normally a cup of tea to go and some toast, maybe with a bit of Marmite on it — try to get in some vitamin B. Is that what's in it? Anyway, I eat it while I'm going down the stairs of my flat or while I'm driving. I'll listen to an audiobook or BBC Radio 6 Music, depending on what mood I'm in.
On a typical workday:
Work starts around 8 a.m., sometimes earlier if you're working with people based in, say, Singapore, which is where our innovation team is. After those morning calls, I'll do some sensory work in the lab. Most of that work is done with the nose because smell is much more sensitive than taste. So if you're coming up with a new innovation, you'll use your nose, and once you have a few prototypes, then you'll start tasting to establish things like mouth feel and strength.
Then I'll look at data on Excel. I think that always surprises people — that as a master blender, I'm looking at data sets. But Johnnie Walker has one of the biggest inventories of Scotch (nearly 11 million casks), and they're from different distilleries and in different types of wood. You need to look at the data to get an understanding of how the stock is doing and plan for the future. That's one of the things that makes Scotch different from other spirits: You're always planning for the future. I mean, you need to mature the spirit for at least three years before you can even call it Scotch.
The day ends around 5 p.m. I tend to have a couple of whiskeys over the week, but it's always responsible.
On making mistakes and owning up to them:
I've had moments where I think, Something has gone awfully wrong, and I can't see my way out! But one of the things I've learned is that there's always someone to talk to, someone that's experienced something similar and knows how to figure it out. The big thing is making sure that you communicate as soon as you realize something is amiss because it's very likely you're not the only person that's happened to. If you can talk to other people, you can figure out how to make good on it. If you keep it to yourself, that's when you start to catastrophize, and that's the worst because that's when everything spirals out.
On advice she'd give to her younger self:
I still struggle with this, but there's a moment when you look at a job and you go, I can't do that. I can't do everything that's on that list. Instead, you should ask, How much of this can I do? What am I interested in and what have I got to learn? I'd also say don't worry about everything so much. You don't have to have a big five-year or ten-year plan. Instead, learn as much as you can and talk to as many people as you can. If you're interested in the beverage world, try different spirits, go to whiskey shows, and learn what flavors you enjoy. And learn to talk about food, too, because the words that you use to describe other things are exactly what we use to describe whiskey!
On dealing with criticism:
Parts of this job have a steep learning curve and have required a lot of talking to and learning from my colleagues. I like to see things visually, so I've just been drawing lots of maps about who does what and what decisions have to be made. My brain still doesn't make sense of being at the top, and I'm still wary of letting people down or impacting them negatively. When it comes to criticism, if it's offered with good intentions, then that's great. Feedback like that will often be something that you're not aware of and that can help you to develop. If it's something that's negative and that's not offered with the right intent (you can usually tell), then don't listen — it's not worth bothering with.
On winding down:
I try to get a short walk around the neighborhood. I'm not always good at getting it in, but I do try. Otherwise I'll just relax with my partner — watch some TV, something like Person of Interest or a bit of Taskmaster, a little bit of comedy to switch off. At the moment, it's quite warm over here, so — believe it or not — I quite like having an orange ice lolly. I might have a whiskey with it.
This interview has been edited and condensed for length and clarity.