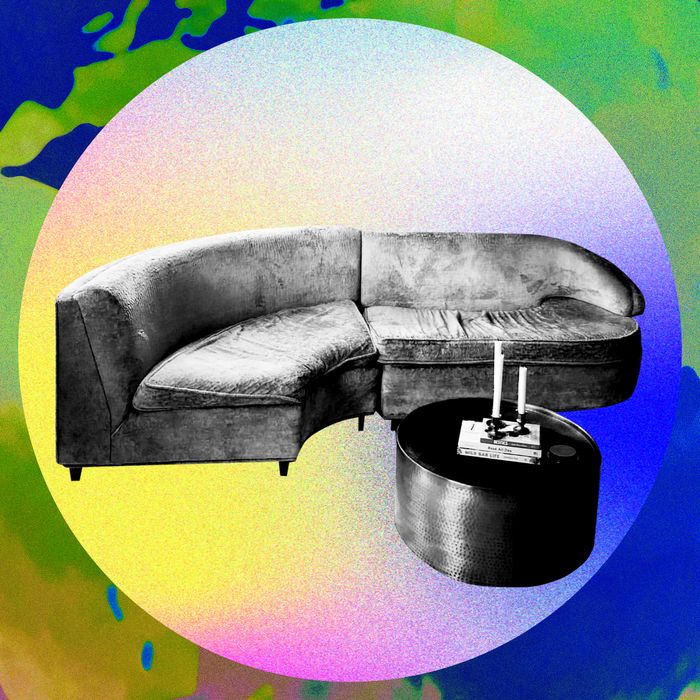 Photo-Illustration: by The Cut; Photo: Meghana Venkatesh
In 2016, Facebook launched Marketplace — the site's version of a more reliable Craigslist — to shop and sell locally. Facebook Marketplace has changed the way people are furnishing their homes, whether on a strict budget or not. While buying secondhand is normally cheaper, in cities like New York or Los Angeles, Marketplace is also a source to find high-end vintage pieces or wacky one-off gems (like the couch from Austin Powers). To make the most of the app, we asked interior designers who shop secondhand their advice on how to shop Facebook Marketplace like a pro.
First, use Instagram, TikTok, and Pinterest as inspiration
All three designers' tip was to browse social media first. Boz's design studio and community, Normal, has over 75,000 followers on Instagram and started as a place where she shared her own apartment journey. Now, she shares images of other people's homes and spaces from all over the world. "The photos of other homes that people have around the world was initially just a mood board for inspiration," she says. Boz also has joined the growing group of people sharing Facebook Marketplace tips on TikTok, creating videos like my Facebook Marketplace finds for this week as an interior designer in L.A. Use Pinterest to search different pieces of furniture you like will help you find what you're looking for on Marketplace.
Then, Just Keep Scrolling
The 27-year-old Turkish designer Lale Boz took to Marketplace to design her space when she moved into her one-bedroom apartment in Brooklyn. She noticed that "the more I used the app, the more that it would give me pieces I would like," she explained. The algorithm on Marketplace rewards those who browse it the most, similar to TikTok's For You page. She got to having a Marketplace feed consisting of pieces she liked by scrolling, a lot, and favoriting pieces and sellers she liked, regardless if she wanted to buy them for herself or a client, or not at all. If she liked a specific seller, she would go and see what else they were selling, sometimes finding that they had a plethora of great pieces.
Freelance designer Meghana Venkatesh put it this way: "If you're always on your phone anyway, or if you're already doing that for clothes, just do it for your furniture as well. You can do it for like ten minutes a day and maybe find something really great."
Dig deeper: Use specific keywords including decades, colors, and materials.
"I would start by searching an era, a style, or a material even," Venkatesh said. While it's one thing to search "dining chairs" adding in a little detail like "1950s" or "metal" would streamline searches and help you narrow down your search to find something you like. "Keywords are really important," explained Abigail Price, the owner of home-décor store Abbode. "Think about what the material is — like Burwood or marble. Get down to the barebones of the item you're looking for."
Pro tip: Narrow down the radius you're searching in as well. Make sure you know how you're going to get the piece from one place to another, and use areas to your advantage. "You generally know what type of person lives in SoHo, or in the West Village, or Greenpoint, so be particular about what it is that you want and search in those areas," said Venkatesh. "Sometimes I see people that have full-on estate sales in the Upper East and Upper West Sides."
Remember to embrace the quirkiness of Marketplace
In 2018, when Venkatesh was trying to furnish her apartment on a college budget, she took to Marketplace for the first time to look for a new couch. Most of the items in her apartment had been in her previous dorm room, the typical Ikea and Target furniture, but she knew she wanted a new couch. At the time, she was into a wacky, dollhouse style so she was looking for a statement piece. She searched "curvy couch" on Facebook Marketplace and came across a hot-pink velvet couch for under $400, her budget.
When Venkatesh traveled to Cobble Hill to pick up the couch, she stumbled into a hair salon that she thought would be the seller's home. The seller, a charming lady in her 70s, had the couch wrapped up in the back. With only a single friend, Venkatesh somehow managed to get the couch home to Williamsburg. A while later, she got a message. "Sometimes I'm a bit wary of buyers but I regret not telling you this," the seller wrote on Messenger. "This is actually a couch from the set of Austin Powers. I've had it because I was a set designer. It was the second movie. I just wanted to let you know if that's of any interest to you."
When she resold the couch a few years later, she was able to up the price and included that story in the description of the couch: "This is New York. You have no idea who's selling you furniture or what the life of that item is before it gets to you."
Lastly, bargain, bargain, bargain
So you've found your piece. What next? "Always bargain," said Price. "Usually, people always put one offer out and are willing to go down." Unlike a brick-and-mortar vintage store, someone might be selling a high-end piece on Marketplace without even knowing it, giving buyers more opportunities to snatch hidden gems.