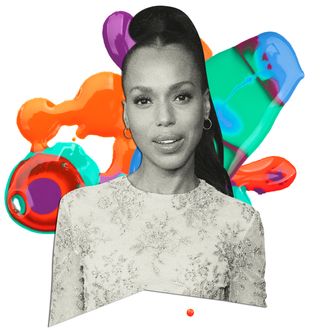 Photo-Illustration: by The Cut; Photo: Getty Images
Kerry Washington has proved dozens of times over that she has the range — so much so that acting is just one of the many lanes she's occupying as her career expands. She's the founder of her own production company, Simpson Street, which is currently airing the second season of its successful podcast Street You Grew Up On, which she hosts. The Emmy Award winner also co-stars with Charlize Theron in the new Netflix series The School for Good and Evil, which is being released in October. She's currently filming two other projects, Shadow Force with Sterling K. Brown and Omar Sy and Unprisoned with Delroy Lindo. Along with these pursuits, Washington has been a brand ambassador for Neutrogena since 2013, executive producing its award-winning documentary In the Sun, helping the brand create, develop, and test new products, meeting its customers, and more. On top of all that, she's an activist who is using her platform to get people ready to vote in November's midterm elections as a co-chair for the national initiative When We All Vote.
Washington, known around the world for playing one of the most famous fixers onscreen, has also been intentional about her work behind the lens. She stepped into the director's chair 15 years ago for one of Common's music videos and went on to direct episodes of her hit TV show Scandal as well as Issa Rae's Insecure. Now she's busy directing and executive producing the pilot for her forthcoming series Reasonable Doubt. She foregoes being only the face of brands that give her a stake in their business, using those opportunities instead to make a greater cultural impact and amplify the needs and voices of marginalized communities. For example, her work with Neutrogena dispels myths around sunscreen usage in the Black community, and her third jewelry collection with Aurate was both gender neutral and sustainably made. She lives in Los Angeles with her husband, daughter, son, and her son's pet lizard. Here, how she gets it done.
On her morning routine:
It depends on what I'm working on at the moment, but generally I start my day between 5 and 6 a.m. with a workout. I do a combination of Pilates, weight training, and cardio. I also love to be outdoors, whether it is swimming or hiking. I then try to read something inspirational and do a bit of breath work. I like to get these things in before the kids are up. Because once they're up, it's all about getting them out the door and getting their day started. I'll head to work from there.
On choosing her creative endeavors:
Prioritizing my projects is so tricky for me, and it's different all the time. When I think about how to spend my time, there are a couple of questions I ask myself. Where am I going to be most additive? I always think about where I'm needed because there are a lot of questions that can be answered by other people. So I think about where my contribution will be most necessary, and I gravitate toward those conversations, moments, rooms, and spaces. I also ask myself where I'll have the most fun and joy. In my options of what to do today, what will help me fill the well? It's all work, so what's the work that will be fulfilling, enriching, and inspiring? Where can I be of the most service, and what can be of the most service to me when it comes to satisfying my own interests and commitments?
I really come alive from doing many different kinds of things. I get excited and creatively turned on by switching it up. Some hours are about acting, while others are about producing or directing. That diversity of interest keeps me on my toes.
On beauty and the importance of sunscreen:
With Neutrogena, some of the most fun work is getting to try a new product before it hits the market. Getting sneak peeks, being able to give feedback and refine what we're putting out in the world is so fun. And getting to meet people whose lives have been transformed by a product I've worked on or promoted is amazing because we're out here giving affordable, accessible, and quality products. When I hear that a lotion changed someone's life or that a cleanser helped someone walk into the world with a different level of confidence, it reminds me there's this whole other level of meaning to what I'm doing. Beauty really is helping people to heal and show up as their best selves.
I'm grateful to my mom because we did use sunscreen as kids, and we wore it at the beach or at the pool in the summertime. But that was it. There wasn't the idea at the time that it was something you should be wearing daily. We know skin cancer is preventable, but in communities of color, because we don't think we're vulnerable to skin cancer, we get diagnosed later, and then it's not as easily treatable. That leads to us dying at higher rates. So it's important to be putting sunscreen on ourselves and our kids. Because the No. 1 way to get kids to wear it is by seeing their parents apply it. I'm really happy that it's incorporated in my daily life, but we have a lot of work to do in terms of communicating it properly. To not wear sunscreen every day is to say I don't matter, and I'm not worthy of protection. It's saying I'm not worthy of care, and I'll just let myself be vulnerable.
On making her partnerships count:
I'm not good in situations where I feel like I don't have a voice and agency. I think some of that may have to do with being a Black woman and feeling that, in so many places in life, we have so much to contribute and haven't always been allowed and invited to contribute. I like to be in spaces, partnerships, and relationships where my contribution matters. Earlier in my career, I experienced partnerships where I was just the face, and it wasn't as fun for me. I don't think of myself as someone whose value comes from how I look but instead from who I am as a person. How I look is a part of that, but what I think and how I feel is important. I'm not good at compartmentalizing and only bringing part of myself into a room. It's not my favorite way to walk through life.
On taking care of herself:
Therapy is super-important to me. I don't know what I would've done over the last few years without it. Exercise is also really important. That endorphin release and taking time for myself to feel present, strong, and healthy in my body matter. Family and friends are crucial because having people I can talk to, spend time with, and experience joy with is everything. I really love being a mom, a wife, and a friend. I also love nature and prayer. Having a spiritual connection and being a person of faith is necessary.
On ambition:
It's important for me to be clear on where the ambition comes from and what I'm being ambitious for. I've gotten in trouble in my life when I've been ambitious to meet other people's goals and standards. But being ambitious for the longings of my own heart and for my own personal dreams for myself and my family? That is a really beautiful thing and something I try to cultivate.
I don't think of myself as a competitive person. I really don't like competition, and I'm really turned off by even the idea of it. But I am tremendously ambitious. Part of that is my belief that life is not a zero-sum game. I don't like the idea that for me to be a winner, you have to be a loser. I like the idea of everyone going toward the win and being able to win in their own lane. You can always win by challenging yourself.
On staving off political burnout:
When I think about people's reluctance to engage and participate, I think it comes from this need to remind ourselves and each other that we matter. We have to do whatever it takes to care for ourselves so that we can act from the overflow. We have to fill the well so we're not acting from depletion but instead from a place where the cup is so full that we have something to give.
On her evening routine:
Taking care of my skin before bed helps me to wind down from the day. I like to double cleanse by removing my makeup with makeup-remover wipes, followed by washing my face and then applying retinol serum. Whenever I have the chance, I also love a good massage. Massage really helps me to relax and be present in my body in a more mindful way.
This interview has been edited and condensed for length and clarity.